Intel Core i9-12900K accidentally sold before being announced
By Sean Endicott published
The Intel Core i9-12900K hasn't even been announced, but someone got their hands on a pair of them.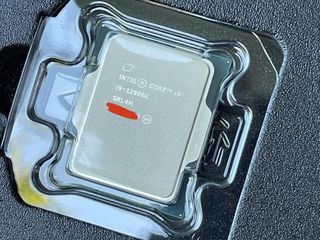 (Image credit: Seby9123 via Reddit)
What you need to know
A Reddit user managed to purchase two Intel Core i9-12900K processors.
Intel has not officially announced the Intel Core i9-12900K yet but is expected to do so later this month alongside other Alder Lake chips.
The CPUs were purchased for $610 each, according to the Reddit poster.
Despite the Intel Core i9-12900K not being officially announced, a Reddit user has managed to purchase two of them (via The Verge). "Seby9123" was able to buy two Intel Core i9-12900K CPUs for $610 each. The Intel Core i9-12900K is expected to be announced later this month as the flagship of Intel's Alder Lake line of processors.
The Reddit post shows several images of the retail box the Intel Core i9-12900K was sold in. The packaging includes the chip itself and a wafer ornament (the item that looks like a waffle). The retail packaging shared by Seby9123 matches earlier leaks spotted by VideoCardz.
Even though someone has managed to get their hands on the CPU, several key details remain unknown. The processor and frequency core count of the chip aren't listed on its box. The CPU also can't be used at this time. Z690 motherboards are required to run the Intel Core i9-12900K. Because these aren't available yet, the Reddit poster couldn't run benchmarks or share performance information if they wanted to.
Rumors suggest that Intel's Alder Lake CPUs will be announced later this month. Intel shared a preview of its Alder Lake chips in August 2021. Alder Lake will utilize Intel's hybrid architecture, which includes both performance and efficiency x86 cores. It will also support Wi-Fi 6E, Thunderbolt 4, DDR5, and PCIe Gen 5.
Sean Endicott is the news writer for Windows Central. If it runs Windows, is made by Microsoft, or has anything to do with either, he's on it. Sean's been with Windows Central since 2017 and is also our resident app expert. If you have a news tip or an app to review, hit him up at sean.endicott@futurenet.com.
It will be ineterested to see how far is Alder Lake performance from M1 Pro and M1 Max by Apple. As of today MacBook Pro perfomances seems to be unmatched in Windows ecosystem

Well this is a top of the line desktop processor so it'll probably utterly destroy even the M1 Max. But yes, you're correct on the laptop front.

Of course I was referring to Laptop. Apple seems unbeatable in every field (Phones, Tablet, Laptop). Really an impressive company.

You stay your tongue Judas.

When running iPhone apps, yeah. Toms Hardware just tested it in Adobe Premier Pro and were underwhelmed, claiming it's "a mixed bag" and that a x86 with a good external GPU thrashes it. The M1 Max is targeted to a small audience; Mobile Video Editing. At that it excels, at everything else. Meh.

I read Toms Hardware article, the title does not seem to resemble the results: M1 Max is on par or better than desktop solutions and it is better than other laptops. What is striking is how poor was previous MacBook's perfomance.

"I read Toms Hardware article, the title does not seem to resemble the results: M1 Max is on par or better than desktop solutions..." The title seems consistent with the results, which are (quoting from the article): "it doesn't look that good compared to x86 workstation platforms with standalone graphics processors."
"The new MacBook Pro 16 clearly outperforms its predecessor in Export workloads, but is somewhat behind other high-end laptops and is drastically behind advanced desktops."
"Apple's new integrated GPU cannot get close to performance levels offered by desktop discrete graphics cards, something that Apple needs for its Mac Pro workstations."
"Apple yet has to develop a GPU that will offer performance on par with discrete desktop GPUs from Nvidia."

It would easily beat the M1 series in raw performance, but would totally loose out in power efficiency.

I would be not so sure it will beat M1 in raw performance. M1 Max is 50% better than Tiger Lake in multithread.

When Intel makes a new micro-architecture, it has to make sure that it is scalable across
1. All device families (desktops, laptops, and servers),
2. All price points (budget, mid-range & high end),
3. All form factors
4. Different motherboard designs made by different OEMs This in a way puts restrictions on the way you can design processors. But it is worth because it helps in empowering the eco-system that then pays back in terms of driver support, hardware support & software support. Apple M1 processors on the other hand are targeted for a very limited type of hardware, software, applications and use cases. Even then, I feel that these processors are getting more hype than it deserves. Intel processors provide a range of performance from low end to high end, and Apple conveniently picks one such device that shows it's new M1 devices in good light. Even the performance tests like Geekbench focuses on certain aspects which OEMs can take advantage of to get better scores in these tests like providing dedicated components in SOCs for such tasks. I was expecting that geeks of our generation will be able to see through that, but I was disappointed. But, I am very excited about the Alder Lake processors.

The M1's could be the greatest thing since sliced bread but being a SoC they are a no go for me. A personal Computer is all about being able to upgrade the CPU, RAM or SSD as the need comes along. In the enterprise market being able to swap out RAM and SSD's if they fail or someone needs a bigger SSD is great.
Windows Central Newsletter
Get the best of Windows Central in in your inbox, every day!
Thank you for signing up to Windows Central. You will receive a verification email shortly.
There was a problem. Please refresh the page and try again.