Intel's Comet Lake-S desktop series now official, i9-10900K dubbed 'world's fastest gaming processor'
Intel says the 10-core i9-10900K offers double-digit gains across the board over the 9900K.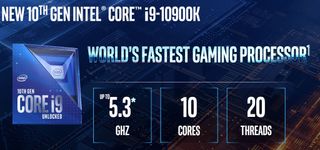 (Image credit: Intel)
After several rounds of leaks, Intel's 10th-gen Comet Lake-S desktop series is now official. As is the case with a new desktop series, there are several SKUs across various price points, but three models stand out: the i9-10900K, i7-10700K, and the i5-10600K.
The Comet Lake-S chipsets are still fabricated on the 14nm node, but Intel is touting several standout features with this generation. The i9-10900K has boost clocks of 5.3GHz thanks to Intel's Thermal Velocity Boost, and hyperthreading is standard across all models, including the entry-level i3 chipset.
Intel talked about the overclocking potential of the Comet Lake-S series, with the company's Extreme Tuning Utility offering fine-tuned voltage/frequency curve controls, disabling/enabling hyperthreading on a per-core basis, and PEG/DMI overclocking. The new chipsets have better thermal performance thanks to a thinner die and thicker IHS (integrated heat spreader). Turbo Boost Max 3.0 has been tweaked to offer better single- and dual-core performance by automatically identifying the best performing cores. The chipset supports PCIe 3.0 via 40 platform lanes — there's no PCIe 4.0 here.
All Core models in the Comet Lake-S series (other than the F-series models) feature Intel's UHD Graphics 630 iGPU, with the Celeron models offering the Intel UHD Graphics 610. The Core models work with dual-channel DDR4-2933 RAM, with the Celeron options limited to DDR4-2666 memory.
The highlight of the Comet Lake-S series is the i9-10900K. With Intel set to stay on the 14nm node for desktops for the foreseeable future, it is focusing on high frequencies to deliver improved performance over previous generations. As such, the i9-10900K can go up to 5.3GHz with Thermal Velocity Boost, with the chipset featuring ten cores and 20 threads. It has a base frequency of 3.7GHz and goes to 4.8GHz in boost, with a TDP of 125W.
Intel says the i9-10900K offers double-digit gains across the board from the 9900K in its own benchmarks, dubbing the 10900K the "world's fastest gaming processor." We'll have to wait and see how the processor holds up in real-world usage scenarios. Elsewhere, the i7-10700K is also a great option, with the 8-core 16-thread chipset going up to 3.8GHz and 4.7GHz in turbo mode.
Intel has a lot of SKUs on offer this time, so let's make sense of the naming convention. The K at the end of a name means it's an unlocked part, making it ideal for overclockers. The KF models are also unlocked, but they don't come with an iGPU, making them more affordable. Then there's the regular locked models that don't have any letter at the end, and these also come in a variant without an iGPU, with the models denoted by an F at the end.
Here's the full breakdown of the Comet Lake-S series:
The 65W i5-10400F and i3-10320 are interesting because they could end up being decent value in the long run. It's clear that Intel is trying to position its mid-range and entry-level options against AMD here. We'll have to wait until the models go on sale to get a sense of retail availability, because the figures listed above are for channel sales in volume of over 1,000 units. Retail models will be costlier than the figures indicated above.
Comet Lake-S utilizes a new LGA 1200 socket, so you'll need to pick up a motherboard with a series 400 chipset to use the new designs. We'll undoubtedly see motherboard vendors roll out new boards tailored for Comet Lake-S in the coming days and weeks.
We'll have much more to talk about Comet Lake-S in the coming weeks, including a full review of the i9-10900K. In the meantime, share your thoughts on Intel's latest desktop series, and what model you're interested in picking up.
Damn these new sockets every year... Not buying a new motherboard and CPU. The idea of taking everything apart and putting it back together terrifies me.

It's also gratuitous given that AMD's AM4 motherboards will also be good for the new Zen 3 series (in some cases requiring a BIOS update)….and their compatibility goes all the way back to the original Ryzen.

Ahhhahahh, ah that's hot, that's hot.

So they're rated at 125W, higher than the 105W rating of AMD's Ryzen 9 stuff, which offers 12 and 16 cores. They're pricing the 10-core's bulk pricing at $488, higher than the retail pricing of the 3900X. So, what are we thinking, $550 or so at retail, to go against a 12-core? Intel's not even able to put out a product against the 3950X either. On top of all that, they're back to ANOTHER chipset. You can throw the upcoming Ryzen 4000 stuff into boards 3 years old, while Intel's making you scrap everything and pay the extra $200 for a high-end board, if you want it. Oh, and are they going to bother putting a HSF in with these things, or are they going to make you shell out extra on new builds to have cooling? Still doesn't seem like Intel's still going for the "gaming" crowd as their market. They want to win on isolated gaming benchmarks because they aren't even trying to compete in properly heavy workloads for content creators. What's more, it looks like they're going to admit defeat in most tests and STILL charge a premium over AMD for your troubles.

Note that AMD gives information about average power, but Intel still lists traditional TDP (Thermal Design Power) as maximum power. It's not an apples to apples comparison.

They design for gaming, makes sense. That's really what IBM had in mind all those years ago. Puke.
Windows Central Newsletter
Thank you for signing up to Windows Central. You will receive a verification email shortly.
There was a problem. Please refresh the page and try again.