Intel's Skull Canyon NUC Kit shrinks a gaming PC into a tiny box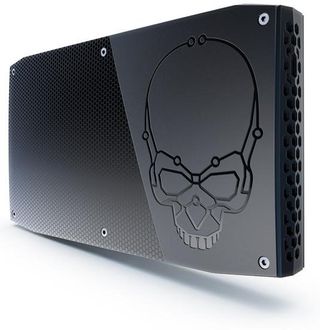 We have seen tiny PCs before, but they usually have low-end hardware specs. This week, Intel revealed a tiny PC that can have high-end hardware inside, including an Intel Core i7 processor, that's designed with PC gaming and Windows 10 in mind.
The Intel NUC Kit NUC6i7KYK, also known as "Skull Canyon", packs in an Intel Core i7-6770HQ processor running at speeds between 2.6GHz and 3.5GHz. It also has a dedicated Intel Iris Pro graphics chipset. While it's not a separate PC graphics card, it is a bit more powerful than the usual dedicated graphics ship that is normally found on these small PCs.
Other solid hardware specs include four USB 3.0 ports along with a Thunderbolt 3 port for connecting to 4K displays. It can also connect to devices like the just launched Razer Core which allows desktop graphics cards to be used on notebooks and small PCs. Skull Canyon will go on sale in a few weeks, via NewEgg.com. for $650. Buyers will have to purchase and install Windows 10 separately, along with its storage and RAM. It can support up to 32GB of DDR4 RAM, and it offers dual M.2 slots for SATA3/PCIe x4 Gen 3 NVMe/AHCI SSDs.
Still looking for news with 'Windows 10 Mobile Rolling Out' heading -_-||

Yea, we all know that was pure BS.....

Aside from this being totally unrelated to the article, if the build rolls out today it won't be until at least 10am PST (Microsoft doen't typically release anything earlier than that). It's currently only 8:17am PST. That being said, it probably wont rollout to every single device on day one, especially if firmware changes are needed (for whatever reasons). Additionally, whenever it is officially released, it will just be the Production Release build, which you can already get from the Windows Insider program for most devices. I also get the feeling that devices like the HTC 8S, 8X, and Samsung's Ativ line, probably will not be getting the update anytime soon, as (last I heard) it requires the device be running the latest version of Windows Phone 8.1, which I don't believe any of those are because HTC and Samsung are jerks (lol).

It won't release today because MS has to announce it first...

Plus windows central's source is themselves Googling stuff lol

Technically, they could do a same day release, you know, like with the Insider Builds. Supposedly, the carriers have been testing for months, and Windows 10 Mobile has been well covered already, so there really isn't much to announce other than who is getting it when, which could be done in one fell swoop.

This is likely the future of Xbox. This and cloud supported games.

For what they are asking $650?

The difference here is that you're getting a pretty darn compact PC, with moderate gaming capabilities. It wont rock your world, but it's definitely a nice option for those that want something a little slimmer to hookup to the TV.

Click the Intel link - it has the full info

Ohh here comes yhe marketing manager.

?? If you want the info, look at it yourself. I'm not going to baby you and give you a summary of the information

For $650...thats actually not terrible. Curious as to the cooling and how easily that thing will burst into flames under stress though

Nice small gaming rig rather than big fatty desktop

WTF, xbox and ps should design like this. :P

Huh? This is a pretty typical design. I think the Xbox One and PS4 look way better than this :P

Click the Intel link (not the New Egg link)... all the info is there

Tiny but not that powerful. Another overpriced piece of hardware.

What other equal pieces are there? Posted from Windows Central for XL

It is a case, a motherboard, a cpu and a Power Supply= 40+80+250+100=470€ if you build it. It is a bit overpriced, considering they can build it for much less. It will go down to its right price some month after release anyway, around 500 I'd say.

Uhm... In this form-factor, please.

By the way... My case is $170 alone... Sent from my Windows 10 PC.

No one cares about how much ur is

Good luck finding a €80 motherboard with Thunderbolt and M.2 on it. You also forgot to add Windows 10 so there's another €80...

Well if you can find w8 license for dirt cheap if you know what e-tailers to look at

For an intel SFF build...This price isn't terrible. By my math: SFF mITX Case: about 100 (if you want one with good airflow) Power Supply: 120 (modular because that thing is tiny) MB: 75-100 RAM: 100-250 (16-32GB respectively) CPU: 299 (average since the processor they are using is an OEM) By that....around 650 sounds about right. It makes me wonder how much money they are making on this actually

Just FYI, the Intel Core i7-6770HQ cost at tray lot $434.00. So $650 prce tag is right in line with what you get.

Yup... Not overpriced at all.

Oh I didn't know they used an overpriced cpu, so this thing is not overpriced they could have used something less pricey. My 2600k with 4.4ghz clock is keeping me happy and it's still an overkill for gaming.

Its not overprized... Its not cheap, but it is not a lot for what you get. Posted from Windows Central for XL

Thanks SGTGimpy, didn't have that figure.
But sure you could build it for less, but the average person won't and wants something that just works out of the box.
And in terms of less pricey....its an i7... You get what you pay for.

I am not going to call it gaming PC.

What the hell is this? $650 gets you a CPU, PSU, and case? That's pretty bad. If you have to add that monstrous Core next to it, you might as well just get a mini-ITX case and start from scratch, really.

Exactly. I have a small itx case and house an unlocked i5, 16gb of ram, two ssds and a hdd as well as a full sized card with ease. No point in getting this if you need the razer core to make it anywhere near gaming capable.

The cpu alone is more than $400... Posted from Windows Central for XL

Not a fan of the aesthetics ...

You can't call it a gaming PC if it doesn't even have a dedicated graphics card. Or at the very least give some benchmarks to put it into perspective with proper gaming PC's. Poor effort on this article.

U must remember that wc may receive money to spread the world about things.. U know.. Marketing... We know this little guy isnt and will never be a gaming pc, but wc will try to convince us that ir Worth the buy

I wonder if this is a lot more powerful than the new Intel NUC6i5SYK which has a smaller footprints.
http://www.intel.com/content/www/us/en/nuc/nuc-kit-nuc6i5syk.html

Nice to see but price does seem a bit crazy. I still think the Alienware Alpha is almost without equal for a small gaming PC. Okay this is even smaller but the Alpha is still pretty tiny and manages a proper gpu - and fully built costs less than this bare bones...

Just so everyone understands the price of this box. The CPU that is in this kit alone cost $434.00 at tray lot of 1000. At retail this CPU would most likely be $500 just by it's self. The Intergrated GPU on this CPU model has either 64MB or 128MB of eDRAM on it and can get close to a low-mid range dedicated GPU in terms of performance. This box for the price and targeted use is a good deal.

I think the main problem with this gaming nucs that Intel makes is the graphics, is the iris pro, Intel's best GPU, but still pales in comparison to dedicated video and are only available on high end processors that are very expensive. If they made a mid end CPU with this iris pro, would be a best bet, with this one, no game will need that processing power, and the GPU power will be missing.

I'll buy anything if it has a badass skull on it. In all seriousness, though, the NUC line has impressed me. They cost about the same as a custom-built PC of the same specs but are much tinier. If someone wants a PC and they're not a gamer, this is what I get for them. I'll be keen to see how quick Skull Canyon is. Might be the right choice for my father in law who does a bit of photoshop and indesign along with his web-browsing and email.
Windows Central Newsletter
Get the best of Windows Central in in your inbox, every day!
Thank you for signing up to Windows Central. You will receive a verification email shortly.
There was a problem. Please refresh the page and try again.