Interested in the Alcatel OneTouch Fierce XL? We're giving one away!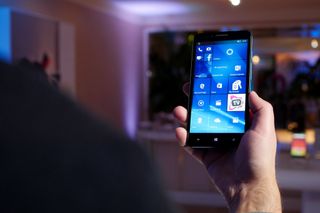 Update: Closed! The winner is below.
The Alcatel OneTouch Fierce XL is now available for order at T-Mobile in the U.S. where you can buy the phone outright for $139 or on a monthly plan. We happen to have one on hand, and decided to go ahead and give it away to a Windows Central reader!
To enter, check out the widget below. There are several ways to enter, and each one has a different point value. Complete all of the options for the maximum number of entries!
Please note, the phone we have is locked to T-Mobile, so you'll want to be sure that will work for you before you enter, and of course due to that restriction the giveaway is only open to those in the US.
We will leave this open a couple of weeks and announce the winner here on the blog shortly after the close date. Good luck everyone!
Enter to win an Alcatel OneTouch Fierce XL from Windows Central!
Then enter the competition Posted from Windows Central for Windows 10

MURICA
Posted from Windows 10 for Windows Central

It's a good phone just that it doesn't work 100% with Windows 10 Mobile Posted from Windows Central for Windows 10

Good luck for the participants. I'm from Brazil, so, no way i can join this

Yep, same here Finland! :/

Brazilians are Americans too!
Good luck United Starters!

You mean United Statians Posted via the Windows Central App for Android

It's been about 3 years since my last test ride with T-Mobile. Hopefully, this will give me another chance.

US only, huh? I think I've gotten used to that now.

Well considering that the phone ia only available for Tmobile which is a us only carrier(not referencing the european one), you shouldn't expect it to be available to all users across the world. Posted from Windows Central for Windows 10

Awwww mannn... Eagerly to join the contest, but I'm from Malaysia :/ good luck, participants! May the odds be ever in ur favor :P

This will work for me. I hope I get it :)

Sweet :D Want this so bad

This looks like a nice option, but if your adventurous I suggest getting getting an att Lumia 640 for $30, unlocking it, and flashing tmobile rom. It's working amazing for me and has replaced my higher spec Lumia icon.

The 640 is a great phone, picked one up as a backup but use it regularly as well. Can't say it replaced my Icon, though. Especially when talking about the cameras Posted from Windows Central for Windows 10

Oh yeah I can't use this phone I'm on metropcs. :(

A friend picked up the Fierce XL last week, and has already returned it. Nothing but problems, and they only got worse after a hard reset. Hope it's a one-off, but it was a horrible experience.

Nope unfortunately not my XL is giving me problems with call volume dimming randomly, calls not wanting to go out , app crashes left and right and most of my apps won't open at all. Posted from Windows Central for Windows 10

Exactly...I have the 830 and bought the 640 to test out window 10. So far so good. Enjoying windows 10 mobile. Just bought another 640 for my wife since she dropped her 830 and shattered the glass.

I have a question why is the the 640 so cheap, it couldn't be anything to do with the SD400 Going to be very lacking & struggle to run the Full Public Release of W10M, I would say so, I'm surprised nobody is seeing it

And here I am, with my 640 running Windows 10 with no problems at all :P

My 640 has never had a single issue with struggling to run Windows 10 Mobile.

Does it get lte and other bands?

I could use anther Win 10 bile phone. Pretty sweet middle grounder.

I would like if this model had a better camera on back, but I love the 4.7 inch screen, it's just the right size for carrying in the pocket!

The fierce has a 5.5" screen

Thanks for running the giveaway!

T-Mobile with a Windows Phone! Yes!!!

Why do I want an Alcatel OneTouch Fierce XL? Looks like a good phone on T-mo.

The only drawback I experienced was the camera. Takes ok pictures in good light, but pictures tend to be grainy.
Other than that a very decent performer

Great I just got this phone lol. Though unlikely to win. Great phone, though I miss glance, will get used to it.

As much as I would love a free Alcatel Fierce XL, I seem to already have one.
Nice phone folks, you'll enjoy it.

Looks Nice... I would like to win one.

That would be a good phone for me to get me off android

Looks good, I'll take it.

This would be pretty sweet!

Hunh. Alcatel makes phones? Who knew.

Definitely a decent budget phone.

Might make me consider t-mobile

I've been looking for a reason to get away from Verizon. This could be it. Posted from Windows Central for Windows 10

To be honest, I'd still love one even if it the reception wouldn't work over here in the UK! Best of luck to those eligible to enter.

Pick Me. ANd please fix this website... It is soooooo slow and such a resouce hog. this is for all of mobile nations... I would pay if i could get rid of these ads or whatever it is bogging it down so bad. This one website where the app is much better to use, i cannot believe how frustrating it is to visit this website... from any browser... People hate me forwarding links because they get to frustrated to even read the content.... PS PICK ME :)

I needs this! Want to get back into the Windows Phone world.

I'd love this to replace my Lumia 521

Boooo! I wanna enter but of course the Americans shall take this one

I am just happy to see Windows Phone available at T-Mobile again. I've been on my LG G4 for too long and I miss the Windows Phone OS. Here's to hoping we have even more options in the near future.

How do you enter the draw

glad t-mobile is getting this. hopefully they get a few more WPO as tclearly still inerested.

Crossing my fingers on this!!!

I want it!! Posted from Windows Central for Windows 10

More frequent contests, great!

When (will the giveaway be held) in India ?

Sweet. Good luck everyone

I could use a replacement for my Lumia 635!

I would like one please to compare it to my lumia 925 Posted via the Windows Central App for Android

Can't go wrong with a Windows phone.

Give me one of these! Please :)

I could really use this. My 830 is slowly crossing the bridge. :(

Hey my dad could really use this phone! Upgrading from a Lumia 635 small screen to this behemoth will benefit his vision greatly!

It's a great phone! Whoever wins it, as long as they know it's a budget device and what to expect, they will enjoy it. I had a L925 and am now using a Fierce XL as my daily driver. It is a great budget W10M device! Runs just as good, if not better than the L925. Posted from Windows Central for Windows 10

Must win, unlock, use on att Posted via.........deez nutz!!!!!!

This is an amazing phone. I'd love to get my hands on one to see what 3rd party OEM hardware is all about in the Windows Phone world. I also love the size of the device. Please pick me! I would be so grateful to try out some new hardware, I've never won anything in my life!

Well I'm on Ting's GSM service, which uses T-Mobile's network - so obviously I will have no trouble putting this phone to use. Please send it my way!

I would like to give it a try.

Well if I can't win the 950XL this will have to do :p

Winner winner Alcatel dinner

I'd love to win this phone. The 5.5 inch screen and 2 gigs of ram sound awesome.

Nice. I'm already on T-Mobile, so no worries there.

I'd love this phone so bad! :D

I was just last night about to hit the buy button, and seen this today. Going to get either way but free why not. Love windows phone central.

Hopefully it won't have to sit a drawer for a year waiting for the apps I need.

What a nice phone for the price.

Good thing I'm on T-Mobile.

Any windows phone, I will take it.

Thanks for another great contest!

not a 950, but ill take it

I would love a TMO certified for WiFi-calling.

Looks like a nice little phone and very refreshing to see T-mobile step up to the Windows Mobile plate!

Awesome!! Would be great to win this :-)

Alcatel made a windows phone!! Sweet!

I love that the back is Cyan colored, gives me a little bit of Nokia nostalgia.

Looks like a pretty decent option.

I want to get in on the Universal Windows Apps and what better way than a TMobile (My Current Carrier) Win 10 device?

You can win this one or buy outright for $59 from metroPCS if they are in your area. Yes, $59 outright after $80 in rebates.

Hmmm. I believe this phone is coming straight to me. Wish me luck, guys.

I just bought one of these for one of my son's and now one of my other sons really wants this phone.

This would great to go with my Alcatel OneTouch watch!!

Was just looing at this to replace my son's Galaxy - free would be better :)

This looks like an awesome competetor to the Lumia 950 XL, and my wife does need a new phone....

Even though locked to T-Mobile, this phone will porbavbly be better than my current 630. So I cannot say to freebie.

Haven't tried T-Mobile before. Maybe the Steve Harvey pink balls commercial and this phone could change things!

I want to try an actual Windows 10 phone.

Yea, maybe giveaways increase the number of windows 10 mobiles in the US.

I would like to have this phone - it is a resonable cost option for the large screen needs (desires)

Come on new phone! I need!

As a T-Mobile custiomer, yes please!

Sweet! I wouldn't mind using this little device.

It may be well to replace my 925.

This phone would be a very nice upgrade to my current phone. Crossing my fingers. -Cheers.

I'll take one new windows phone please

This would be a big upgrade for me since I still don't have a smartphone :-)

i would love this new phone just to see what the OEMs have to offer. I am excitied for its future

I wonder who will win. Lol Posted via the Windows Central App for Android

It's not the most prestigious of devices but I still want it. It's always nice to have another phone to play around with.

I would love one! It's great to finally see a Windows 10 mobile device on Tmobile. They used to have a decent selection of Windows phones. I'd like to see that happen again. Where is the Luma 650 after all?

The official phone of Beyonce's alter ego

Does it really come in the gorgeous blue color? You'd think it was a Nokia.

Very nice phone! Want it :)

Would be nice to have a decent upgrade to my Lumia 630. Hope I win.

I am a T-Mobile Subscriber and have been for about the last 12 years. I would dig having this device! I checked it out at the T-Mo Store and it looks pretty sweet. I have a Lumia 640 and like it, but the bump in screen size would be cool!

This would be perfect! I will enter.

Cool, I have T-Mobile, and this is the only W10M they're carrying now, huh?

Good luck to all who are qualified to join!

Nice to see manufacturers making new windows mobile devices!

As with anyone, I love free stuff. Looks like a nice phone!

Interesting that Alcatel is producing a Windows phone with decent specs!

Sharp looking phone, definitly can use this WP for my bussiness. I'm in for the Alcatel giveaway!

I would switch to t-mobile for a free phone, i think.

oh ... my dream ... i would like to have it . will help me to build a database application windows phone

I would like try this mobile...

Hope i get atleat this phone

I would love to win because of all the amazing features.

I would love the Alcatel Fierce XL because I have been using Android for a while now and am ready to experiment with letting Windows Mobile back into my life. I have not used Windows on a smartphone since Mobile 6.5. :-)

If I win it I will Donate it too charity, just like I did with the Xbox one I got through the loyalty program

Count me in - good luck everyone!!

Got to look at it in the store today, it's a pretty well-rounded device! Good luck everyone!

I WANT I WANT I WANT ......

I hope I win! Good luck to other participants

Here we go again.... pick me!!

This would be an awesome upgrade to my lumia 810, as my Ativ S is no longer usable.

"Sorry, this promotion is not available in your region"
LOL

I'm curious to see what an actual Windows 10 Mobile device feels like versus using just the preview on an older device.

After trying out Android I wouldn't mind switching back to Windows and Alcatel is something I have never tried before so it's definitely intriguing :)

Love the Windows OS for phones and would love to get an upgrade to the old Lumia 920 im still using... Good luck everyone :)

Free is free... always good!

I like this,but I an Indonesian can't following

Let the best man/woman win! :D

Our office just ordered 10 from T-Mobile. Would love to have one for personnel use.

I'd like to upgrade this old Nokia 520

Interesting phone for $140. Can't wait for some flagships to be available through T-Mobile :)

I need this phone! My 950 is nice but I need another phone, a bigger one. :)

Do I want an Alcatel Fierce XL Windows Mobile Smartphone? Yes I do.

I would love to own one, would be my first Windows phone. I've been wanting to try one and this would be a great way of doing that. Posted via the Windows Central App for Android

Pick me! I want to upgrade from my 521.

I've been looking to upgrade my phone. This would be an excellent replacement.

Good mw10 test phone. Then I could return my l929 back to 8.1.1

Might be a good backup to my Lumia 640. Count me in...

I'll take it off your hands lol. Seriously though id love to have it.

Looks like a great one! Hope I win it!

This sounds awesome. Plus, it works on my network! WOOT!

This looks like it could be a really nice device!

Another Midrange Windows Phone on Magenda network..