Interview: Xbox One S, Beam, franchises and more with Aaron Greenberg
Xbox's marketing chief on franchises, streaming, and momentum.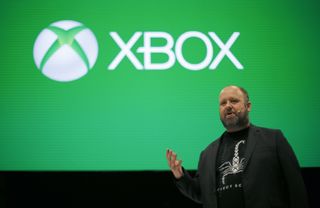 During our chat, we discussed a range of topics including Xbox One franchises, upcoming games, the acquisition of Beam and the Xbox team's overall upward momentum.
Xbox One took the spoils in the July NPD figures, which saw a strong E3 and a $50 price cut send Xbox One sales to victory over the PS4 in the US. And that was even before the Xbox One S launched. We have brand new social features on the horizon, in the form of LFG, Clubs and Arena, and Microsoft has put together a stellar holiday line-up that includes an all-new Gears of War, and a brand new Forza.
What's next for team Xbox? I spoke with Aaron Greenberg to find out.
Jez Corden: Xbox is doing really well, it feels like you've got a lot of momentum right now. Winning July NPD, before the Xbox One S even launched – are you expecting to "win" August as well?
Aaron Greenberg: You know, we saw tons of momentum coming out of E3. It was a huge show for us. We announced a lot. Two new consoles. We showcased a huge games line-up, a lot of Xbox Live innovation. It's great to see the July NPD as a result. We had a really good response coming out of that. You're right. In August – I think we're going to sell a lot of consoles.
We just kind of focus on what we're doing and how we're performing. We're really pleased with how the Xbox One S has been performing. It has exceeded our expectations. We're trying to make as many as we can, as fast as we can, as we try to get these new bundles out to the market. We'll see, we'll see how it turns out.
Jez: So can you tell us about the Xbox One S bundles currently on offer?
Aaron: We had a 2 TB special launch edition. We also have the Gears of War Limited Edition 2 TB SKU, for people who want 2 TB storage.
Jez: I want that.
Aaron: You do, yes, haha. Believe it or not, most consumers won't buy the 2 TB version, but we know for a lot of our core fans, that's what they want.
We've also got new FIFA bundles, we've got a 500 GB and a 1 TB version, and those are £249 and £299. It includes FIFA 2017 and it includes a month of EA Access. So if you're a FIFA fan, you can actually play FIFA five days before it officially releases with that bundle. The 1 TB version also has a rare player pack that's worth about $10 in value. We've had a big partnership with EA on FIFA for multiple years, and we're excited to bring this to market with the all-new Xbox One S.
Jez: On the topic of custom consoles, since you mentioned the Limited Edition Gears of War Xbox One S. Usually, when a custom console comes out they just slap a sticker on it and call it a day, but the Gears console has laser cuts in it, with an amazing custom paint job. Do you think you'll be doing more custom consoles on that level of design intricacy?
Aaron: Well we can't do that every time. But when we do, we want to do it right, you know? Between our design team, and the team at The Coalition, I think you've seen what maybe one of the best special edition consoles that we've done in a very long time.
The claw marks? We used lasers to cut those. When the lasers cut that, sparks fly and it's just so awesome, same with the special edition controller and the Gears Elite controller. I think it's fun. For custom consoles on that level, Gears makes sense. It's our biggest exclusive franchise of the year, and we think it's going to be a huge hit with fans. In a lot of cases, those core fans are going to want a special edition.
We'll look at when it makes sense to do that again in the future. We'll see how well it sells.
Jez: Speaking of Gears, considering how it joins Halo as one of your huge heavy-hitting exclusives, a lot of the games you guys are putting out lately have been completely new franchises, like ReCore and Scalebound. At least from a marketing perspective, wouldn't it be easier to go back and address some of your older, more established IP like Perfect Dark or Age of Empires? Considering they already have existing fan bases and so on.
Aaron: We try to take a balanced approach, and you're right, we have a lot of existing IP and franchises, like Gears and Forza and Halo, that we're innovating entirely new versions of. But at the same time, we work with some of the top creators in the world – what are they dreaming of making? To be able to partner with the folks like Armature and Inafune-san on ReCore is a pretty special opportunity to create something uniquely new.
We don't just want to build new IP, but we don't just want those same teams to go hunting for old stuff to bring back. But at the same time, we announced we're going to remaster Phantom Dust for fans, and we've certainly got other things in the works.
You're right, though, creating new is harder, but there's also something really fun about that. We did that with Quantum Break, with Recore, with Platinum Games on Scalebound, we're creating all new franchises. All of today's big game franchises started at that point. It's fun, and it's fun to be able to get to do both, and that's what our fans want. It's good to have a diverse library.
Jez: At what point does a game stop being a one-off and transform into a franchise? For example, in Quantum Break, I'm a huge fan of Remedy and Alan Wake, and I felt like they were teasing Alan Wake 2 a lot in Quantum Break. Quantum Break itself also seemed perfect to pick up a sequel, but then Remedy announced they're going to go off and do something else, and work with another company on a new game and that they're not working on Alan Wake 2. At what point do the business aspects of game development get in the way of the fun you mentioned?
Aaron: Yeah, this is a business. There are times when you have to make priorities on resources. That said, Quantum Break sold really well, it exceeded what we expected it to do. We were really pleased with how Quantum Break did. But just like every movie, not every game needs a sequel, sometimes it's okay.
I can't speak to what Remedy were thinking exactly, especially when it comes to Alan Wake references. I think they're probably very proud of what they created there. They're very creative storytellers who build very rich, great games. They were great partners for us. We're excited to see what they do next. We also announced that we're bringing Quantum Break to Steam. We're bringing it to PC retail because we want more and more people to play Quantum Break. We think that's a good thing.
Jez: It's good to hear that Quantum Break exceeded your expectations and sold well. A lot of people tend to presume a game sold poorly if sequels don't materialize.
Aaron: Yeah. And a lot of creators don't necessarily want to go and do a sequel, a lot of creators just want to go and create another new thing. When it comes to sequels, there's a complex set of dynamics.
There are other franchises, think about Gears of War 4, we're putting together a whole new saga, we're not just going to make one more Gears game. The team at The Coalition and we've been thinking about that over a long period of time. It's also very exciting.
Image 1 of 2
Jez: I do think about how Microsoft has a wide array of celebrated characters, recognizable enough to appear in games like Killer Instinct, such as the Arbiter from Halo and so on. When you are putting games out like Scalebound, ReCore and Quantum Break, are you looking for them to become the next big thing in the Microsoft portfolio? Or is it just about creating and seeing what happens on the fly? Are you chasing those sorts of Halo, Forza, Minecraft levels of franchise success?
Aaron: It's a tough one, because, with every new thing we create, we try to be realistic about how hard it is to deliver new IP and new franchises. But at the same time, we think some things we have done have a really unique appeal. I think about ReCore, and the characters that are in that, and the story elements that are present in that. That kind of action-adventure style gameplay – the depth of that gameplay. People will be really pleased with that one.
Jez: I was really surprised at how much depth ReCore actually has.
Aaron: And we're bringing that game out for $40. We don't want the price to be a barrier either. That's an example of how we want to bring great value. I'd love to see ReCore do really well. Ultimately, consumers and their response, voting with sales, how they feel about the game – we'll read reviews, see how it performs, you kind of never know. We look back to the first E3 where we first showed Halo – we didn't have a great E3. People were worried about the game. But when it launched, and people played it, people were like "holy crap, FPS on a console!" and it became one of the biggest franchises we've ever seen. Sometimes you just can't predict where success will come from.
Jez: To change it up a little, the pace of updates to Xbox Live feels incredibly rapid lately. We have UWP apps now, background audio, with Arena, LFG, and Clubs on the horizon, and now you guys have picked up Beam. When you guys decided to purchase Beam, was that with the mentality that you want to take on Twitch and integrate it with the Xbox? Are those plans fleshed out? I can't see you guys making a purchase like that lightly.
Aaron: We were really, really impressed with the Beam team and what they were doing. They're a smaller team and perhaps not on the radar of a lot of people, but the technology that they've built is super innovative. The fact that you can stream, watch and interact and play with the streamer in close to real time, there's a lot of really unique things there that we feel can be built upon.
The trend is, people are spending a lot more time watching games, often more time watching than actually playing those games. So when it comes to watchable game franchises, and what's happening in streaming, we think it's great for the industry and growing games as a form of entertainment. We continue to work closely with Twitch and YouTube Gaming, and all of our other streamers and streaming partners. We know people have a lot of choices about where they're watching and where they're streaming. For us, we were excited about what's happening in that space, Beam was a unique opportunity to work with a team that's doing something really innovative, so we're excited to work with them and integrate the service where it makes sense.
Jez: Since we've time for one more quick question – are you #TeamSticker, or #TeamNoSticker?
Aaron: Haha, I'm TeamNoSticker, but I'm not choosing sides! But it is funny to see how that took off with the community. I'm not getting into any fights with the pro sticker community, I've seen their passion and it is strong.
A big thank you to Aaron Greenberg for sitting down to talk with us!
Xbox One has a lot of momentum going into this year's holiday season, with a stellar line-up of first and third-party games, and an all-new Xbox One S console. Sony's PlayStation 4 "Slim" recently leaked, but it remains to be seen whether it has a feature set that can compete with the Xbox One S.
With Beam, Looking For Group, LFG and Arena, Xbox Live is about to get a whole lot more social for members, and all this is coming before Project Scorpio, which will likely get its reveal next year. I feel like it's a pretty good time to be an Xbox fan.
Get the Windows Central Newsletter
All the latest news, reviews, and guides for Windows and Xbox diehards.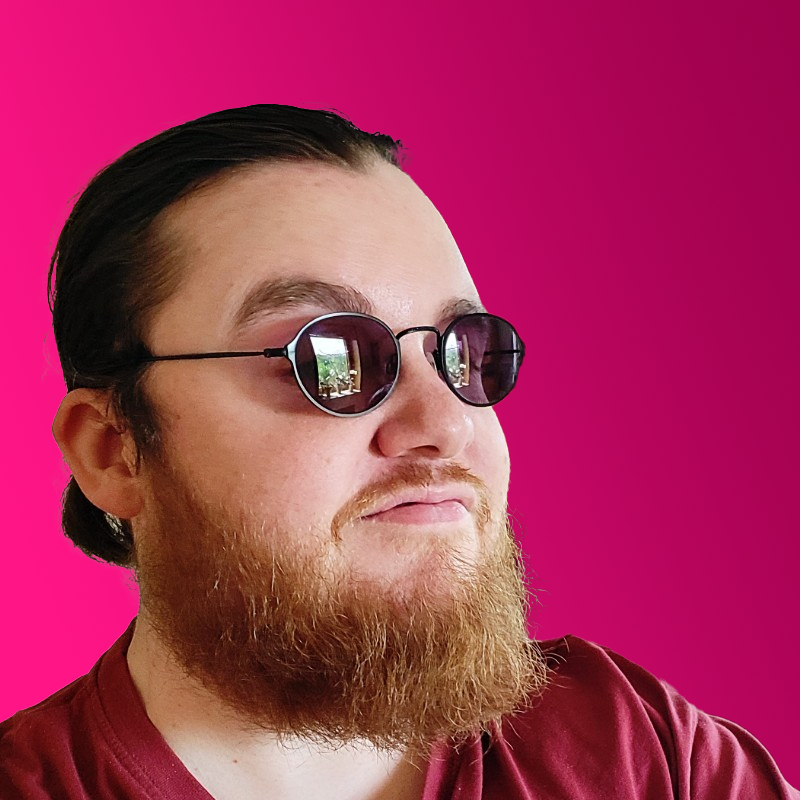 Jez Corden a Managing Editor at Windows Central, focusing primarily on all things Xbox and gaming. Jez is known for breaking exclusive news and analysis as relates to the Microsoft ecosystem while being powered by caffeine. Follow on Twitter @JezCorden and listen to his Xbox Two podcast, all about, you guessed it, Xbox!