Interview with Marko Ahtisaari, Head of the Nokia Design Team on the Lumia 920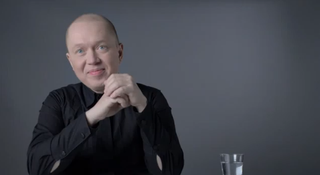 Nokia has published a video on its YouTube channel. It's an interview with Marko Ahtisaari, Head of the Nokia Design Team, who talks about the Lumia 920. Revealing how the team pays close attention to minute details (hardware buttons, glass, etc.), he goes into explaining how the team wanted to ensure the build quality of the Windows Phone is at such a level so when consumers take the device out the pocket while outside, they're not concerned about its protection and cover it in bulky cases.
Ahtisaari continues on to state how the company wanted to make the phone 'human' and how this means the product is never cold. Also how the curve in the body feels natural, as if the Lumia 920 is grown as opposed to coming straight off a production line. It's an interesting insight into the advancement of an already iconic design. The video interview is well worth checking out for a quick overview on how the team went about developing the flagship Windows Phone.
Mobile Geeks previously interviewed Marko Ahtisaari, which is a longer sitting with questions provided by attending enthusiasts and reporters.
Source: YouTube
Rich Edmonds is Senior Editor of PC hardware at Windows Central, covering everything related to PC components and NAS. He's been involved in technology for more than a decade and knows a thing or two about the magic inside a PC chassis. You can follow him over on Twitter at @RichEdmonds.
I love my Nokia Lumia 920... I have no battery issues and it's just a great phone!!!

I like my Lumia 920, even with its battery issues. I wish it worked with more headsets properly. Like I have some Diddy beats headphones, bit volume rocker doesn't work, mic doesn't work for calls, etc. But awesome phone overall. Wireless charging stand at work is as good as the powermat I had before with my iPhone. Makes charging a breeze.

Those 3.5mm issues are to do with WP8 that doesn't support iPhone headphones controllers.

St the end of the day, it doesn't matter. Nearly everyone has a pair of iPhone earbuds or headset and it sucks that it doesn't work. Customers font care who is to blame. They just care that it doesn't work.

It's the same story on my L900, but I just pick the best sounding 3.5 mm headphone and just make sure the phone is close by when using it to make calls. The mic picked up the audio so well it's almost like having a headset mic.

Thought it might help. The Playstation Vita headphones microphone works with the 920.
Sound quality preference aside, it is really good for calls. All say its loud and clear

Nokia Lumia 920 is a great phone! I do intend to get a case for it though because of my lifestyle and the risk of it getting damaged.

iPhone has done that since 2007 and they seem to be doing alright.
Nokia has this year alone released tens of different phones and this man is responsible of plently of other designs like the unibody alimiun era of phones like N8, E7 or the older ones like E71 that to this day is one of most amazing phones to hold at the time world thinnest qwerty phone. That build quality was Vertu like.

Make the N9 bigger. BRILLIANT!

Hands down the best phone I've had! +10

I love the design of the Lumia 920. The unibody design that started with the n9 is great and beautiful. I just wish they brung it more to their Lumia 800 variants (ex: 810, 820, 822) it different from the usual rounded corners and its very attractive.

Can't wait for next year.

This man is has the look and speech patterns of a movie villain...very slow and monotone in his voice. I do like the tap to play feature though.

His dad is actually an ex president of Finland and winner of Nobel Peace Prize. :D

No real battery issues here, replaced my iPhone with 920 and haven't looked back since. Would've been nice if it came with headphones, but figure I can find a pair I really like.

I'm using that new Apple earpods with my lumia bc I dont like InEars.and that earpods are the Best headphones I've ever used!

I'm sorry to hear that. Really, I am. Because if those are the best you have ever owned, then all you have ever owned is garbage.

Haha okay man... then show me headphones wich are better and wich are NOT InEars or big headphones for homeuse! There are none, except from creative and philips, and those are REAL garbadge - whatever that means...

KOSS PortaPro. Lightweight and price-quality is excellent.

The etymotic are all InEar, and the koss are those big ones for home use... Its awkward to go outside with that lol... I need earphones in the formfactor of the Apple earpods, and that type is rare, so apples's are the Best atm

its awesome to watch that video and listen to his words on a lumia 920 and feeling everything he says about the device... I love my lumia

When I'm listing Marko talking about Lumia 920, he sounds like he's really put his heart on this phone.

I wish the Nokia x7 was a wp8

COME ON GUYS LETS VOTE FOR THE LUMIA 920 === > http://www.phonedog.com/rankings/smartphones/
THE NOKIA LUMIA 920 IS IN SECOND PLACE LET VOTE IF YOU ARE REALLY HAPPY WITH YOU NOKIA LUMIA 920

Please stop screaming at me when I'm browsing the comments!

I like how they made everything monotone except the Lumia. Really popped out! His reference of a product being "never cold" is very convincing. It applies to other product designs too. Seems like a lot of good designers are bald these days. I'm gonna shave mine too.

After two weeks with the 920, early battery issues gone! I turned off location and nokia drive and now I have more than enough battery to go more than a day with no worries. Size and weight feel great to me and I'm getting better and better results with daytime still photos. The lenses are awesome and low light performance is uncanny! Everyone who sees the screen outside can't believe how legible it is, and this is the first cell I've used that works perfectly with auto brightness; the screen looks just right no matter the conditions. Any updates to this marvelous phone will send it into orbit. I'm using a wireless charger connected to a $15 inverter in my truck and I love the convenience of not having to drag a cable when I handle my phone while driving.
My 920 wish list: 1) more than one calendar and email listed on their respective tiles; 2) better integration between Nokia Drive Beta and my contacts; 3) a software fix for daylight photos; 4) a wireless car charger setup; and 5) the balance of the top 50 apps in the store.
Nokia and MS: Keep Up the Good Work!!!

Congrats to all of the lumia users. I prefer the Samsung phones but the ativ seems a bit plain. I lime the 8x but the memory is too low...seem to be missing out on the lumia bandwagon though.

Such an brilliant interview. Its so important that Nokia is taking the time to connect with consumers. Reintroducing an era of technology that is unparallled and design elements that are supernatural.

It's a shame that great product is launched with glitches and not polished OS. So much attention, but what will be the life cycle? 1 year?

Well, he can't just say the truth ("we are shipping the 4th iteration of exactly the same design, ha-ha!")...

One design flaw, that wasn't fixed from the 900 is having all buttons on same side. It makes it real hard to find a car holder that won't press one of the buttons when in use.
Windows Central Newsletter
Thank you for signing up to Windows Central. You will receive a verification email shortly.
There was a problem. Please refresh the page and try again.