Interview: We chat with Funimation's COO about the Windows 10 launch of FunimationNow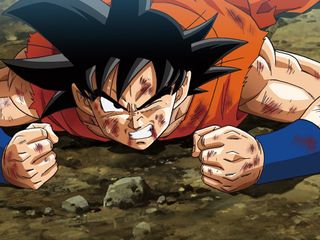 More and more we are seeing major apps and services launch universal apps for Windows 10. The latest to do so is anime company Funimation (opens in new tab), which launched the new FunimationNow streaming service on Windows 10 at the same time as their Android and iOS apps.
We got to ask the Mike DuBoise, the Chief Operating Officer of Funimation, some questions via email about their FunimationNow streaming service and why they wanted to add Windows 10 to their list of apps.
John Callaham, Windows Central: First, what was the reason for Funimation to revamp its online service to launch FunimationNow?
Mike DuBoise, the Chief Operating Officer of Funimation: We've been bringing anime to millions of fans for almost 20 years, and FunimationNow is the latest extension of that mission. Launching this streaming service allows us to put a whole new, more integrated experience together for anime fans, letting them connect with their favorite shows, however and wherever they want. It allows us to deliver the experiences both our fans, and we have always dreamed of.
John: How has the streaming media business affected Funimation specifically? Has it affected sales of your disc-based content?
Mike: Streaming has been good for both the digital and physical sides of our business, particularly as we've been able to launch our simulcasts and Broadcast Dubs. Simulcasted shows are subtitled and up on FunimationNow hours after they air in Japan. Broadcast Dubs are English-dubbed versions of each aired episode that are available just a few weeks later. Bringing those shows to fans in the format they want, earlier than ever, gives them a chance to see what they like, so then they can buy the home video releases of the shows they want to own.
Our home video sales continue to be strong, despite the overall home entertainment industry decline.
John: How will FunimationNow differ from other streaming services?
Mike: Fans will first get to experience FunimationNow via our all-new mobile app, which offers a high quality, immersive experience that makes watching anime on the go better than ever before.
By the summer of this year, we will have fully launched FunimationNow, with the roll-out of a new website experience, updated console apps, and updates to the mobile app. We will continue to add major enhancements throughout the year, enabling deeper and richer experiences for anime fans that they can't get anywhere else. The streaming service will unify social engagement, e-commerce and video streaming into a single destination for fans, also unique in the industry.
John: How much content can a subscriber expect when they access the service?
Mike: Subscribers will have access to thousands of episodes, OVAs, movies and promotional videos on FunimationNow, from over 400 franchise brands.
This includes both brand new shows still airing in Japan, such as Dimension W, Grimgar of Fantasy and Ash, and Assassination Classroom, plus the huge anime classics in our catalog, including Fairy Tail, Attack on Titan, One Piece, and Dragon Ball Z.
John: What other features are to be included in FunimationNow?
Mike: Our all-new mobile app includes many new features, including:
Episode progress sync across devices
Queue sync across devices
Airplay and Chromecast
Autoplay next episode in the series (marathoning)
+/- 10 sec skip
And, these are just the beginning - we have a lot more coming in the following months, leading to a fully re-imagined website experience launching in the summer.
John: Will we see original content exclusive to FunimationNow released and if so what will be shown?
Mike: Yes. Dimension W, currently airing on FunimationNow, is a Funimation co-production. We are honored to be part of the production committee for Dimension W, which allows us to be involved in all stages of the show's creation.
John: How hard was it to develop the mobile apps for the service?
Mike: After spending time in the technology space, we realized that at our core, we are a media and entertainment company, not a technology company. We create unique experiences for anime fans of all kinds.
So we partnered with the best in class technology provider, Sony DADC New Media Solutions, and leveraged their Ven.ue platform to be the foundation of FunimationNow. That allowed us to focus on designing the experience and meeting fan needs in a way that no one else can.
John: You are developing a universal app for Windows 10 for FunimationNow. How important was it for the company to offer this kind of app that works on smartphones, tablets and PCs?
Mike: We believe that fans deserve the ability to watch their favorite shows on as many platforms as we can provide, including phone, tablet, and everything in between. Adding in a Windows 10 app was important to us because it covered multiple screen formats, and it was an operating system many of our fans already had. We will be the first anime streaming service to have a Windows 10 Universal app.
John: Were there any major issues making the Windows 10 app?
Mike: Partnering with Sony DADC New Media Solutions really made the entire mobile apps development process a single, seamless effort. With a proven platform and partner experienced in developing applications for Windows 10, Kindle, iOS, Android and other platforms, we could focus on making the experience as appealing as possible.
John: What can we expect after the console apps are released?
Mike: Soon after the mobile app launch, we will debut apps for Apple Fire TV and Amazon Fire TV. In the summer, we'll launch updated console apps for the PS4, PS3, Xbox One, Xbox 360, and Roku. These updates will bring many of the mobile app features to the consoles, as well as the expanded FunimationNow experience we're rolling out across all platforms. I think you'll see an even more seamless experience between devices at this point, with even more ways for fans to interact with the content.
John: Finally, is there anything else you wish to say about FunimationNow?
Mike: I'd like to thank all of our fans for their incredible support, both of Funimation and our streaming service. We really value their feedback, and we are excited to share this new app with them!
We would like to thank Mike for answering our questions!
Download FunimationNow from the Windows Store (opens in new tab)
For everyone outside US, try Crunchyroll, it's a good anime service that works in many countries.

While it's not the rest of the world, FunimationNow is supposed to come to the UK by the end of the month.

Sure but it lacks funimation exclusives

That's what torrent is for. If they don't want my money, what can I do?

I am very sorry to hear. Yeah, I hear that it is not available in a lot of places. Hopefully it will expand! :-) p.s. My Japanese is very rudimentary - rudimentary enough that I had to resort to Google Translate to read your reply. But it is not so rudimentary that I needed help with my original comment.....I did have to do a bit of guessing on how Crunchyroll would convert to Katakana, though. I hope KuRaNChiRoRu was right! :-)

Crunchyroll itself is available in my country, but as anything involving copyrights, like with Netflix, some shows of its catalog are not available everywhere. I am a paying subscriber and what I can't watch paying I download by torrent. western anime industry was grown on top of illegal content popularity to begin with.

Too bad 95% of their shows are subbed only. Posted from Windows Central for Windows 10

most anime fans do prefer subbed

I don't... Posted from Windows Central for Windows 10 Mobile on Lumia 950

I understand, but dubbed content usually takes longer to produce (even if simulcast, they have to delay the original), is more expensive and less true to the original (they need to be perfectly in sync with characters' mouths so translations are heavily adapted).

Until the day I understand and speak Japanese, dubs will be my no.1 choice. And FUNimation loves to do dubs. Fair deal. Posted from Windows Central for Windows 10 Mobile on Lumia 950

Funimation is not an option outside US, and in most countries people are more used to subbed content, mostly from US, with dubbed being more enforced toward kids.

It's available for North America plus UK & Ireland. I live in United States. So it works for me. And I personally find it far more enjoyable watching something in a language I understand and speak. Posted from Windows Central for Windows 10 Mobile on Lumia 950

if by North America you mean US and Canada, because I don't think it's available in Mexico. and all those countries speak English (minimum effort), and so are also not used to subtitles like most countries are.
of course the ideal would be that all content would be available dubbed and subbed in every language possible, but that's not economically feasible, so subtitles are way easier to do in as many languages as need, like Crunchyroll does.

Sorry pal, in American geography, Mexico is considered central America. If Crunchyroll consider limiting their regions available or maybe change their business model a little. I am sure they will be able to dub shows they have licenses to. Because FUNimation dubs virtually every show they license in high quality. Posted from Windows Central for Windows 10 Mobile on Lumia 950

that's ridiculous, Mexico can only be separated from North America by xenophobic geopolitics, even a 7 years old child can see it's in North America. according to English Wikipedia there are 23 countries in North America, including islands.

You're right, it is not available in Mexico. The japanese market and media is barely supported by companies in here. That's why we have a lot of piracy ans even when there's oficial merchandise, a lot of people can't afford it or they think is not worth it. Even so, cinemas are starting to organize anime fests and that's the light of hope for companies to start licensing more and more content.

I'll admit right up front that I'm just an anime noob, but I prefer sub'd to dub'd for a handful of reasons: 1) the inflections in English dub seem contrived and unnatural to me in trying to lay over animation anticipating Japanese audio tracks. 2) you can never get the lip sync thing to work. 3) the Japanese is the original, which means the voices are the author's original intent for the characters, the pitch, timbre, nuance, tics, and inflections - the "real" Jotaro Joestar, for instance. Whenever I've listened to, say, a Spanish dub of an English language program, it's soooo jarring to hear deep voices for light voices, weak voices for strong voices, or vice versa or whatever. I'm torn 50/50 between laughing out loud and pulling out my hair - if I still had hair. Even if the English dub of an Anime may sound "right" to me if it's all I've experienced, I still know in the back of my mind that it's not. and perhaps the biggest reason is.... 4) I'm a student of languages, trying to get to a basic B1 level, basic usability / comprehensibility level in as many languages as I can. I can have basic, undoubtedly stilted conversations now in Spanish, German, getting there in Dutch, and I can also make "tinkerer / plaything" level use of several languages, including Japanese. Since I'm a long-standing retro gamer, and beginning to become more aware of and fascinated by Japanese cuisine beyond sushi joints, Japanese is a prime language on my radar. I started to study it at one point, but I was already in the middle of German, and realized fairly quickly that I couldn't handle both, so I put it down with the intent to pick it back up later. Marcos, this is why I could fire off クリンチロルいいですね without any translation assistance, but immediately had to rush to Google Translate when you actually replied. :-) Anyway, even though Japanese is officially on hold for now, I still wish to remain exposed to it, in part to slow the decay of what little I've picked up, and in part to maybe pick up on a little bit more here and there in the process, and lastly, just because I'm growing increasingly fond of the sound of the language. :-) Also, while I've long had a fascination, and curiosity about Anime from afar, there was a sort of barrier and I could never get into it. Starting to study Japanese was just what it took to finally break that barrier. Cheers!

agreed. for this reason a lot of people around the world prefer subbed content, like movies and series from US, because even without fully understanding the language, people get the intonation and the emotion feels better conveyed than with dubs that focus on phrase lenght and sync, even when the translation requires different ordering and/or number of words.
people in US are so unused to subbed content that the Xbox Team chose to put notifications right on top of where subtitles are, which I find incredibly out of touch...

I also like to learn languages, I'm a native portuguese speaker and learned english in language classes from young age, the interest sparked because when I was young, games were always in english (nowadays most games here are at least subbed, if not dubbed). then I began watching anime and like with english I started picking some words and researching the language at my own. when I started to take japanese classes I could already read and write katakana and hiragana, but lacked formal grammar, mainly because anime uses a lot of informal speech that japanese people rarely actually use. I never had formal spanish classes but my family is from a city in Brazil that borders Uruguay in a way that it's completely fused with the uruguayan city of Rivera, and because of the similarity with portuguese I can understand spanish well, but probably would make a lot of mistakes while speaking. I also research a lot on my own about phonetics in languages such as russian and greek, and although I don't know much of german, I think it's an interesting language to learn, being an eletrical engeneer and such.

That is awesome, Marcos! Your English is just about perfect! That's one difference between you and I, you have a secondary language where you are almost completely fluent. At best, I'm probably A2 in my strongest second languages (Spanish in spoken communication, and German in written communication). Then again, you started when you were young, which helps tremendously!I took four years of Spanish in high school, which was almost 20 years ago (I'm 36 now). I've retained much of what I learned then, but have not gained much additional knowledge since. I can speak it more readily these days since I use it to make conversation snippets with the cleaning ladies here at work. This is why my spoken Spanish is better than my spoken German since I don't really have nearly as many opportunities to practice speaking it. There is a German club here in Des Moines....but I've just never bothered to join it yet. Anyway, a little of how this "quest to be multilingual" started: It didn't really start with Spanish. Spanish is a vestige, a carryover from old times - an existing asset I brought to the table with me. Instead, this pursuit only started a little over a year ago. It was October or November 2014, I was already 34, going on 35, and I began to become increasingly conscious of the fact that as an American English speaker, the world knew what I was saying - but I didn't know what the world is saying. I also began to become more and more fascinated with language, particularly German as this whole thing was only fueled by the fact that I had a co-worker who had studied it for years, and was very passionate. I was also enamored with even the Internet "pop-polyglots" of the world. Even if they weren't any more conversant in their languages than I currently am in Spanish and German, here they were, readily prattling on in a plethora of languages for the camera, and I said: I want to do that - I want to BE that! It burned within me! So fast forward now to January 2015. After a brief search, I found an avenue that I could pursue - that I could afford to pursue, since Rosetta Stone is so expensive. I was introduced to DuoLingo, and in the first week or two of 2015, I began my journey....with German, inspired by my co-worker. After about 9 months, I finished the German curriculum, and began Dutch. I am now about four or five months into Dutch and just shy of 3/4 of the way through it. In addition, whenever DuoLingo releases a new course for English speakers, I take the first few modules just to give myself "a taste" of the language, and to give me a few words or phrases I can throw around. So I know how to say very rudimentary things like "I am a man" or "the girl eats the apple" in several languages now. The only languages on DuoLingo where I have spent extra time tinkering with (besides German and Dutch, of course), are Norwegian, Swedish, Danish, and Russian. I can do a little bit more with those than I can with, say French or Italian, or Turkish. And then, as we discussed before, I started to study Japanese. Duo doesn't support Japanese yet, but I found an app called "Human Japanese" that is PHENOMENAL! But trying to actively learn Japanese and German all at the same time, plus trying to pick up where I left off in Spanish just proved too much, and I ended up putting everything that wasn't German on hold. This was at about the 5 or 6 month mark. Late spring / early summer 2015. To supplement my DuoLingo, since I can't travel the world and truly immerse, I simulate it as best I can by listening to news/talk radio in the language I'm learning. I also look for every opportunity I get to use them - such as in our Crunchyroll chat. I also post stuff on my Facebook wall a lot that hardly anybody who would see it understands, and I also drive my wife and 8yr old NUTS with it! :-) So I try to get as much of it as I can. So now, lastly, what's my goal? My short term goal is to start "close to home" and work my way through the Germanic languages - Norwegian is next, before returning to Spanish to kick-off my journey through the Romance languages - including Portuguese!!! :-) After that, I plan to return to 日本語 and get a handle on that before moving onto the Biblical / Ecclesial languages. At some point along the way, I'd like to pick up old English (like Beowulf English). I plan on this taking several years, so I'm in no hurry. But after I've accomplished all of this, if I haven't burned out on the languages thing by then, nor have I keeled over dead yet, then my next mission would be to learn the remaining "major world player" languages I haven't already picked up: things like Russian, Chinese, Korean, Arabic, and Hindi. And if even after than all of that, I'm still going, I'll just start picking up languages at random that sound fun, like Finnish, Vietnamese, Tagalog, Turkish, Swahili, and other languages off the African continent, and just keep that up til I either burn out, keel over, or get Ahlzeimer's (sp?)..... ....so I'm still VERY, VERY, VERY early in this adventure, but already I'm the most multi-lingual white Midwesterner that I know personally! :-) Cheers, Marcos! :-)

It's always exciting to learn new skills. English is easier to master once you are taught the basics because with the internet one can be exposed to the language every single day, from news, tech blogs, youtube videos, etc. I improved my listening skills immensely in the last 2 years just by watching series (and cartoons) in english, because sometimes the subtitles are not available until the next day of an episode. I may not speak like a native in term of vocabulary and expressions, but in my travels to europe and US I didn't have any trouble communicating. while writing I have a little trouble with double consonants, hahaha. (thanks, spell checking)
​japanese is more complicated to practice, even in brazil, the country with the biggest japanese community outside japan. I listen to japanese music because I enjoy it and try to watch NHK sometimes, even though I still can't understand half of it, but anime has been my main source. I studied in a japanese language school for 3,5 years, and have passed the level 3 official proficiency test (nouryoku shiken) but have been without practice since I moved for work reasons, I'm looking for an online course to prevent my japanese from rusting away. japanese phonetics is simple and very easy to pronounce for a native portuguese speaker like me (like pure vowels), contrary to english, that takes some tongue rolling.​

Sorry for the lateness of my reply! Yeah, I suppose the saturation of English everywhere would facilitate one's learning. I still don't understand most of what I hear when I listen to German and Dutch news radio, but what's so weird is that while it's still so muddy that I have a hard time picking out exactly what's being said, and would be at a loss to relay much of what's happening to my wife who only speaks English and a little Spanish, nevertheless, I still always have this vague sense that I'm still following along somewhat. For instance, I can get the mega-theme, and pick up enough crumbs here and there that I'm not totally lost. I suspect that the longer I do this, the more what's happening will gradually come more and more into focus. It has been an absolute pleasure to talk with you about all of this, Marcos! I'm truly impressed with your linguistic pedigree, as well as the tried-and-true, down to earth way that you've learned them all! I look forward to our future interactions on Windows Central, and perhaps elsewhere on Mobile Nations (I'm on Android Central and iMore too.) Hopefully someday we'll be able to have an exchange in Japanese that is deeper and more significant than "Crunchyroll is good, isn't it?!" :-D ¡Salud!

Goku is looking beat up. He needs a Senzu bean. :)

Let me ask yajirobi, I think he have one senzu bean!

I think Korin is the one who provisions it secretly. ;-P

I use Crunchyroll on all my gaming consoles, on my Roku, on my iPad and on my iPhone. While my current crop of Windows devices are VERY secondary use for me (a very cheap 2-in-1, and a no-cell service little L520 on insider) I would still like to be able to Crunchyroll on them, so I've been keeping my eyes peeled! I celebrate any significant app coming to Windows Mobile, so this is good news, and I both thank and applaud the developer. But any word on when the Crunch may drop? Or alternately, what would be the case (other than its on Windows) for me to switch services - assuming I couldn't justify both? Thanks!

There's Anime HD Stream for Windows which let's you stream almost any anime for free (it uses Kissanime as it's source) Posted from Windows Central for Windows 10

Cool! I'll have to check that out! Thanks for the tip!
Windows Central Newsletter
Get the best of Windows Central in in your inbox, every day!
Thank you for signing up to Windows Central. You will receive a verification email shortly.
There was a problem. Please refresh the page and try again.