Interview: We chat with Funimation's COO about the Windows 10 launch of FunimationNow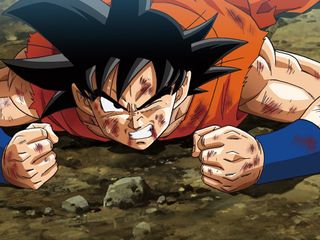 More and more we are seeing major apps and services launch universal apps for Windows 10. The latest to do so is anime company Funimation, which launched the new FunimationNow streaming service on Windows 10 at the same time as their Android and iOS apps.
We got to ask the Mike DuBoise, the Chief Operating Officer of Funimation, some questions via email about their FunimationNow streaming service and why they wanted to add Windows 10 to their list of apps.
John Callaham, Windows Central: First, what was the reason for Funimation to revamp its online service to launch FunimationNow?
Mike DuBoise, the Chief Operating Officer of Funimation: We've been bringing anime to millions of fans for almost 20 years, and FunimationNow is the latest extension of that mission. Launching this streaming service allows us to put a whole new, more integrated experience together for anime fans, letting them connect with their favorite shows, however and wherever they want. It allows us to deliver the experiences both our fans, and we have always dreamed of.
John: How has the streaming media business affected Funimation specifically? Has it affected sales of your disc-based content?
Mike: Streaming has been good for both the digital and physical sides of our business, particularly as we've been able to launch our simulcasts and Broadcast Dubs. Simulcasted shows are subtitled and up on FunimationNow hours after they air in Japan. Broadcast Dubs are English-dubbed versions of each aired episode that are available just a few weeks later. Bringing those shows to fans in the format they want, earlier than ever, gives them a chance to see what they like, so then they can buy the home video releases of the shows they want to own.
Our home video sales continue to be strong, despite the overall home entertainment industry decline.
John: How will FunimationNow differ from other streaming services?
Mike: Fans will first get to experience FunimationNow via our all-new mobile app, which offers a high quality, immersive experience that makes watching anime on the go better than ever before.
By the summer of this year, we will have fully launched FunimationNow, with the roll-out of a new website experience, updated console apps, and updates to the mobile app. We will continue to add major enhancements throughout the year, enabling deeper and richer experiences for anime fans that they can't get anywhere else. The streaming service will unify social engagement, e-commerce and video streaming into a single destination for fans, also unique in the industry.
John: How much content can a subscriber expect when they access the service?
Mike: Subscribers will have access to thousands of episodes, OVAs, movies and promotional videos on FunimationNow, from over 400 franchise brands.
This includes both brand new shows still airing in Japan, such as Dimension W, Grimgar of Fantasy and Ash, and Assassination Classroom, plus the huge anime classics in our catalog, including Fairy Tail, Attack on Titan, One Piece, and Dragon Ball Z.
John: What other features are to be included in FunimationNow?
Mike: Our all-new mobile app includes many new features, including:
Episode progress sync across devices
Queue sync across devices
Airplay and Chromecast
Autoplay next episode in the series (marathoning)
+/- 10 sec skip
And, these are just the beginning - we have a lot more coming in the following months, leading to a fully re-imagined website experience launching in the summer.
John: Will we see original content exclusive to FunimationNow released and if so what will be shown?
Mike: Yes. Dimension W, currently airing on FunimationNow, is a Funimation co-production. We are honored to be part of the production committee for Dimension W, which allows us to be involved in all stages of the show's creation.
John: How hard was it to develop the mobile apps for the service?
Mike: After spending time in the technology space, we realized that at our core, we are a media and entertainment company, not a technology company. We create unique experiences for anime fans of all kinds.
So we partnered with the best in class technology provider, Sony DADC New Media Solutions, and leveraged their Ven.ue platform to be the foundation of FunimationNow. That allowed us to focus on designing the experience and meeting fan needs in a way that no one else can.
John: You are developing a universal app for Windows 10 for FunimationNow. How important was it for the company to offer this kind of app that works on smartphones, tablets and PCs?
Mike: We believe that fans deserve the ability to watch their favorite shows on as many platforms as we can provide, including phone, tablet, and everything in between. Adding in a Windows 10 app was important to us because it covered multiple screen formats, and it was an operating system many of our fans already had. We will be the first anime streaming service to have a Windows 10 Universal app.
John: Were there any major issues making the Windows 10 app?
Mike: Partnering with Sony DADC New Media Solutions really made the entire mobile apps development process a single, seamless effort. With a proven platform and partner experienced in developing applications for Windows 10, Kindle, iOS, Android and other platforms, we could focus on making the experience as appealing as possible.
John: What can we expect after the console apps are released?
Mike: Soon after the mobile app launch, we will debut apps for Apple Fire TV and Amazon Fire TV. In the summer, we'll launch updated console apps for the PS4, PS3, Xbox One, Xbox 360, and Roku. These updates will bring many of the mobile app features to the consoles, as well as the expanded FunimationNow experience we're rolling out across all platforms. I think you'll see an even more seamless experience between devices at this point, with even more ways for fans to interact with the content.
John: Finally, is there anything else you wish to say about FunimationNow?
Mike: I'd like to thank all of our fans for their incredible support, both of Funimation and our streaming service. We really value their feedback, and we are excited to share this new app with them!
We would like to thank Mike for answering our questions!
Download FunimationNow from the Windows Store
Get the Windows Central Newsletter
All the latest news, reviews, and guides for Windows and Xbox diehards.