Intex partners with Microsoft to become first smartphone brand in India to bundle OneDrive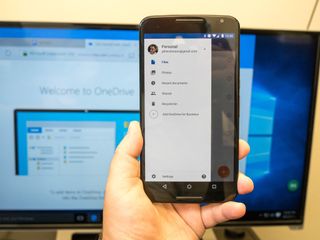 Intex Technologies, the second largest smartphone maker in India, has announced its association with Microsoft to become the first Android smartphone brand in India to pre-install and provide OneDrive cloud storage. Customers who purchase eligible smartphones will receive an extra 50 GB of OneDrive storage for 2 years.
The OneDrive app will be available pre-installed on all Intex smartphones with 16GB internal storage and 2GB of RAM. These include the Aqua Speed HD, Aqua Power Plus, Cloud Power Plus, and Aqua Star II (16GB) at the moment, and the offer will be extended to all qualifying future models.
On this occasion, Sanjay Kumar Kalirona, Business Head, Mobiles, Intex Technologies said:
Along with OneDrive, the partnership also extends to bundling Skype with Intex devices. At the moment, the Skype app is available on select Intex models — Aqua Turbo 4G, Aqua Star II (16GB), Aqua Life III, and Aqua Slice II.
Windows Central Newsletter
Get the best of Windows Central in your inbox, every day!
The "microsoft-ication" of Android

Rather it's the androidedication of Microsoft.

So, now Microsoft is all about harvesting user data!
I'm not sure what they're planning to achieve here!

Total world domination, and eventually destruction.

I think it's gonna be OneNet

Why not give 50 GB space for those loyal windows phone user.

I guess we get 1TB of One Drive storage with latest devices. I have that much when I bought my 640XL

This is about increasing their Cloud storage footprint.

Go ahead with the "When in India comment" lol

Enough of 'When in india?' comments.. That shit is old now. Finding something new to comment asshole.

Yeah.Pretty sure thatsthejoke.jpg

Man go suck a d%&k you dickhead.. I wasn't meaning it as if I was saying that comment, I was saying that I'm waiting to hear others to start saying it. Learn how to read quotation marks hoe. Just saying.

OneDrive has already dead slow upload download speed, and this in Bharat with most of people are still on 2g (some on 3g) will suck more

My uploads sorted is fine. Where Are you, in India?

I have 50Mbps Fibre line here in India, so no problems with uploads, even the Airtel 4G speeds are decent at 20-40 Mbps. The Broadband speeds are increasing at a fast speed due to competition between new companies like Act, Beam, You, etc..

Hayyyy Bhai, where do you love in India? Which company provided these superfast connection? Reply plz

I live in Bangalore, you can get 50 to 100Mbps line from all major companies such as Act Fibre, You broadband, Hathway, Airtel and even BSNL Fibre. These plans differ from city to city but Bangalore, hyderabad and Chennai all have almost same plans from these companies.

It's not OneDrive, it's your internet connection!

You'd think MS would ask, or beg, them to make a WP device... SMDH...

Lol, instead why not just put windows on intex devices, that would easily sweeten the association

Because they want them to sell? Posted via the Windows Central App for Android

Embrace and extinguish 2.0.

Second largest!!??? May be they just manufacture but not sell!!

This is important, because this is the likely future direction of Microsoft on phones, as I honestly don't see any significant take-up of Windows 10 Mobile. Basically, instead of, say, Samsung's awful Touchwiz layer, you'd get a Microsoft services layer on top of stock Android.

Windows 10 mobile isn't on phones at all yet unless your an insider.

I think he is talking about in the future, not now. Posted via the Windows Central App for Android

Hopefully they will make windows 10 phones too.

How about a windows phone?

@ Intex: You have an excellent opportunity to make Windows Phones in India. We have to wait a long time for 'Flagship' phone and when it arrives it is priced way above a normal Indian's buying prowess. Make windwos phones with similar specs as your andriod phones and price them the same as Android. Whole world, including MS itself, is waiting for OEMs to make excellent quality windows phones. It is a bit opportunity, and early movers will surely have a big advantage.

Intex could have announced plans for a budget handset running W10M and loaded with features instead of bundling OneDrive into their Lagdroid c**p.