IrfanView image viewer hits the Windows Store via Microsoft's Desktop Bridge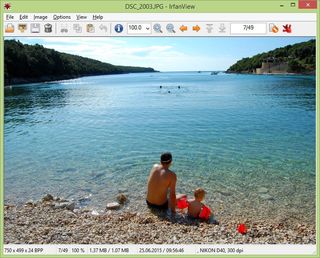 It looks like Paint.NET isn't the only old-school tool coming to the Windows Store. IrfanView, an old favorite for viewing and converting images, is now available on the Windows Store, having been converted using Microsoft's Desktop Bridge.
IrfanView is a free, lightweight tool that supports viewing and converting a ton of different file formats. Though it's pretty basic, it also packs in some rudimentary editing features, letting you crop, sharpen, blur, or watermark images. Markup is also supported via a Paint plugin that lets you draw on images.
IrfanView has been around for ages, having seen its very first release all the way back in 1996. It still very much carries an old-school look and feel, and might not appeal to everyone because of it. Still, it's cool to see old staples such as IrfanView and, as was recently revealed, Paint.NET making their way to the Windows Store.
If you want to check out IrfanView for yourself, you can grab it for free on the Windows Store now.
Thanks to Fdruid for the tip!
Download IrfanView from the Windows store (opens in new tab)
Windows Central Newsletter
Get the best of Windows Central in your inbox, every day!
Dan Thorp-Lancaster is the former Editor-in-Chief of Windows Central. He began working with Windows Central, Android Central, and iMore as a news writer in 2014 and is obsessed with tech of all sorts. You can follow Dan on Twitter @DthorpL and Instagram @heyitsdtl.
just downloaded this to my Win10 Desktop...NICE!!!!!!!!!!!!!!!!!!!!!!! OMG!!!!!

Brilliants piece of software, Been using this since Windows 95 days where I used to keep it on a floppy disk in case I needed it.

It's an oldie but a goodie. I used to use it as my "Windows GraphicConverter", to mass process graphics files. Back in the day, I'd bulk resize JPGs to smaller sizes for uploading purposes...

If they are converted to and published then we will have all old and gold apps and that will be huge boost to store albeit only for destop-laptop form factor.

Will these app conversions using centennial potentially work on mobile if Cshell is implemented? Still confused about that part.

It would work in theory in continuum mode but not on plain mobile shell.

So, i guess the same would apply to the new Spotify app. That would sink the whole idea. "let me drag around a laptop/monitor so I can listen to music.

Or just a continuum mode for that. Thats wgy i mentioned in comment for desktop form factor. The idea is to attract developers through huge win store availability so that tvey can either code in UWP or upgrade old one to UWP. Then it can work

Only Windows on ARM devices, which don't exist yet. They won't run on traditional mobile devices.

That I was aware of. I was just curious if project centennial apps would run on future mobile devices running cshell (while in mobile mode; not continuum).

Just guessing here. I think at some point they'll be able to do that, but the developer will probably have to do some work to get there. I doubt if just running it through Centennial with the bare minimum effort required will do the trick.

No. CShell has nothing to do with whether a version of Windows 10 has everything needed to run Win32.

Yes zac has made an exellent point. Its an adaptive shell not a version of win 10.

Ok, that makes sense. Centennial apps can potentially run on phones if full win10 on arm is released but has nothing to do with the cshell. By that logic, I am guessing cshell could run on win mobile or full windows on arm, but MS will most likely not configure cshell to work with current mobile os because it probably wont be supported in the future.

My first third-party Image Editor in XP :)

Even if you have access to something like Photoshop, IrfanView is still worth installing if you ever do batch processing/renaming. The batch processing of IrfanView is absolutely the best thing around.

Awesome , Irfanview is my default image viewer since forever . Great to see it modernized , still looks horrible though :P

Heh, that's the charm of these old-school useful little apps

I hope FastStone will make the move too !

Yeah, I too am a FastStone fan

To refer to it as "basic" is to do a brilliant program an injustice. If you want really basic try the Microsoft photos app. I have felt indebted to Mr Irfan for a long time. As for it looking old, that also means that, unlike more modern efforts, function takes preference over form.

This is the way to go. I think these apps are the ones which benefit most, and frankly, in 2017, I'd rather look for it in the store than go to a website and pick the relevant installer, then download and run the exe. This is the way to go and the smart people are noticing.
MS is playing the long game pretty well.

There are SO many good things to be said about this, not the least that it is a really nice "app"-lication now.
Amazing times.

To much dismissing for the app as "old school" in the article.

Can a developer explain me something? Why not design bigger buttons on w32 apps and boom you have a modern touch app. Or is it so difficult to add this extra layer? Or does w32 not allow this?

Buttons can typically be any size, though I remember using a few libraries way back when that "strongly encouraged" the developer to use a specific predefined size to look right.

I think you'll see a lot of smaller developers take this route to stay relevant as 10S gains traction. I wish they would update the UI to modern design, but for simpler programs it is okay.

Will truly need it now since MS managed to ruin the Photos app.

If you've ever had to resize and or convert several thousands of images at a time. This program is a God send!

Great to see! I purchased this some time ago, and I've ALWAYS had good performance from this very useful app. Downloading now. And my licence is still accepted. Very Nice.

Purchased? The app is free, both Win32 and UWP.

If intel wouldn't allow Microsoft to build win 10 on arm, can they run project centennial ported apps on arm without breaking any law??

Love this app for automating screenshot with Alt F11. I also discovered TreeSize free another basic win 32 app is now on the store as well Long live win 32 apps!

This is my go-to graphics viewer, good to see it jump to store

It has been my simple usage app for years. To bad only in 32-bit version as this the download versios is available on 64-bit.

Nice. Never heard of it, but will check it out with no worries. Keep them Centennial apps coming, here's hoping Notepad++ follows suit soon.

Has always been my go to app for viewing, cropping and simple editing tasks. You just can't beat old scholl Aps. Now if only X-Tree would find it's way back to life :-)

Yes, it has great features but not ALL IN ONE. Currently, I am using KrojamSoft PhotoViewerPro that works vey good.