Join the beta for a Windows Phone 8.1 Pushbullet app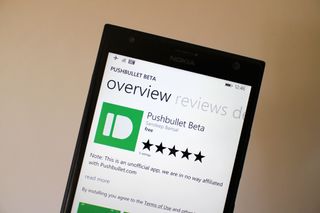 Pushbullet is coming to Windows Phone thanks to an enterprising third-party developer. Pushbullet is a popular product to bridge the gap between your phone, tablet and PC. You can easily share files, links and more from your phone to other devices around you. Let's check out this unofficial app and detail how you can join the beta.
Pushbullet (pushbullet.com) is a cool service that allows you to send things between your devices and have them show up instantly. Items will show up in the Notification Center on Windows Phone 8.1.
Here's what you can send between devices with Pushbullet:
Photos
Links
Files
Notes/reminders
More!
Here's what makes Pushbullet really useful for users:
Simple! It's the easiest way to get things from your computer onto your phone (or even from your phone onto your computer)! It's also great for sharing links, files, and more with friends!
Files sent with Pushbullet are automatically downloaded and waiting for you and swiping the notification instantly opens the file! This means you'll never have to go dig for a file again in your email or Dropbox ever again.
Links sent with Pushbullet take you right to the website from the notification. This makes it easy to pick up where you left off or get to the article you wanted to read later.
Instead of looking up an address all over again on your phone, you can now just push the address to your phone. Tapping the notification will take you right to the Maps app!
Official apps for Pushbullet exist on Android and iOS, but not Windows Phone. You can join a beta for an upcoming unofficial app that holds a ton of promise. It looks great and early beta testers have had a positive experience with it.
Beta test a Pushbullet app for Windows Phone 8.1
Interested in joining the beta? Drop your email associated with your Microsoft account at the link right here: https://pushbullet.orthodox.io/beta.aspx
You'll then get an email later on saying you've been added as a beta tester. That email will also contain the link to the app in the Windows Phone Store.
We just signed up and can't wait to give the app/service a hands-on once we're in. Are you trying the app out? Let us know what you think of it!
Developers: Get beta testers for your apps!
You'll notice the source link below links to our forums. Why? Because we have a great section where developers can get beta testers for their upcoming Windows Phone and Windows 8 apps.
If you're a developer and want beta testers, there's no better place to look than in the forums of the largest Windows Phone community.
To join the beta for this Pushbullet app, make sure you're rocking Windows Phone 8.1. We're excited to try it out!
Via: Windows Phone Central Forums
Thanks for the tip bawajose
I would if MS would release the 8.1 update to the 928

Well how do you get 8.1 without the dev preview

I have a 928 with 8.1. The only thing is, I have the beta.

It's not a beta... It's the definitive version... The only thing you're missing is the cyan firmware update from nokia

I also have the 928 with 8.1...

Meh the app is okay on iOS but epic on Android, I fear this version will not be anything special.

Change that by beta testing and helping to improve the app.

Unfortunately I think the OS will limit the app, like on iOS. Nothing I could do there, though I'd love to help

uhm it can be as powerful on windows phone. iPhone is still a heavily closed OS with 8.1 MS opened WP up by quite a bit, especially on the file sharing and downloading front.

I'd pay for this app if it could share files (Namely photos) from my phone to my computer instantly... As the developer of Atmosphere Weather, taking screenshots and uploading them to skydrive then downloading them to my computer becomes quite annoying after a few attempts.

You are able to send a photo directly to your PC. You'll need to open it in your browser bit l but it'll be there for you to download.

ShareFolder Explorer can do that today. Just need to be on the same WiFi network. No PC software required. Move multiple files to a shared folder on any PC instantly. I use this app almost every day. Much faster than emailing to myself.

You could use email from phone to yourself and refresh the email browser on desktop. It is as fast as it gets.

Sweet, this is one I've been missing!

Great! Ill be dropping my e-Mail in the box :)

Sounds like a great idea. I signed up. :)

Great! I've used something like this available on the Store, called Pushalot.

I'm using Pushalot. I think it works just fine for my needs.

I guess this only works with Chrome? I'm not a Chrome user.

Author of the app here, It works with the following platforms Windows Desktop (in Beta) Android iOS Chrome Firefox and now WP 8.1 :)

I'd be interested to try it, that was until I saw the "login with Google" button in the screenshot. Lol, no thanks. I'm happy with OneNote and OneDrive - more than enough to fill that need.

Your loss. It just uses Google as your login ID. Doesn't have anything to do with Google services.

Same feeling when trying their Windows desktop beta client.
I'm not asking for Windows Live login. There's Facebook and Twitter too, and those two have big pool of users too.

Agreed. I am so over using a Google account to log into any service now. Too bad, because the app looked promising.

I'm still waiting to be accepted to the Viber Beta. SMH.

Trust me, It will be worth the wait !


"Log in with Google" Pity, this sounded great.

What's the difference, say between sending files and stuff to OneDrive and accessing them on my phone in comparison to Pushbullet?

OneDrive has file size restrictions, and requires sending the files to the internet (uploading) and back (downloading) to the other device. This kind of applications don't require internet and the communication is done peer to peer, making it much faster, and you can move whatever files you want as long as they fit in your drive.

This is really peer to peer sharing? Are you sure? As I have very slow connection, I'm very excited to use it then.

All I want is something that syncs my notifications to a desktop app. That's the part of Pushbullet I need personally.

So basically it's a better "kopy" ?

Kopy is awesome, but that's just for text so this should be much better.

Agree... plus this has an addon for firefox which helps to send links, address, list etc in a flash

Can't Download!!!!!
Sorry, you don't have permission to download this app.
Nokia Lumia 620 WP8.1 (developer preview)

You have to join beta program and receive link via mail.

How can they use the official name if it's an unofficial 3rd party?

Does send over the original photo (original size, EXIF, etc)? I bet it doesn't.

Hi, Author of the app here - yes it will upload the full file, I believe Pushbullet have a limit set on the filesize but if it's at a suitable file size then it'll send over the full sized (original) photo.

Hurray!! I've really missed this app since I switched over from GNex to Icon. Can't wait to try it.

i have onedrive why on earth am gonna use this.

Well... its upto every individual's need. If you think this is of no use to you, better don't download it. For me, this helps to send a link or text from firefox (using pushbullet addon) to my mobile in just two clicks.

This is great, I have wanted something like this for a long time, quick push of a small bit of info like a phone number or link from PC to phone, with instant notification. Great job guys! One more thing that is excellent is the ability to push a message/link/photo whatever to a friend who also has the app, so it's best way I've seen of (for example) sharing a photo I just took to my wife's phone. Well done sandeepsb, and thanks for the chance to try it out.

I don't see the value of this app since I use OneDrive.

It looks like it might have a couple of useful features (the map bit for instance) but some of the other stuff (links for example) is already built in with Win 8.1/WP8.1. I already have shared favorites and can open a browser tab on one browser that is open on another (was a little freaky the first time I did that actually). The photo sharing I do using either NFC or Rooms. Maybe MS should buy the company and just integrate the bits it doesn't already have :)

Am I the only one who didn't recieve an email?

I am using windows phone as US region, and still it shows that i dont have permission to download the app. I switched off the Preview for developers,, still it showing the same warning. I cant install the app !!!

Same thing happened with me bud.The thing is that we have to register for the beta program first only then we'll be able to install the app.I'm using it(Pushbullet)on my PC and laptop(extension on chrome and Firefox) and desperately wanted to have pushbullet on my WP as well however the Problem is,that we didn't sign in for the beta program in time! I was waiting for the Cyan update to roll out for my phone(L525) and later was going to join the program however the update came out a few days ago unfortunately in my region and by then it was too late.As of now the link to register for beta program says "REGISTRATION IS NOW CLOSED" Desperately waiting for a stable version to be released .Hope It comes out soon :)
Windows Central Newsletter
Get the best of Windows Central in in your inbox, every day!
Thank you for signing up to Windows Central. You will receive a verification email shortly.
There was a problem. Please refresh the page and try again.