Newest Microsoft Garage apps include conference calls, China weather, and Visual Studio management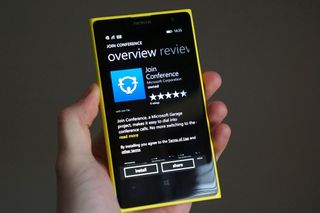 Microsoft has announced a new wave of Windows Phone apps from its Microsoft Garage division, but a few of them have already been released on their own. One of them is Join Conference, which Microsoft rebranded earlier in February after previously calling it Nokia Conference.
The new Join Conference version, now under the Microsoft Garage group, has ditched its "beta" status and is now being released under its new 1.0.0.0 version number. As before, the app is designed to make it easier to dial into conference calls, and Cortana users can even speak into their phone and say "Join Conference" to begin their group chat.
An all new app that's being released in this wave is Your Weather, which has been developed specifically for China. It offers both weather forecasts and air quality information for cities in that country. Microsoft says:
Finally, Microsoft has released DevSpace, which allows software makers working with programs in Visual Studio Online to check in on parts of their project using their Windows Phone. Microsoft says:
Source: Microsoft (opens in new tab)
Microsoft garage are sooo much likable...

Love that weather app. Hope the next version of MSN weather looks like that!

Join conference.Not available for my device. Nokia 1520. India. Region restricted?

Try changing for usa and back to india again

Oh. Yes. Completely forgot that workaround. Thanks :)

Yeah follow the steps. You will get in your device.

Yes please. Even I as an Indian am getting irritated by this. Indian users should show some restraint & not go on complaining on each topic.

I get your sarcasm...while others don't

Didn't seem sarcastic to me

Yeah just pipe down people..We Indians are the center of the joke cause of the Wen in India- boo hoo shit...

Another announced was "Squad Watch" (not available yet), that looks exactly like People Finder (or Buddy Watch or whatever everyone was calling it). The app that was heavily reported on last week and was suspected on being the Rooms replacement. Turns out it was just a Garage project.

Yup just saw it myself...guess it isnt a big deal after all...I was somewhat disappointed to be honest..seeing that the app doesnt seem anywhere near useful as Rooms...

why is Microsoft making such apps not providing an integration option to the OS?

Probably because the apps are experimental.

MS Garage it's a subsidiary of MS Mobile. Maybe they don't have permissions to get into the OS.

Well it is like how games like aegis wing weren't big budget projects but depending on how well it is received it may get more support even msr projects aren't deeply integrated

"DevSpace took five months from creation to completion"
Why did they mention that? :D

To show how much work they put into it?

Yeah I know but it's unusual of them to do that

I've tipped about this for hours.in the app join conference is at 1.0.0.1 version ...not at 1.0.0.0

The store is getting better and better!

Windows Store Apps are still way behind android and ios in fluidity and stability.....any app you can compare....

Sadly that's true :(
Hope the situation changes with win 10

Eh. I don't see that much of a difference. iOS games would crash on my iPod all of the time, and while android does have some cool things like free launchers, etc, there is a constant price you must pay with ads and micro transactions. Device security is a concern, which is why I uninstalled Launcher8. WP has (by FAR) the best reddit client I have ever seen. Readit 1.0&2.0 beat out top rival competitors that I use. (AlienBlue and Reddit Sync). Overall, I think the iOS store is the most 'Refined' app store. Play store is good, but the "wow" factor fades when you put all of the stores side by side.

Between S-voice, Cortana, and Siri, Cortana seems to be on-par with the others. Voice recognition was worse than the others, but Cortana was the only one to respond natively when asking about unit conversions. Others had to search the web, or plainly didn't do anything, asking to search for an answer. Pretty interesting.

Badoo is way better on Windows than android. Not sure about ios as I would never touch the thing. Many apps are better on Windows.

Yeah.. I hope it gets more of those cool apps from Android. I also hope the new SDK in win 10 is any good for creating more innovative apps

There are some amazing and rubbish apps in all the three stores! Just because they have more apps, Doesn't mean its the best.

With the exception of reddit clients, I agree with you. :)

Join Conference won't install for my HTC 8X. I wonder if it is exclusive to Nokia/Microsoft phones? ​

Give "Conference Calleague" or "Calendar Calleague" a try, it includes the same features, let's you dial from Cortana or a Live Tile.

Join Conference is great. Can't wait for the update to push to my phone!

DevSpace crashes after selecting account :(

They have only developed it for five months.

What the hell! China gets everything! Where's the US love?? Fuck WP I'm jumping ship! >:C On a serious note, glad to see some exclusives outside the states. :D

Unfortunately, not available for M8.

I was JUST lamenting to myself the fact that MS has not released any TFS management tools for WP. It looks like DevSpace is a step in the right direction. That Your Weather app looks beautiful too.

I installed DevSpace on my Lumia 720 Windows Phone. It crashed after selecting a project. Anyone got it working?

I would love to see a detailed walk through on how to use the conference app. I live in conferences everyday and downloaded this a while back but it is not very intuitive. Or maybe I am just dumb.

I like the idea of Microsoft garage but non of there previous apps were updated.

YOu guys forgot the most important one they added. Are replacement for rooms app http://www.windowsphone.com/en-us/store/app/squadwatch/2ba351b4-3dd8-4d36-823a-45c015a2acfa Not so good reporting there. pinterest.com/javagotainment

Not a rooms replacement at all; that app tasks the location of friends & family. Not so good commenting there. website.plug/shameless

DevSpace woudl be super useful... but soooo ugly.

China weather: The 2.5 particulates are at 80x WHO standards, you have 43.8 days to live.

Join Conference, not available for my device either...
Have HTC 8X, region is US.

You should give "Conference Calleague" or "Calendar Calleague" a try, they include similar features and let you dial from Cortana or a Live Tile.
Windows Central Newsletter
Get the best of Windows Central in in your inbox, every day!
Thank you for signing up to Windows Central. You will receive a verification email shortly.
There was a problem. Please refresh the page and try again.