Just building an app is not enough [Developers]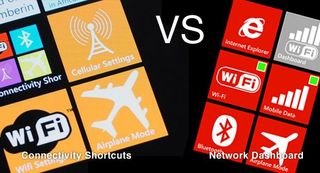 Breaking into a strange, yet interesting story. We have Connectivity Shortcuts by Oliver Ulm for Windows Phone Mango. It's a free Mango-only app that grants the user easy access to Wifi toggle, Bluetooth, Airplane Mode and Cell radio. Unfortunately this functionality wasn't absent from the Mango Marketplace as Network Dashboard, by George Roberts (sirtwist), was released a day prior to Connectivity Shortcuts. Feedback from users and sites alike had Network Dashboard as a more aesthetically pleasing offering.
Network Dashboard was featured in a recent WPDev podcast (about 18 minutes in) and it was said that Connectivity Shortcuts was a direct rip-off. Oliver has spoken to us about how the situation developed and he mentioned that although both apps share similar looks and functionality, they were both developed without knowledge of one another. He went on to say that he had a discussion with George about the coincidental release of both apps and agreed that it was mere pot luck.
What's interesting about this story is how a polished app that was both developed and released first received less attention than a labelled copy that was published a day later and lacked the same good looks. As a conclusion to this story, Oliver has some invaluable advice for other developers:
Some solid support there. Both Connectivity Shortcuts and Network Dashboard are still both under development and will be updated in the near future. While Oliver works on minor issues and plans to tackle the UI, Network Dashboard v1.1 has been submitted that brings flippy live tiles that show Wifi and Mobile Data statuses with a new icon to illustrate current setting value.
Thanks Oliver for getting in touch!
Rich Edmonds is Senior Editor of PC hardware at Windows Central, covering everything related to PC components and NAS. He's been involved in technology for more than a decade and knows a thing or two about the magic inside a PC chassis. You can follow him over on Twitter at @RichEdmonds.
I saw both these apps on AppFlow a couple of days ago but downloaded Network Dashboard for its looks dispite the rating. There are a few clone/'copy cat' apps out there, it would be great if developers knew what each other were working on and in some cases worked together to make fewer but better apps. I think with WP its more about quality than quantity.

Something else too few developers focus on is aesthetics, particularly when it comes to pinned tiles. Then see that as a bullet point at the bottom of their to-do list whereas aesthetics are actually important for that particular OS. I've sent feedback about this to some developers who really didn't care. With the two apps mentioned here I would say that even if Network Dashboard had not been showcased, the aesthetics would have made it the better choice anyway (providing they both work as they should). So developers should also think about this, it might seem shallow to them but it is important to Windows Phone consumers.

I can agree that these were just pot luck and not copies. As soon as I noticed the Mango API that allows this I started making my own. Had it working in a about 20 minutes, and then only decided to look in the marketplace. Low and behold, mine was almost identical to those two (so I never published it obviously).Also, if they were released a day after the other then theres no way it is a copy, because certification alone takes about 3-4 days.
Windows Central Newsletter
Thank you for signing up to Windows Central. You will receive a verification email shortly.
There was a problem. Please refresh the page and try again.