Just Shopping, a handy new Windows Phone app that's free for the time being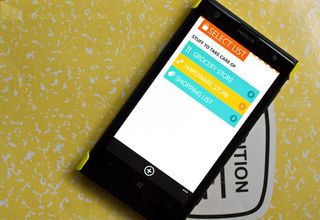 The developers of the Night Stand Clock have a new Windows Phone app in the Store designed to make your shopping trips a little easier. Just Shopping is a Windows Phone shopping list generator that lets you create, manage and delete your shopping lists with ease. Be it a grocery list, a shopping list for the hardware store, a Christmas list for the wife or kids, or a shopping list for the weekend football party.
Just Shopping's interface is clean, simple, and lends itself rather nicely to one-handed operation. The app comes across as a nifty shopping app for our Windows Phones and is worth a gander.
Just Shopping will launch to the shopping list you were last using and to create a new list, you'll need to go to the List Page by tapping the "show list" button at the bottom of the screen. I like that the app returns to the list you were last using in that if you have to leave the app while shopping, you can quickly get back to where you left off.
To create a list you will need to tap on the "+" button at the bottom of the Lists Page, type in the name of your list, choose an icon and color and you're ready to start building your list.
From the individual shopping list page you have a text entry field at the top of the screen where you enter your shopping items. Just Shopping has an auto-complete feature that will toss up predictive tiles for shopping items as you type. Just tap on the tile of the item you want to add to the list (or finish typing). But be careful, the auto-complete suggestions can be rather tempting and may cause your list to grow rather long.
As you shop and snatch items from the store shelves, tapping the item on your list will strike through it. If you pull down on the list, it will clear any struck through item. I can see this feature coming in handy with those lengthy grocery store lists to help you focus on what you need to be looking for.
Just Shopping makes a nice, first impression as a simple, easy to use shopping list app. Just Shopping is currently being offered as a free app to celebrate its first week of release. After next week, Just Shopping will cost you $1.99.
You can find Just Shopping here in the (opens in new tab) Windows Phone Store. It is compatible with both Windows Phone 7.x and 8 devices.
Windows Central Newsletter
Get the best of Windows Central in in your inbox, every day!
George is the Reviews Editor at Windows Central, concentrating on Windows 10 PC and Mobile apps. He's been a supporter of the platform since the days of Windows CE and uses his current Windows 10 Mobile phone daily to keep up with life and enjoy a game during down time.
Not impressed. Can't create new list, force closes. Back button exits app instead of going to previous page!

I am also having the same issues you've outlined on my Lumia 920 with GDR2.

I am developer of this app. Our users outside US reports problems. Hotfix already submitted to the Store.

Thanks! I'm having problems, and I'm in the US.

Dint see an option to share or sync lists. Otherwise looks good to me

Unless you can share or sync lists, this app is completely irrelevant.

I love shared shopping list. Makes family shopping a breeze.

Irrelevant? To you, maybe. We don't all have the same needs. I'm a one person household and don't need those features.

Excellent point. I'll amend my statement with: for those with families. :)

However, it could helpful when preparing for that next party with your friends, no? ;)

Again, projecting your requirements on me. Who has friends? ;)

Very similar to Listly - loads more features and free.

Listly is ad-supported.
This app looks nicer, but seems to be currently broken. Hope they can get it sorted.

One can't even create a list, seldom can you launch it at first, back button exits the app...the app s*cks big time. Unless they'll launch a tremendous update tomorrow or during this week, I feel sorry for whomever wastes 2€ on this once it goes paid... I don't know if you were paid by the developer to promote their App or what, but this is more of a crApp than an App.
There's nothing wrong with sponsored articles...but at least put in that they're sponsored. (tested on a L920 running GDR2)

Incredibly buggy. Doesn't miss a single opportunity to crash. I was just not able to create any list nor add any item. Charging money for this next week? Hmmm...

Buggy and lacks features. No wonder its free. I'll stick to using OneNote for this sort of thing. It does what this (is supposed to ) do(es). This kind of app needs syncing more then anything. You want to quickly make an entry when on your PC and then open it later on your phone. You want it to be able to share content using the share charm.

It doesn't work at all. Just crashes every single time I try to open it.

Like another person said, Shared Shopping List seems to work just fine. Been using it for over a year now and while it's not perfect, it gets the job done. BTW, I'd like to see the peeps who always have negative comments show us your coding expertise and write "the perfect" app.

I'm a very positive person, but this app shouldn't be on the Store as is, it's useless. It gives WP a bad name, stuff like this.

Does it sync with Web, WP, iOS and Android? If not there's no use for me. Anyone has any suggestion? I use one note but wanted a more elegant solution.

I like valuephone...it syncs with web, android and IOS...you can choose to make a team list with other members who can edit the list as well..my husband and I use it all the time for our lists... personally for me it is better than onenote:) oh and it is free:)

It's broken. I mean broken at a very basic level which makes it completely useless. What's up with these devs ?

Hotfix already submitted to the Store.

Just 2 words "easy shopping"

Thanks for the recommendation. Easy Shopping IS a great app that actually works.

I was hoping for something that could replace Listonic. It is far and away the best shopping app out IMHO and they haven't updated since Windows Phone 7 but its still better at what it does. You can create multiple lists and share them. What makes it better is that you can log in online, enter your shopping list there and when you get to the store, launch the app and have your list. I prefer that to doing it all on my phone. Its far too time consuming for me.

I wonder if I get in touch with the dev of this app, he could setup something like that. I actually like this app except for having to use my phone keyboard to enter stuff. It looks real good to me. Its fast and clean. Yep, I approve.

Can anyone recommend a shopping app that will sort the list by aisle number? Does Easy Shopping do that? Thanks...

Well, I found this app to be quite nice. Type in a few letters, and suggested items pop up below the line. Might I suggest making the Back button navigate to the list overview instead of exiting though. Thanks! I'll be using this for shopping.

Looks ok, however a OneNote page shared with the family accomplishes this for me.

Agreed - I use One Note because I can create the list on my Windows 8 computer, or my Android tablet, which is much easier than typing into a cell phone and it instantly synchs with my cell phone. Much more convenient.

Exits immediately on launch sometimes.. can't create list.. Overall very buggy... Needs more testing.

On my Lumia 920 with Amber update I cannot save a list so I cannot make a list at all. Is nobody testing this software before you put it in to the store?

$2 for functionality you can easily replicate with the comes-with-the-phone OneNote app? And given the SkyDrive integration I say OneNote is ahead.

My first app starting with J :)
Windows Central Newsletter
Thank you for signing up to Windows Central. You will receive a verification email shortly.
There was a problem. Please refresh the page and try again.