Get the time, weather and a flashlight with Night Stand Clock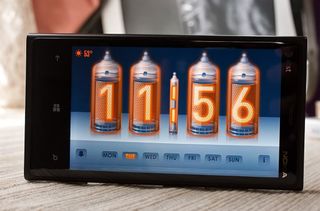 While Fitness Month is focusing on sleep and relaxation, part of a good night's sleep is waking up on time. Right? In that spirit we now turn our attention to an alarm clock app for your Windows Phone.
Night Stand Clock is a resourceful alarm clock app for your Windows Phone that has a wide selection of clock designs, includes integrated weather and can double as a flashlight. It's a nifty alarm clock app that should help you rise and shine from a relaxing sleep.
Night Stand Clock has a simple and straight forward interface. A "i" symbol sits in the bottom corner of the screen to access the settings and an alarm bell symbol is either opposite the settings button or up near the weather display to indicate if an alarm is set.
The settings menus are the heart of Night Stand Clock and offers ten themes for your clock ranging from various colored standard digital displays to an analog wall clock. You have the option to show the day of the week, turn on twenty-four hour format, show seconds, and display the weather. The weather information includes a weather icon illustrating current conditions and the current temperature.
If the clock display is too bright, you can swipe down at your Windows Phone Screen to dim the display.
Alarms can be set to repeat by day of the week and includes eleven different alarm sounds ranging from a cuckoo clock to a school bell. You do have a snooze feature that can be set from two minutes to thirty or turned off completely. Live Tile support is present to display your next alarm time.
One nice feature on Night Stand Clock is the ability to shake the phone to generate a bright, white screen that can be used as a flashlight. So... if something goes bump in the night you have an easy way to light up the room.
All in all, Night Stand Clock is a handy alarm clock app for your Windows Phone. The snooze alarm does need a logic puzzle or some means to make it more challenging to get a few more minutes of sleep but what's in place works. The app does disable the lockscreen so you'll need to make sure your Windows Phone is connected to power to avoid risking the battery conking out in the middle of the night.
There is a free, three day trial version available for Night Stand Clock (opens in new tab) with the full version running $.99. There is also a free Lite Version (opens in new tab) that lacks the weather display and is limited on the number of clock themes. Lastly, there is Night Stand Clock Seasons: Halloween (opens in new tab) and Night Stand Clock Seasons: Christmas (opens in new tab) ($.99 and $1.29 respectively) that include holiday themes. Just follow the links to the Windows Phone Store or scan the QR Codes below.
Windows Central Newsletter
Get the best of Windows Central in in your inbox, every day!
George is the Reviews Editor at Windows Central, concentrating on Windows 10 PC and Mobile apps. He's been a supporter of the platform since the days of Windows CE and uses his current Windows 10 Mobile phone daily to keep up with life and enjoy a game during down time.
Some of those features sound great, but do I have to have the lock screen disabled? I don't need the phone to display the time all night.

So if I have this on via my wireless charging stand will it hurt my battery's life, since it will always be charging/on?

Will Nokia ever make a wireless charging stand that works in a landscape orientation?

I'm also hoping...it would be a nice alternative to the DT-910.

Put your charging pad on a business card stand.
http://www.etsy.com/listing/33583701/business-card-holder-or-stand-rever...

They did a while ago...
http://master.wpcentral.com/sites/wpcentral.com/files/styles/large/publi...

What about screen burn in? Similar apps on Android have the clock shift position every few seconds, neat effect.

yup, not good for AMOLED, luckily 920 went LCD ;)

Great looking app just don't like the 3 windows phone buttons being lit up at the same time...

I'm a big fan of 627. Easy to use and the tile always gives me what tomorrow's wake up time is. And if I happen to have a day off it is easy to turn off for that one day without affecting the schedule.

This app is great, but as long as the Three buttons we have must always be lighted it is too annoying to be used more then a gimic for me.

The alarm clock is the one thing I miss about my Android phone. I didn't have to leave the screen on for it to work properly and its volume was decoupled from normal system volume. I never had to check it. It always worked and I never had to worry about it. This needing to disable lockscreen bullcrap has made me late for work more times than I can count. The stock alarm clock app sucks horribly. I've pretty much given up on WP8 for my alarm clock. I now leave my android phone plugged in.

My 920 is an excellent piece of hardware. I'm just not thrilled with how the OS cripples developers in things that should be standard features. By the time I can upgrade my phone again, I'm hoping phone hardware will be powerful enough to completely brute-force through Android's bloat and resource issues. I don't see MS pulling their head out to make me happy enough to stick with this.

That is one hell of a rant for an alarm clock app. Android is well known for their class leading alarm apps. That's why they're number 1.

I have one of these apps on iPhone 4 and loved it. Easy to see time at night and iPhone didn't have a problem being connected to a charger all night. However, with 920 I have been avoiding overnight charging because it isn't recommended. Kinda defeats the purpose of having such an alarm.

I like Digital Clock Lite more than night stand clock.
http://www.windowsphone.com/en-us/store/app/digital-clock-lite/3d4ed4a5-...

The Windows Phone lights being always lit is annoying.
Sadly since i have an 820 with Amoled, i don't think i could risk using this (afaik)



From where does the app gets weather info, which source, yahoo... weather channel?
Windows Central Newsletter
Thank you for signing up to Windows Central. You will receive a verification email shortly.
There was a problem. Please refresh the page and try again.