Kaspersky withdraws Windows 10 antivirus antitrust action against Microsoft
Russian infosecurity firm Kaspersky has ceased its legal action against Microsoft in Russia and Europe after the company agreed to make changes to Windows 10 that will help third-party antivirus makers prepare their products for significant Windows updates and ensure compatibility.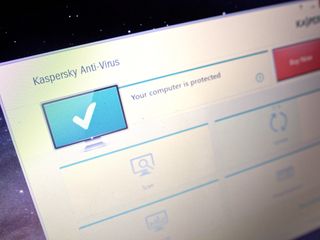 Kaspersky, maker of the popular Kaspersky Lab antivirus suite, hit Microsoft with a legal complaint in June, claiming that the company used unfair practices to promote Windows Defender over competing products in Windows 10. At the time, Kaspersky accused Microsoft of removing its software from users' PCs when they upgraded to Windows 10, turning to Windows Defender in its place. Microsoft said that was for compatibility issues, but Kaspersky said the company didn't afford third-party antivirus developers enough time with an update to prepare its software ahead of a broad rollout.
The best antivirus software of 2017
Yesterday, Microsoft announced changes that address Kaspersky's complaints. And they appear to have appeased the Russian antivirus company, because today it responded with a blog post stating that it will withdraw its legal action (opens in new tab) against Microsoft.
Here's a list of changes Microsoft promised:
It will work with antivirus vendors more closely on compatibility before major Windows updates.
It will give antivirus vendors more time in advance of major OS updates to prepare their products and provide more clarity on specific release dates.
The company will let third-party antivirus vendors use their alerts to tell users that their antivirus will soon expire, and notify them if the software has already expired, so they can update and stay secure.
Windows itself will also let users know if an antivirus program is no longer active. A new notification will remain on the user's screen until they either renew the third-party software, or they pick another option, such as Windows Defender or another third-party antivirus. (Currently, a toast notification lets users know their antivirus is about to expire but it quickly disappears and is easily missed.)
These changes can be expected in the Windows 10 Fall Creators Update, according to Microsoft.
From Kaspersky:
Windows Central Newsletter
Get the best of Windows Central in your inbox, every day!
Al Sacco is content director of Future PLC's Mobile Technology Vertical, which includes AndroidCentral.com, iMore.com and WindowsCentral.com. He is a veteran reporter, writer, reviewer and editor who has professionally covered and evaluated IT and mobile technology, and countless associated gadgets and accessories, for more than a decade. You can keep up with Al on Twitter and Instagram.
Maybe they should have contacted Microsoft in the first place before submitting a complain.

They should use feedback hub like many others..... If Microsoft responds with enough upvotes

Or they could join the Insider programme? They'd have access to new builds and have plenty of time to prepare their software

"Russian infosecurity" is a contradiction in terms surely?

Yeah, Putin must have been behind this.

Or you could blame Trump. Every tool on the planet tries attaching everything going on to him...

Or...these companies could've been using the preview rings...

Not just antivirus... every software dev should work closely with every OS maker (Android, Mac, iOS, not just Windows), pay attention to those "deprecated" function calls...

Good move on Kaspersky and a better move on Microsoft. Kudo to both...Russian business is lucrative!

Did... Did something between companies get handled maturely? Is this the end times?