Keep track of what your phone is doing with Cellular Live Tile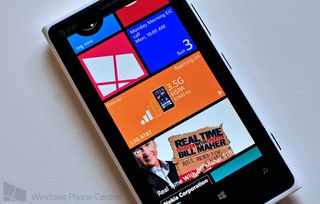 For those of you who like to keep tabs of what your phone is doing and what cellular networks it's talking to, you may want to pick up Cellular Live Tile to keep him out of trouble.
The app is simple enough yet well laid out and takes advantage of the doublewide tile for Windows Phone 7.8 and 8 users out there. It simply displays your phone's current status: Data, Roaming, Speed, Network Type and Operator on the Tile, which also flips with more info.
In of itself that's quite useful but what we truly like about this app is the customization that it allows. Don't want data showing? Just disable it. Need to see the network type? Flip it a switch and it'll show you. Want to choose the Tile's color? Go right ahead.
It can even show your phone as an image on the tile because it has 50 mini Windows Phone icons built in. We have a white Lumia 920 and sure enough, our Live Tile now shows a mini White Lumia 920. Find such frippery cheesy? Just disable it and you'll have a more Metro experience with just data showing.
Tapping the tile itself will bring you to your device's Phone area, allowing you to quickly manipulate settings with just a screen press.
The app seems idea for those who switch SIMs often, who roam or who just want a nicely laid out data tile on their screen.
Cellular Live Tile has a free trial and will work on Windows Phone 7.x and Windows Phone 8 devices. It does fetch for a$1.99, which is a tad high in our opinion, but if you need it, it's there. And due to the nice functionality of the app and design, we're okay with throwing $2 to the dev.
Thanks, Rodney, for the tip
Windows Central Newsletter
Get the best of Windows Central in in your inbox, every day!
Daniel Rubino is the Editor-in-chief of Windows Central, head reviewer, podcast co-host, and analyst. He has been covering Microsoft since 2007 when this site was called WMExperts (and later Windows Phone Central). His interests include Windows, laptops, next-gen computing, and for some reason, watches. Before all this tech stuff, he worked on a Ph.D. in linguistics, watched people sleep (for medical purposes!), and ran the projectors at movie theaters because it was fun.
I was looking on that app yeaterday! Looks good.

Love my job, since I've been bringing in $5600… I sit at home, music playing while I work in front of my new iMac that I got now that I'm making it online.(Menu more information) https://goo.gl/SWi5Z

Isn't there a way to report this comments as spam pls?

$2 is high?!
For the (good?) old days when mobile applications used to cost $30 a piece...

It's only high by comparison to other Windows Phone apps, which often run around the "sweet spot" of $0.99, not apps from 5 years ago ;) That's my only point.

Well, I love this app. I also think the WiFi one is good by the same Dev. I wish there was an option to count data usage?

How often does it update? I like it but if it is not dynamic how good is it?

No app can run more often than once every 30 minutes, for approx 15 seconds. So it is not realtime-data. But that is not the developers fault, its a limitation from Microsoft. But that also protects the user from sloppy developers.

then how do apps like Whatsapp update their livetile dynamically as messages arrive?

That is a differnt thing all togethet, that is serverpush, and that a developer can do. But that is only helpfull,for apps that show a "heay there is a new article/rss/mail" mail for you. Apps that show "local stuff on the phone" like battery status, wifi status and so forth have only the option to run once every 30 minutes in the background. It even is not really every 30 minutes, but "approx"...so the app might sometimes not be allowed to run for 40 minues once in a while. The server-push is not much help for such local-stuff-apps since a server on the internet will not see such changes and can not notify the phone about them). There is one 3. option for the developer...and that is even more unreliable from the developers standpoint. That option is typically used for apps that download podcasts in background. Then the app will start in background when phone is charging, and have 90% battery (I think it was), aaand wifi is on. It is not easy to make an app that "just works" as the users probably expect it to work. :)

Thanks for this very Insightful info :)

This is so cool. Thank you Daniel!!

Anyone else with 7.8 get the doublewide tile?

I did the force update and none of the third party apps use the double wide tile on mine. How did you get it to work? Does the CNN app use the double wide tile on 7.8 too?

No, the CNN app can't do double wide.

I don't think many of the third party apps for WP7 have been updated to supper the double wide tiles

That would be tight if they did though. They just might.

Surely being able to see this or not on the home screen should be built into the OS? Still at least someone has built it.

Can't get the app to work properly. Never shows any information. I tested it by cutting off WiFi then downloading a app. It shows nothing.

Tell the developer. Don't forget to let him know what kind of device it is.

Hi,
im the dev of this APP. Thanks for the nice review. I know there is still some work to make it perfect but im working every day on it. Stay tuned to get the newest updates. I have also a Beta Tester Programm. If someone is interested contact me via the APP.

i Love WPCentral

Please bring the Lumia 822

Awesome! You rock, thanks

Does anyone experience phone freezing since installing? Mine did. I had to uninstall. I have a Samsung ativ s.

hi, please contact me via th APP.I can help ypu with that

Does the app burn the batteries. I don't know I'm just paranoid now since a lot of apps I installed on the Lumia 920 often heats the battery. I don't even have locations turned on now. what a waste. Nice app though maybe I should just give it a try before asking :)

Hi, it doesnt drain the Battery. Its nearly nothing
1. the minimum time interval to start the background process on Windows Phone is 30 - 40 Minutes. So the APP isnt working all the Time.
2. If the Background Process starts, the APP needs only 10 lines of code to check if there are any changes
3.if the Background Process detect any changes it creates the Images for the Live tiles, this needs 1-2 seconds. The APP creates the images only if they arent existing from an earlier task. if the needed images exists from a earlier background task, the APP needs at this point 0 lines of code.
This APP works very Battery friendly.
Hope this helps

Very cool app, thank you for the info.

This apps tile is like a nice fire. Can't stop staring on it.

The 1st thing that crossed my mind when I saw the title is ; Finally, an app that somehow counts Your used Data ,, but Unfourtanetely , it's just another app that does allot of things except that..
I mean, when are we gonna get a simple concept App that gives You a straight forward reading of your "Used DATA" on a live Tile , without any complicated functions, like accompanying it with a Starting & Ending date and other whatnot ,, Like what ( Nokia Counters ) does ....which is the only app, and correct me if am wrong, Thee only App on the Market for 7.x users that offers such a function .

Its not so easy like you think. 1. This APP is a single file for all three Windows Phone Versions. The Data Sense Feature is available only in Windows Phone 8. 2. The Nokia APP is a Native coded APP, they have the rights to access the whole Windows Phone kernel. A normal developer hasnt this rights. 3. The Data Sense Feature depends also on your Provider. Believe me, all the developers out there are not Stupid, but all of them have the same problems and restrictions. if it wouldnt be so easy you could find several APPs of this kind in the Store. Hope this Helps
Windows Central Newsletter
Thank you for signing up to Windows Central. You will receive a verification email shortly.
There was a problem. Please refresh the page and try again.