Keep your phone safe in the car with this $10 magnetic car mount!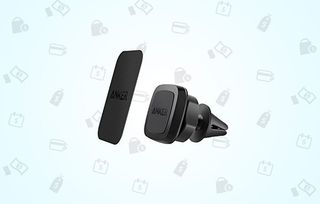 One of your resolutions for 2017 should definitely be to keep your phone out of your hands when you are driving, and this awesome magnetic car mount makes that so much easier. Anker's magnetic car mount (opens in new tab) is a simple way to keep your phone out of your hands but still in view so you can use it for navigation, music streaming and more. The strong magnet allows it to work universally with just about any phone, so it won't matter how often you switch you can use it with any device you have with you that day.
This $20 discount isn't likely to last very long, so you're going to want to pick one up sooner than later. Something like this makes for a great investment for each car you own, so be sure to grab a couple to keep your loved ones safe on the road.
See at Amazon (opens in new tab)
Get the Windows Central Newsletter
All the latest news, reviews, and guides for Windows and Xbox diehards.
Jared started off writing about mobile phones back when BlackBerry ruled the market, and Windows Mobile was kinda cool. Now, with a family, mortgage and other responsibilities he has no choice but to look for the best deals, and he's here to share them with you.
I own the Spigen one and right now you can get a 2-PK for $12 on Amazon. They work great in both our cars and the magnets hold very well. Spigen A2002 Car Mount Magnetic Air Vent 2 Pack Phone Holder Compatible With iPhone 7 / 7 Plus / 6S / 6S Plus / Galaxy S7 / Galaxy S7 Edge / LG / HTC / Nexus And More https://www.amazon.com/dp/B01C6HSDG2/ref=cm_sw_r_cp_api_2dbAybNY7KBKB?ta...

Thanks for mentioning this. I need one for each of my two cars.

I'm a huge fan of this mount. I bought one earlier in the year and I absolutely love it. Turns out thanks to the Qi charging pad built into my Lumia 950, I don't even need to use the magnetic plate. It's pretty slick to be able to slap the phone on the mount, and it just stays.

That's good to know. I was holding off on this type of mount because I didn't know how it would affect wireless charging.

Some say the qi charging doesn't work with this...are they saying it ruins the qi charge plate, or just can't use in tandem?

You need to be focused on driving not the stupid phone.
My phone is shut off when I'm driving by the way.

What if "the stupid phone" is your source of navigation, or how you make money (uber drivers). This puts the phone in a place where you don't have to access it, but you have the ability to look at it should it's necessary uses be needed. Don't be so quick to assume your situation is the only correct one.

nyjets, you might not be able to drive and chew gum at the same time, but that doesn't mean the rest of the world is as incompetent as you (and your football team).

What's the difference between touching the phone screen to play music vs touching the usually lower on-dash car stereo / entertainment / nav system? Most vehicles don't come with completely hands free controls, such as Hey Cortana, to change music, etc. without looking for a screen or button. People who ignore safe driving are a different issue.

There is none, but its still illegal in Australia. You cant even touch the phone when you are stopped at traffic lights.

Also keep in mind amazon sellers sell replacement plates for cheap if you need more.

Bought one of these a few weeks ago. Always been ten bucks on Amazon.
Love mine. My sister liked it so much she had me order her two of them.

I think its worth mentioning that the metal plate you put on the back of the phone hinders wireless charging. So, the only way to keep wireless charging is to put the plate on your case and remove the case to charge your phone. Something to keep in mind.

Wireless charging still works on the 950, depends on the charger you use keep the plate low just above the little speaker holes and you will be able to use the wireless charging

I have a different one for my 950xl. I put the metal plate on the inside of the case back so qi wireless works like a champ and it also sticks well to the car mount...

So it will hold a 950 without a case?

It holds my 950 XL with no issue with falling. Edit: I have a case, but the plate is on the phone itself. With no case, your hold will probably be stronger. Keep in mind, you will lose wireless charging though with the plate.

It wont keep my lumia 1520 held safe in a car. Ive had a magnate phone holder before and my phone kept falling. They don't hold a phone over 5.7 inches 👍

This model can hold my Lumia 950 XL with a slim rubber Incipio case between the mount and the metal plate. Not all magnet mounts are equal.

Exactly, some mounts are stronger, the only thing I don't like is that the vent mount can cause phones to get too hot if you are pushing heat through the vent have to opt for dash mount instead

That's what I just said in my comment. My Lumia 1520 is to heavy thus it falling off. A Lumia 950 XL is only 5.7 inches it isn't 6. I said over 5.7 inches 👍🏼

I have a ZTE ZMax Pro, which is a 6 inch phone, and my magnetic mount has no problem holding it in place. It is a different mount that goes into the CD slot, but that shouldn't really make a difference.

For those of us who hate cases, these just will not work, unless you have a phone with a removable back cover. I did this on my 640XL, and it worked pretty good. Still had some movement though.

It will work with most slim cases

I can confirm that this mount works for a 950 XL without the metal insert and just the Qi back. Great mount so far!