Trackball devices have been around for a long time. Seriously, check out the history of the Canadian Navy and trackballs. Though they're not as popular as standard mice, they're still an excellent alternative in certain industries and, perhaps more importantly, for people who suffer from wrist pain. I made the switch to a trackball mouse — specifically the Logitech MX Ergo — a couple of years ago to reduce strain during the day, allowing me to game comfortably with my usual mouse after hours. I wasn't sure I'd like it at first, but a trackball has now turned into my preferred way to point. That even holds true for certain PC games.
My MX Ergo has seen a lot of use and has begun to fail in the left click, so trying out the Kensington Orbit Fusion was well timed. It's designed differently than what I'm used to, with the trackball controlled by fingers rather than thumb. It's taken a bit of time to get used to, but efficiency is now nearly on par with the MX Ergo. Here's what you need to know if you're looking to upgrade or make a switch to a trackball mouse.
Bottom line: The Kensington Orbit Fusion is a mid-range trackball mouse with unique scroll wheel and five fully customizable buttons. It might not offer quite as much precision as a thumb-operated trackball, but it's still a worthwhile option for desktop PCs and laptops with a USB-A port if you're locked into the $70 price range.
For
Comfortable design (for righties)
Five customizable buttons
Three-way DPI switch
Trackball removable for cleaning
Long battery life
Against
No Bluetooth
Trackball can be a bit inaccurate
Right-hand only
Not ideal for laptops with USB-C only
What I love about the Kensington Orbit Fusion
The Orbit Fusion is made primarily from a lightweight plastic, with a glossy ring around the base for a bit of added flair. The mouse is wide and flat-bottomed, with rubber anti-slip pads for plenty of stability when placed on a desk or arm of a chair. It's not as heavy as some other trackball mice, but first impression is that it's not built quite as well as some others I've used.
The bottom of the mouse houses a AA battery garage — no, it's not rechargeable — and a slot for the USB-A dongle when not in use. It's a nice addition, but it's a shame the USB-C adapter doesn't also have a spot to live. An On/Off switch helps prolong battery life, and there's a large opening below the trackball itself to force it out for cleaning. If you're ever shopping for a trackball mouse, make sure it has this feature. Trackballs get really gross to the point of interfering with the laser tracking inside, and not being able to remove it is a non-starter. Luckily that's not an issue here.
Instead of the usual pointer- and middle-finger clicking you might be used to, the Orbit Fusion moves the majority of buttons to the left side for thumb control. It certainly takes some getting used to if you're coming from a traditional mouse. A large left-click is hard to miss, and a three-stage DPI switch is recessed to prevent accidental clicks. Also in the cluster are middle-click, forward, and back buttons. Clicking is crisp across all buttons.
The mouse works fine with just a dongle plug-in, but adding KensingtonWorks software takes things to the next level. All buttons, save the DPI selector, are customizable with extensive options, including media tools, virtual desktop navigation, web browsing shortcuts, page navigation, quick snippets, and more. You can also adjust the pointer speed, mouse acceleration (with the ability to turn it off completely), enable slow cursor for precision movements, and enable single-axis movement. As for the scroll wheel, speed, inertia, and orientation are handled in the app.
Speaking on the scroll wheel, it's unlike any I've used before. Instead of a vertical wheel, this is a horizontal wheel that rings the trackball itself. It has a smooth action and it doesn't interfere with pointing, nor does it have a tendency for accidental scrolling. A ribbed design and rubberized finish means no slipping. The free-floating design makes it feel a bit cheap, but it works as it should. Overall I found the Orbit Fusion comfortable to hold, though it's built for right-handed users only.
What I dislike about the Kensington Orbit Fusion
The Orbit Fusion is easy to set up, easy to customize, and does its job. However, there are some features and design choices I dislike. Coming from a mouse with the trackball under thumb was a considerable change, but I tried to keep that in mind and give a fair evaluation while testing out the Orbit Fusion.
I do a considerable amount of photo editing, and I still prefer a trackball under the thumb if only for the precision it affords. The Orbit Fusion works well for most everyday work, but clicking exactly where I want doesn't always go according to plan. Keeping a finger or two on the trackball and hitting the left-click with my thumb often also involuntarily moves my fingers, which in turn moves the cursor. Not a big deal in most cases, but not suitable if you're working with an app where precision is key. That includes a lot of games.
This issue has gotten better as I've trained myself to keep fingers still or lift them off the trackball when clicking, but overall it just doesn't feel as intuitive. I found that I'm still moving a lot more of my hand when using this mouse compared to the MX Ergo (or any thumb-operated trackball), and if you're one whose wrist is easily affected, you might want to consider something else.
Having the mouse rely on a 2.4GHz receiver for connectivity is normal, but not also offering the option for Bluetooth is an annoyance. Many Ultrabooks are moving away from USB-A, and in my case I was stuck using the USB-C adapter to connect the mouse to my laptop. The adapter is included in the package (which is great) but it causes the adapter to stick out way too far to the point where an accidental turn or knock could seriously damage the port. This is a mouse best paired with a desktop PC or laptop that's still holding on to USB-A.
Should you buy the Kensington Orbit Fusion?
After getting used to a finger-operated trackball, I mostly enjoyed my time with the Orbit Fusion. The lack of Bluetooth connectivity was a bit of an annoyance, but using the mouse with a desktop PC or laptop with USB-A completely removes the issue. The mouse is built well — though doesn't feel quite as premium as some other, more expensive options — and the AA battery keeps it going long enough that you won't mind swapping out the battery when it finally dies. KensingtonWorks software really adds a lot of value here, allowing you to customize every aspect of the mouse.
I'll still revert back to a thumb-controlled trackball for precision work, but anyone used to this style might not have the same issues I was having. And there's also the scroll wheel's loose feeling, which seems to have gotten worse as I've used the mouse. There's a bit of a gritty feel to it, no doubt as dust and debris falls between the ring and the actual wheel.
If you're seriously considering a trackball mouse and have an extra $15 or $20 to spend, consider checking out a couple alternatives. Kensington's Expert Wireless Trackball costs about $85 and is very well rated. It's a finger-operated trackball, includes Bluetooth connectivity, and has the same style of scroll wheel.
And for those who prefer the under-thumb trackball, Logitech's MX Ergo is an easy winner. It costs about $90 but makes up for the cost in premium feel, multiple connectivity methods, long rechargeable battery life, and overall comfort and precision.
The Orbit Fusion is still relatively new, so you might want to wait for a price drop before shelling out. Spending about $70 when there are so many great alternatives, including plenty made by Kensington, might not be the best move unless you're absolutely set on this price range. Be sure to have a look at our broad roundup of the best wireless mice for more options.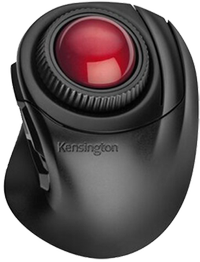 The Orbit Fusion trackball mouse is bit on the expensive side for what you're getting, but those locked into the $70 price range should find it's a perfectly capable pointer.
Senior Editor, Laptop Reviews
Cale Hunt is formerly a Senior Editor at Windows Central. He focuses mainly on laptop reviews, news, and accessory coverage. He's been reviewing laptops and accessories full-time since 2016, with hundreds of reviews published for Windows Central. He is an avid PC gamer and multi-platform user, and spends most of his time either tinkering with or writing about tech.