Kickback this weekend with some nostalgic Zune tunes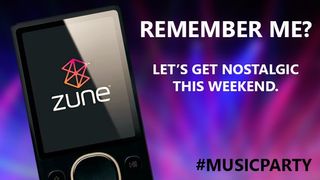 Remember Microsoft's Zune line of multimedia players? I haven't forgotten, and to this day, the Zune 120 GB Black "Brick" remains as one of my favorite pieces of hardware from the past. To help everyone relax, while bringing back some Microsoft nostalgia, below is a short video list of some of the rocking (and mellow) tunes used in the original commercials.
The playlist includes the following as of now:
Wanna Be a Star by Walter Meego
​With Microsoft's launch of the third generation Zune, they wanted to show off what it could do with some punchy pop music. The commercial makes sure to show off the Zune's FM radio, wireless PC syncing, music sharing with friends, and of course that gorgeous display on the 30/80/120 GB units.
This is Why I'm Hot (Rock Mix) by MiMs
One of Microsoft's first Zune commercials kicks it off with some rock and isn't afraid to show why it "rocks". Wireless music sharing, the FM radio, and gigantic display are front row in this ad.
Universal Mind Control by Common
Remember the Zune social? This commercial from the Redmond team aims to show the Social's discover ability. This ad isn't actually about the Zune device itself, but the 3.0 release of the Zune desktop software.
Trash by The Whip
Flashy and sexy – it all screams Zune HD. This quick sixteen second (and super widescreen) advertisement using some fast past music to get your adrenalin pumping.
Lake Michigan by Rogue Wave
Here is a mellower Zune commercial; a girl touches her device and enters, what I like to call, a "wicked acid trip". This is one of a few Zune commercials that really went far beyond what we expected to see from an MP3 player commercial. Specifically it focuses on the smaller 4/8/16 GB Zunes.
Sleeping Lessons by The Shins
This is another trippy Zune music commercial that takes a jump inside one guy's mind and the creativity that comes with music. I find the song that accompanies this ad to be extremely disturbing, but hey, that is just me. One commenter on YouTube, says he has begun "sleeping to this song".
Check out the videos and sample the songs above, then head to your favorite streaming music service via the provided links below and start grooving. What was your favorite Zune commercial? If you have a "Zune tune" that we forgot, make sure to hit us up in the comments and I will be sure to add it.
Click here to launch the playlist in Spotify.
Click here to launch the playlist in Rdio. (opens in new tab)
(Sorry, we can't share a playlist through Xbox Music - blame Microsoft not us!)
Have a great weekend!
How ironic that a mr meego is one of the artists :)

Referring to Nokias N9?..... Nothing to do with MS or Mp3/4

I tried, but I'm having a hard time getting nostalgic right now because I'm to wrapped up with what's about to happen next with WP, W8, and Xbox.. Sorry, but Rodney ain't got time fa dat❕

I still have an original Zune that works like a charm.

Same here. Best MP3 player I've had.

Sold it when I got my Zune HD :(
That being said, Zune beat the piss out of Apple in ease of access with their music catalog.

What? the iTunes store was wayy more organized than MS' catalog. It still pisses me off till this day, saying that I can play my own purchased music from my Lumia on my laptop

I'm going to have to disagree with you. iTunes was and still is slow and bloated, the Zune software was a breath of fresh air with version 3. No amount of organisation can make up for that!!

I'm sorry, but iTunes is complete sh*t compared to Zune. I still use the desktop client. Xbox music is getting there too.

Me three, got one works np,in mint condition. Still use it.

I have never seen any of these adverts before, I don't think they really bothered advertising it in the UK, Sony did a little with their walkman, but that was far too little, far far too late. I actually really liked the ads (except the whose song is this one, that was shite!), but if I was in the market for an mp3 player, I would have bought a zune over an ipod. I'd actually like to see some more moody windows phone ads like these zune ones. I liked the moody 928 advert with the swimming pool.

Did they even release in th UK? I wish they had. Hear so many positive comments about them.

No, they didn't. I have a Zune HD but I had to get it imported through a third party. Best media player I've had the pleasure of owning and I still use it and the desktop software for media playback.

I also got one here in the UK, a HD version. Took a while to source but glad i did as its still my daily player and i love it.

Simply love my Zune HD, picked up in the States and in daily use (along with the software) here in the UK. Xbox Music still has a way to go.

Still rocking my Zune HD 64gb to this very day. Love it.

I feel ya my Zune 120 was stolen settled for an 8gb on eBay

What? the iTunes store was wayy more organized than MS' catalog. It still pisses me off till this day, saying that I can play my own purchased music from my Lumia on my laptop
They probably needed it as a brick to steal a car

My 32gb HD has a weird reboot issue, and is basically useless now :'(

Same here. I really hope it never breaks

Ah, the pink-orange-purple tinted view of the past. I'll never forget.

Got three Zune devices (brown 30, black 80, & 16GB HD), most are just docked (one for Xbox and one for another TV), but I still take my HD everywhere I go.

That Logo! They should've left it alone IMO

*SOB* Oh, it still makes me cry that these didn't take off better...they were SO good! :'(

I feel ya. It always bothered me to no end when people would dismiss Zune just because it didn't sell as many as the iPod. It was simply a superior product with superior software (of course, anything is better than iTunes). Makes me not want to live in a world where a product like the iPod sells better than the Zune. And I really wish Microsoft kept up with it longer. They could've at least kept the Zune software, renamed it, and updated it.

Sad to hear, but we must accept the world as it is, we are only lying to ourselves to perceive it as anything else. The things that define rational consumer behavior are forever changing and product value is seen as broadening beyond the sensible 'user experience' approach to which many of us subscribe.

Wow, I didn't even know there were any Zune commercials. I think the failure of this product starts with its name. It doesn't invoke or mean anything that I can ascertain.

...but it WAS liability and license free! Its nonsensical meaninglessness was its ticket to existence and who cares? It was MAGICAL, I mean what the hell is lippidp?! Lol, I'm totally kidding but kinda bummed still =(

I remember watching the commercial with common. It really made me want a Zune. Finally 2 years ago I got one for Xmas, and just recently stopped using to use my Lumia 521

Never had one but they look awesome shame they went in the uk

I never knew anybody who had one either, and I'm in the US. I had a SanDisk MP3 player back then.

Can they make a zune hd phone already with windows 8.1...that would be a best seller. Make it a little wider and taller for the antennas...would be epic

They totally did, but decided to call it Windows Phone =[

Im talking hardware wise. I know it live on software wise

Surface phone. Now that I think about it, the surface definitely reminds me of the Zune hd

Wish Microsoft would release a new MP3 player,my old iPod has about had it.

I hear the Lumia 520 is a comparable replacement..? =[

I'm surprised they haven't thought about throwing their hat back in the arena on the MP3 player.The time is right,I think it would sale.Though about picking up a 521,but nothing beat my old Zune Player for music :) Might go checkout Ebay and see what's up for bid or sale.Can't stand my iPod is was a Christmas gift a few years back and it's a done deal barely works.

Just a decent music player app is all we need, native music app is very hopeless

Zune HD ftw. Down with ipood

Still use my Zune HD every day. Anybody know what I need to do to transfer my account over to a different w7 PC? I switched computers and want to do all my syncing and Zune pass downloading thru the new computer.

Should be able to head to XBox.com->devices-> delete PC being used.
Once that's done head over to new PC, download the software and try downloading a song. If successful downloading it you should be good to go.

Thanks for the reply. Unfortunately I can't find such a path thru the Xbox website. I'm prob just missing it.

Xbox.com account devices then when you load Zune on the new PC go to settings accounts and tell it to download all your stuff

What you need to do is once youve downloaded zune software on new computer, sync your player with new pc and then click either your players logo at bottom left or click "Device." You should now be at the at the "summary" screen. Now i may be wrong about this, but with WP7, I needed to do the samething, im going to assume this works the same way with a Zune player. You do not have to delete your existing pc on the xbox.com website, just click "change sync relationship" on the "summary" page of your device, now just follow through and make sure your new computer is the default for syncing with your Zune player and not a "guest", now your old PC will show you as "guest" whenever you plug your Player back in. Also, before you do any of this, sign in and sync a few songs from Client to Player, and then Player to Client.(wich im assuming you have already done so from previous comment) If you have any videos that have been downloaded from the zune marketplace, they will be erased from device when changing the sync relationship, so manually sync or backup those if you do. I hope this helps.

This ought to make people that refuse to upgrade to Windows 8 happy.

I'm still rocking my 30gb that I got in 2006

Still use my 16GB Zune HD on a regular basis.

Still have my Zune 120GB and Zune HD. My Zune HD spent an hour tumbling in a washing machine by accident and after a day of drying, I was able to switch it back on and except for a few nicks and scratches, it still worked perfectly.

I miss my Zune 120,...all it needed was an eq. Solid player!!! And the 30gb Brownie,...I miss 'em both.

Yes, the one and ONLY downside I ever had was lack of EQ, or even some EQ presets like iPods have. Overall, it was such a minor thing for a great device.

I have a Zune HD and still use it for the music that's on it but mostly for the HD radio. There are still alot of folks who dont even know those OTHER channels exist. I have two other Zune 16gb players as well.

Still rockin' my original white 30g Zune from the Zune launch in New York.

Zune 80gb with my pass was the best music device I had. While my friends iPod broke down mine kept going....unfortunately it got stolen. *sigh*

My Zune HD Platinum was sensitive to heat and cold. I like to leave it in my car and the back would heat up to where I couldn't touch it. And winters souls freeze it. Now half the screen has a blue layer and is delayed. :(

Still rocking my zune hd everyday at the gym. Absolutely love it. I think when it eventually dies I'll get a lumia 520 but i still prefer the Zune software for syncing

The "Lake Michigan" commercial was always my favorite.

This is depressing me I loved my Zune 80 gig more than any other
damn you Microsoft for failing to give me what I want

Had each Zune release and loved them. But I never saw a Zune ad on TV. Was never marketed the way they needed, and honestly I think they were too late for MP3 players.

Still rocking a Zune HD 32GB amazing product but they should have pulled an Xbox original and sold it as a loss leader cause Apple's iPod was so dominant. Wish they would come out with a Xbox music player or a WP device that doesn't have the phone they need a gateway device to Windows Phone.

Still have my Zune HD. Loved it. My wife and daughter's loved theirs too. With a Zune Pass and 10 free songs a month it wad a great deal. Still have my 120 GB original Zune too. Great hardware.

I've own Zune 30, 80 120 & HD64. I take my Zune HD 64 with me everyday.

I'm sure it's been said, but I'm lazy and don't want to read all the comments, but where were all these commercials before? #proudzunehdowner

Oh Zune... How we miss you so... Still nothing better out there.. Come back please!!

Really starting to miss my Zune. I used to love it. I won it from a giveaway at http://www.techlurk.com/ and http://www.edupdates.in/

I legit cried when they announced they would be discontinuing the Zune HD

As opposed to illegitimately crying?

I still use my Zune 80 everyday. One of my favorite devices ever.

I called my Samsung Focus my Zune Phone.

Can the next CEO of Microsoft be J Allard so he can bring back the Zune?

The Zune was a classic for sure!

I miss my 1st Gen 30gb bad now... :(

I still use the Zune on my windows phone 7. The only upside of still owning a wp7 device:(

Xbox Music is a shameful downgrade on WP8.

I have both a brown z30 and a red z80. My z80 still works but the z30 looks like it's dead. I posted a video of my z80 on instagram two months ago. http://instagram.com/p/eQ9QjMilmK/ It would be nice if MS brought back some of those features back to XBM, Play count and discoverability by what your friends are listening to. I had almost half a million play count when the service was killed. :(

Actually liked those commercials, the Zune looks like a great device. Shame they were plagued by a horrendous name and hit market, way, way, way, way too late. Thus is often Microsoft's problem: they make great stuff, but they're a lumbering giant, they're really slow to respond to the rest of the world, I fear it will eventually be their downfall.

I cannot recall ever seeing a commercial for a Zune. A coworker's ongoing troubles with his iPod and iTunes and the QuickTime updater's repeated insistence that I install iTunes even though I didn't have an iPod are what led me choose Zune.

The Zune was the first Microsoft product to pique my interest. If they had only made it Mac friendly, I may have gotten one. I thought the interface design unique, so I was glad to see it carried over to WP. I also loved the "Sleeping Lessons" commerical: Great use of the song.

ZUNE, is the name of wonderful devices, incredible PC software, and the freaking amazing internet MUSIC VIDEO MEDIA SERVICES! The great features provided, weren't explained to or understood by the masses. The PC ZUNE software IS STILL GREAT with the less great xbox music service. Please Microsoft, bring back the ZUNE team. We want the ZUNE software and Services functionality. Not the limping immature xbox syncing of our music.

Man do I miss Zune. Not owning a WP7, I was never able to test that intergration. Xbox Music, on W8 and WP8 is a joke.

Yep WP8 Xbox music is an absolute mess it sometimes doesn't recognize that I have a music pass

Still have my black Zune 30. Using my Zune HD 32.

Someone make a petition on change.org to bring ZUNE back.

Having never ever seen any one of these ads in my life, I now know why Zune never took off - no one knew it existed! :-)

This weekend is almost over.
I never seen a Zune device ever, never heard of one until i started using the first WP7 devices. I see this product as a big MSFT's screw up. Considering WP7 and 8's problem with storage space, they could have forced us to buy this as a companion device, and it might have worked, I sometimes wonder if MSFT even knows what there doing, wait, no they don't, that's why there unifying the company ...if its not but butchered by the new CEO.

I've never seen one either. I didn't know Zune software existed until I joined WPCentral.

I think also if you are outside the US its really a non entity. Except with WP7 you need the Zune app for connections, i still need to use it to test stuff on my HTC, but the UI is a mess.

Always wanted one but was too expensive to import to uk.
If I pick one up now will i be able to synch it with my 8.1 laptop or should I forget the idea? A 120gb is what I need.

Of course you can you just need Zune installed on your computer

I love Zune!!!!!!! When I first switched to wp8 from Android I was hoping it would be like having another Zune Mp3 player but I thought it fell kind of short with Xbox music. My Zune was great, I loved the looks on people's faces when people would ask me is that an ipod, and I would be like no, its a ZUNE. Lmao the good old days.

I think the issues of this entire thing is I live in the US and NEVER saw any of these commercials. Nevertheless I had a Zune 30 (anyone else remember that new years bug??) and then got an HD. Still use it in my car and its recognized because MS makes the ford software!!!

One question: what is the sound quality difference between a Zune and eg any recent Nokia phone? Any reason Zune should be better?

I think there shouldn't be a huge difference, so I would say go with a Nokia because you'll buy an up to date device. If you're still not sure, I suggest you take a look at these reviews: http://www.gsmarena.com/nokia_lumia_520-review-920p6.php and http://www.gsmarena.com/nokia_lumia_925-review-955p6.php.
Funny fact is that the Lumia 520 beats the Lumia 920 in some aspects :).

Thanks, but I have a Nokia 925. What I meant was, isn't WP now a complete replacement for Zune quality wise, if not capacity wise.

I'm waiting for my 925 to arrive :). But yeah I think you're right about that, though I do understand that people still want a device that's dedicated for music (a minority though).

I still use my Zune 80 and Zunepass. WP8 is great for when you are connected, but the high capacity Zunes are the best for carrying all your music when offline.

I still have a Black 30 GB and a Pink 30 GB ZUNE. Both of my daughters use them and love them. The best MP3 player ever made in my opinion.

Little bit off topic..is WhatsApp working fine for everyone...for me its showing not connected..from today morning...from India...

I'm still looking for a better alternative for my old ipod (i threw it away). Please MS or Nokia make it happen :) would be awesome to see a music player with integration of xbox music and nokia music in a lumia design ... anyway i do not really believe such a device will come anytime soon :/

Just curious, why do you not like using your phone? And I agree, I doubt we will see a dedicated music player any time soon.

oh i use my lumia 920 a lot for music. but it's still too big and heavy for listening music when doing sports for example. i'd love to have a small device like the ipod nano 6.gen (maybe i'd consider buying one if i wouldnt be forced to use itunes)... currently i'm using a sansa clip+ from sandisk which is okay. but its nowhere near premium. the volume is quite limited... building quality and sound quality is not more than lower standard.

Same here! My 920 is way too heavy to run with and my Zune 120g is actually lighter so I run with that. Even though it still is a hefty device. Lol

Sunday goes so slow. I understand everyone needs a holiday but still....

Still have and love my Zune HD 64GB,

Me too. I've thought about trading it in to Amazon several times and each time, I've regretted it. So, I have decided it's not gonna happen.

Na Na Na/ Na Na Na/ Eh Eh Ehh goodbye!

Got a 16gb Zune HD for my bday some years back it was my gateway to WP7 when it was announced. Loved that player. After I bought my HD7 I ended up selling it.

whoa, acid trip is right.

My wife uses a Zune 80 and I use a Zune HD every day. Works awesome with Kia Uvo.

What happened to wpcentral ? Plz post something,,,, wmpoweruser seems more active..

Would love to own a Zune... Always loved it, till this day. But alas, the stores that carry it (to this day) in Pakistan are selling it, unfortunately, for twice its value which kinda puts one off from buying it... :'(

I think they could bring it back and use it to make the media software better on windows abs it could use windows phone they could sell it with out the phone option or make a phone hybrid that you could turn into a phone later with a sim card and the phone tiles comes when you do that and with the windows phone app store it will just boost the apps!

In retrospect, I think I preferred my Zune 8 GB to my Zune HD. Such a trooper.

Use my Zune HD everyday for 5 years now. Still the best looking device I've ever seen.

I still use both my zune 32 gigs almost everyday! I hope they never quit...

You forgot so many it's not even funny. Here are some of the ones from the Zune Arts campaign: Regina Spektor - Us Bitter:Sweet - Dirty Laundry Santogold - Say Aha Deadly Syndrome - Eucalyptus Black Angels - Young Men Dead Those are just some of my favorite ones, but there are at least twice more from where that came from. Look up their respective videos on YouTube, including the first-ever Zune commercial: http://www.youtube.com/watch?v=AB-GemZxPtQ

Here's another good one, a Zune Pass commercial using a N.E.R.D. song. I liked the song I heard in the commerical so much, I made it into a ringtone, one that I still use today. http://www.youtube.com/watch?v=_dC199kSBhE#t=19

I had a red Zune 80 that was stolen out of my car. I replaced it with a black Zune 80 off ebay. I got my wife an 8GB Zune too (though she never uses it now that she's got a smartphone). I would love to retire my wonderful Zune and use my phone for music... but I have a music collection that's 50+ GBs and I hate hate hate having to pick and choose and manage an 8, 16, or 32GB device. This is why I was disappointed that the Lumia 920 had no memory card slot, or a 64GB option. But, I wanted the phone for other reasons more, so decided the pro's were better than the con's... and so I still carry my 80GB Zune everywhere I go. And no, I do not want to pay $10 a month for cloud access to my music. So until I find that perfect smartphone that can hold my entire music collection, my Zune lives. And if it dies, I'll get a used one off ebay again to replace it.

I remember when the Zune 30 was preloaded with CSS and Band of Horses. Two of my favorite bands. Also, does anyone remember the zune-arts and that one ad where the bird catches fire? It was a really short ad, but the song sounded awesome.

I have a pack of the Zune arts posters that I won off Twitter a few years back

I was a Zune fan from the beginning owning a 30, (2)80 and a 16 gig Hd, I tried an IPod before the Hd and couldn't stand iTunes it was so horrible and unfriendly to use. So I have had a Zune pass for about 8 years and still use my Hd and an 80 gig

IMO Zune has better sound quality than iPod.

omg i miss my zune so much. had the og30gb the 120gb and the 32gb hd. best media player ever and i still use zune software for my music player on my computer.

I still use both my zune 32 gigs almost everyday! I hope they never quit...
freshersworld
Windows Central Newsletter
Thank you for signing up to Windows Central. You will receive a verification email shortly.
There was a problem. Please refresh the page and try again.