Kinect has a life outside of gaming - videos showcase a new world of retail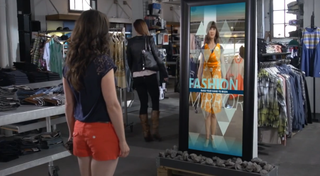 When the majority of us think about Kinect, we think about shouting "Xbox, Play" to get our Netflix movie rolling or we picture ourselves waddling around the living room trying to get our groove on with games like Dance Central. If we step outside the world of gaming, we can see how the Kinect for Windows SDK can be used in retail. To help us imagine the world for Kinect outside of gaming, Microsoft has released a video showcasing how the high tech accessory can be used in various retail scenarios.
The first video showcases a woman shopping in a clothing store, and then stopping in front of a "fashion mirror". The mirror is, of course, a display that is able to overlay digital images on real world imagery creating an augmented reality experience for the shopper.
The woman is able to try on various pieces of clothing digitally and see how they appear. Simple voice commands can switch between browsing pants or skirts – the flick of a wrist allows the woman to fly through various designs and prints. The software on the "fashion mirror" is also able to handle physics as the woman twirls and the dress responds by gently moving in a realistic fashion.
Two other videos were also produced by the Kinect for Windows team. One of the two videos showcases a customer playing a winter themed game at a Ski shop, and then receiving a coupon on her Windows Phone for completion. The second, showcases Kinect being used within a toy store. A boy picks up a hot wheels toy, Kinect scans it, and the child is then able to race with it in a virtual game.
Kinect has many uses beyond being attached to an Xbox and being used for gaming. Microsoft has stated that a collection of companies have already "created exciting retail experiences" including Bloomingdales, Build-a-Bear, Coca-Cola, Mattel, Nissan, and Pepsi.
What do you think of shopping with Kinect – do you have any great ideas for using Kinect within a retail environment?
Source: Microsoft (opens in new tab)
Cool. Reminds me of a company called FaceCake.

I will be impressed when Kinect has xray vision in retail dressing rooms.

That Glass just looks like the type in the movie TIME MACHINE, Though not for clothing.

I love to see applications like this.. It would just be nice to see more doing, instead of conceiving, on MS's part.....

Beautiful, but to be real, they need to use high res pics if u want to buy something!

Hmm these are all very nice ideas but I just don't see any implementation happening...

Is this the current kinect for windows or the kinect in the Xbox one, just the windows version? I'm not able to watch the video now, so I don't know.

It looks like the current one.

They have a similar mirror in Alton Towers on the Smiler, it adds glasses to every face it identifies. I'm going on Saturday and will get a video in action

This is asking for lawsuits by fat chicks saying "It made me look fat and now I have an eating disorder because of it!"

Better yet, it could be an instant photoshop effect where it makes fat woman look thinner, then takes a screenshot and sends it to your phone. They could then use it on dating sites...lol

In my experience, fat chicks on dating sites have had this technology for at least 5 years.

Haha! Not only on dating sites.

I guess, since the woman is using a Nokia 6in+ device in the first video, that we will be seeing those officially annouced just around the corner?

Yes they will be announced next week, but that's not a 6" device in the video.

No, that was a Lumia 920.

No way, that thing looks huge! Perspective is probably a bit skewed, but the device she is using is nearly as big as her clutch. My 920 doesn't seem that large...but again, could be wrong.

Do you have small feminine hands? Cause if not the phone in the video will look larger.
http://imgur.com/19rYSbM
This is a Lumia 920. No doubt about it, 100% certainty.

It was a 920. The 1520 will have the front cam on left of speaker, and 920 have it on the right side, just like the video.

Microsoft needs to bring these ideas to reality soon. It will prove the ability and power of Xbox, Kinect and Windows to all those Microsoft and Windows Bashers. Eager to see these things in real world soon. Come on Nokiasoft (Nokia +Microsoft). You can make every one say wow with these kinds of apps and ideas.

Very cool. Of course, I don't expect to see this used in stores for at least a year or two.

True story: a few friends a I pitched this very idea a year ago to some mexican clothing chain. They thought it was too expensive and not worth their time. If it gets picked up by a notorious brand, I'll show my broke-ass face at their HQ and laugh maniacally until security hauls me off.

I can hear it now;

"Does this Kinect make me look fat?"



Flashbacks of Project Natal here ...

Very cool idea. Ideas with Kinect are wide open.

Maybe we'll see this at Nordstrom. Not at TJ Maxx where I shop.
I wonder what OS that mirror is running.

Lego stores have a kiosk where you place the box in front and it displays a 3D like video of the completed product. I can definitely see various usages for retail. Very interesting.

I'm doubtful we'll see something like this at actual stores but I can totally see Microsoft working with retailers (like the Gap for example) where we'll see retailer apps popping up on XBox One consoles. So you can have your own virtual changing room in the comfort of your own home.

Did that nokia in the first video look huge to anyone? nvm doesn't look big lol

and i love how the sales assistants computer is still running XP!

i guess that mirror has like 16k resolution at 120fps but still using xbox 360's textures for the clothes, what a shame

I've only seen the first video, but God, are people going to be that lazy to even try a new pair of pants? I sure hope not, otherwise Idiocracy is writtien on everyone's future.

It's faster... You don't have to hunt through the shelves for your size and then line up at the change rooms, only to discover it looks like a potato sack. Then leave the garden centre and go to a clothing store to do the same with clothes. With this tech you could try on their entire range in a few minutes, even if they don't have it in stock.

how about this as an app you run on your xbone at home? seems like this would be a much better use of this tech. sites like land's end already have very weak virtual try-ons.

This really is amzing to see, there is such great potential with kinect.

I'm really looking forward to getting the XBox One, but i have a question. Do i need to put Kinect below the middle of my TV? I have a sound bar there now and the kinect looks like it would stand higher than the bottom of my screen.

Dang, that is amazing. So innovating.

Ok. We can now create a virtual shopping from the China warehouses anyway.

A screen with that height/width doesnt exist.
Windows Central Newsletter
Get the best of Windows Central in in your inbox, every day!
Thank you for signing up to Windows Central. You will receive a verification email shortly.
There was a problem. Please refresh the page and try again.