Kinoma Play unleashes update No. 3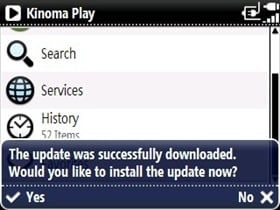 Call us fans ('cause we are), but it's nice to see regular updates like this from a Windows Mobile developer, with the updates implemented from inside the application.
And without further ado, the latest update to Kinoma Play brings improvements to:
The file scanner (one of our biggest sources of consternation):
Kinoma Play now scans for media when you select My Media Files, instead of on startup. This is especially convenient when you launch Kinoma Play primarily to play online media.
You can now choose between Automatic and Manual scanning in Settings > Library.
Even with Automatic scanning turned on, scanning can now be canceled other than the first time a new source — like a new Storage Card — is detected.
A new Scan command appears at the top of My Media Files if Kinoma Play detects that My Media Files may not be up-to-date (i.e. if a previous scan was canceled, or if Automatic scanning is off).
Indeed, those are all good improvements.
Playback on screens that rotate (a la the Touch Diamond, et al):
On the HTC Touch Diamond, Kinoma Play now uses its orientation sensor to automatically rotate the screen to the correct orientation (0, 90, and 270°)
Software keyboards (SIPs) are now handled properly on rotated screens.
Rotated video playback performance has been improved on some phones.
Good. Good. And finally:
Kinoma Play responds more quickly to the appearance and disappearance of Bluetooth audio devices, like Bluetooth headphones and speakers.
The installer now works on "Tier 2" phones, which have more stringent security requirements. For anyone who experienced a "security failure" on installation, this release should fix that.
This release includes preliminary support for the soon-to-be-released Sony Ericsson Xperia X1.
Excellent. Even better than just offering bug fixes is looking ahead to the future, assuming that darn Xperia X1 ever sees the light of day. Now just give us some AVRCP love, and we'll be happy campers. Fire up Kinoma Play and get your update.
To read what we got the in first two updates, click here and here. And if you still haven't tried Kinoma Play, check out Dieter's excellent review.
Windows Central Newsletter
Get the best of Windows Central in your inbox, every day!
Indeed! Now just give us some AVRCP support, and this thing will be damn near perfect.

I hope that the next new update give us the CHOICE of making it the default media player. There are certain files that I do not want Kinoma to be the default player for.

Now if they get the price down to $20 I will buy it. After paying $20 for pocket player, $15 for coreplayer, I dont feel like shelling out another $30 :)