Media Player Roundup -- The Winner(s) Declared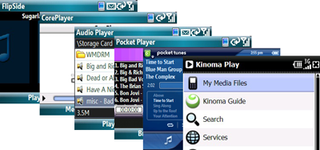 We've looked at several media players for Windows Mobile devices but which one is best suited for you? We've looked at Pocket Player, Pocket Tunes, CorePlayer, Vito Player, Flipside, and the newest offering, Kinoma Player. Does one of these applications stand out above the others? Some are so close in performance that it may be a tough choice while others aren't so difficult to distinguish. We have players better suited for the hardcore media junkie and some that will appeal more to the casual listener.
To see how these media players shake out, read on!
Media Player Round Up
FlipSide by Electric Pocket ($19.95): While this media player does make a good first impression with the ability to import album art, that impression doesn't last long. It's not to say that Flipside is the worst medial player out there, it's the weakest of this group. Flipside is a very basic media player but a little too much of an iPod "wanna-be". Stability issues also plague this very basic media application.
CorePlayer by CoreCodec ($29.95): This was a tough call. CorePlayer is a media player designed for a more hardcore user that is feature riddled. But I found it difficult to navigate through and did experience a few stability issues. It may be a strong player amongst the media applications but I can help but feel that it has two left feet.
VITO Audio Player by VITO Technology ($9.95): This was another tough call. VITO Audio Player is actually a very nice media player and I hate to penalize it because it's too basic. However, VITO does lack a functional equalizer and the ability to create playlists while those higher on the list do. It is still a very good choice for those looking for a straightforward, basic media player.
Pocket Player by Conduit Technologies ($19.95): I consider Pocket Player the best of both worlds. Using default settings, this is a very good media player for the casual listener. Pocket Player has enough customization for navigation, playback, audio quality and appearance that it will satisfy the hardcore user as well.
Pocket Tunes Deluxe by Normsoft ($37.95): With a clean and intuitive interface that maintains a full-set of features for both Windows Mobile Pro and Standard, Pocket Tunes is one of the better media players available. Supporting both internet radio and stored music, this application can easily satisfy the casual listener and most hardcore media hounds.
Pocket Tunes is our pick for best 'classic' media player. If you're not interested in an internet-connected player, Pocket Tunes is tops; the fact that it can also do internet radio is an added bonus.
Kinoma Play by Kinoma ($29.95): We'd be remiss if the new kid on the block wasn't mentioned. While Pocket Tunes holds the title of 'classic' top-dog in this roundup, Kinoma Play gets a strong mention. Designed to help you find media on the internet to play as well as play on board tunes, its only weakness may be the amount of Program Memory it can consume. Based on the initial comments of those who have taken the plunge, Kinoma Player may soon unseat Pocket Tunes.
Kinoma Play is still a 1.0 release, but even so it's our pick for best 'internet-connected' media player. It might be a little memory-heavy, but the incredible feature set makes it worth it for any device that can handle it.
Get the Windows Central Newsletter
All the latest news, reviews, and guides for Windows and Xbox diehards.