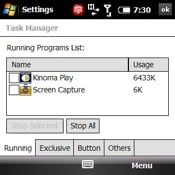 Kinoma Play ($29.99) is the new media player we've been hinting at in our series of media player reviews this past week. It's essentially a super-charged media player that aims to make media you find on the internet as easy to find, play, and interact with as the media stored locally on your memory card. Those of you familiar with Kinoma Player EX on the Palm OS are going to be pleased to hear that all the functionality of the PalmOS's player is here and then some.
Above, a quick video demo and review of Kinoma Play. After the break, a gallery of screenshots and a bit more. Read on!
Overview
As I mentioned above, the core purpose of Kinoma Play is to help you discover and play media both on your device as well as on the internet. In addition to a solid media player that handles audio, video, and images with relative easy and aplomb, Kinoma Play sports a comprehensive online media guide for finding, listening, and downloading media. It also has the ability to interact with several online accounts such as Flickr, Live365, Audible, and others for both accessing and uploading media.
I'm very impressed with Kinoma and I'll let the conclusion slip here at the start: I think it's an incredible piece of software that must be at least tried out by every Windows Mobile user. The Kinoma FreePlay (warning, link will auto-download the software) software includes much of what the full version can do. That link will give you a list of what it cannot.
That said, there is one very important caveat to recommending Kinoma Play: it's not at all shy about using your Program Memory. Kinoma Play can hover anywhere between using 6 and 9 megs of RAM (!) at any point while you're using it. The other unfortunate part is that Kinoma Play seems to default to auto-scanning your device every time it starts up, so it takes quite awhile to launch. It also doesn't respect some Memory Management systems like "hold X to close" on HTC devices (though it does quit cleanly when stopped by the task manager).
Browser
As you can see from the video above, Kinoma Play was a little overly aggressive in scanning and found a few odd things like XML files from Newsgator (read them as playlists) and album art. Fortunately, every screen in the browser has access to Kinoma's "Menu Pod" (more on that in a bit) with quality "Get Info" bits to help you hunt down where these files are -- however, there's no option to tell Kinoma to ignore certain directories.
Finding and organizing your media is important to any Player and Kinoma Play's browser is among the best I've used. After it (finally) gets finished scanning, you can use either the touchscreen or the 5-way pad to quickly navigate around standard sections like Playlists, Artists, Albums, etc.
There's also "type to find" within lists as well as a full search of your local device. All of which was very snappy on the two devices I tested on (Treo Pro and Motorola Q9h).
There's also robust playlist support. In addition to being able to read standard WM Player playlists, Kinoma lets you create your own easily. The great thing is that these playlists actually maintain album structure -- making them much more browsable and editable on the go.
There are two other bits to the Browser that are essential to the Kinoma Play experience: Favorites and History. "Favorites" seems like an odd thing in a media player, but it becomes essential when you start discovering content you like within Kinoma Play's internet media guide.
History is simply awesome. It keeps a history of all the media you've played for at least a few seconds (I believe it's 10 [Update: Make that 100] so you can go back to it. When you do go back to it, Kinoma Play remembers your place. It remembers, mind you, whether you were watching a YouTube video, listening to a podcast (woo hoo!), or streaming an audio book (Kinoma Play allows you to stream audible.com books).
Menu Pod
I mentioned the menu pod above, it's a relatively simple thing but makes a big difference in feel. When you hit the right soft-key, instead of getting a standard pop-up menu, you get the above menu in the center of the screen instead. The main difference here as opposed to a standard menu is that they're able to split up the various functions into tabs so you can more quickly find what it is you'd like to do.
Player
The player functions on Kinoma Play are fairly comprehensive -- allowing you to play the following media files:
Video: MPEG-4 Video SP and AVC/H.264 codecs, 3GPP (same as MPEG-4), Flash Video (Sorenson Spark codec), QuickTime Movie (same as MPEG-4) and Windows Media 9 (WMV9 codec) video formats. For streaming, Kinoma Play supports HTTP, RTSP, and MMS streaming
Audio: MP3, AAC (iTunes), aacPlus, Flash Video (MP3 in an FLV), and Windows Media Audio 9 audio formats. It also supports FLAC uncompressed audio. For streaming, Kinoma Play supports HTTP, RTSP, and MMS streaming.
The player has easy to use play / pause / back / forward buttons, 'scrubbing' within tracks and best of all, is ridiculously good at saving your place within each track. The nice thing about the player within Kinoma Play is that you have the exact same interface for nearly every type of media you can play on Kinoma, from local music to streamed YouTube video.
Kinoma Play also has a "player" for photos, which sports a slightly different interface. This interface does work with touch as well, but it's actually easy to use the 5-way pad to toggle between different photo interaction modes like zoom, pan, and rotate. Animations for all of the above are snappy.
Here (as elsewhere) you really get a feel for Kinoma Play's excellent 5-way support. This is probably the first Windows Mobile app that I've used that doesn't make me feel punished for using it on a non-touchscreen device.
Both the Audio/Video interface and the Photo interface work identically whether you're using them to access local or streamed content, they're very fluid and responsive -- for the most part.
Kinoma and the Cloud
All of the above would make Kinoma Play worthy (if memory-intensive) media player -- easily a contender for the best-on-Windows-Mobile prize. What's really incredible about Kinoma Play is how well it interacts with media out on the internet. There's a guide of media available from hundreds of media sources, from YouTube to Flickr to the BBC.
Kinoma auto-detects your bandwidth occasionally and then dynamically adjusts what bitrates its downloading at to ensure a good mix of speed and quality. It's able to search across the entire guide or within certain sites. You can add anything to the "favorites" so you can find them more quickly. You can save any file locally, email files you've found, and so on.
Sincerely, with a sufficiently fast connection, it makes internet media feel like it's local to your device.
The other thing Kinoma Play is savvy about, cloud-wise, is that it is able to integrate with several online services like YouTube, Flicker, Live365, and Audible. You can provide your login info to Kinoma so you can access your own data. For example, if you're logged into YouTube you can upload videos directly to your account from Kinoma, rate movies, and so on.
Heck, if you have an iDisk, Kinoma can read media file (though nothing else) from that too. Kinoma is also compatible with Orb for streaming media from your desktop.
Conclusion
I said it at the top: Kinoma Play is super. The History / Favorites / Podcast combo is simply killer, it's made Kinoma my default Podcast player.
I very much recommend that everybody with a Windows Mobile device give it a try -- but be sure you try it before you buy it, because as I said the sucker gobbles RAM like The Nothing gobbles up The Neverending Story. If you can spare the RAM, you will probably find yourself sparing the $29.99 to buy the full version.
You can buy Kinoma Play here ($29.99) and download the "Freeplay" version at this link.
Swipe to scroll horizontally
| | |
| --- | --- |
| Ratings (out of 5)Playing Local Media: 5Finding Internet Media: 5Streaming Media (and Podcasts!): 5RAM Usage: 2Overall: | ProsGood PlayerEasy to browse and search locallyJust as easy to browse and search internet mediaDecent file supportHistory / Playlist / FavoritesConsSucks down RAMScanning takes too long and is overly aggressive about including files |
Get the Windows Central Newsletter
All the latest news, reviews, and guides for Windows and Xbox diehards.