Lamborghini Centenario will be on the cover of next Forza Motorsport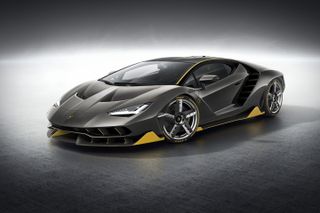 At the Geneva International Motor Show, Microsoft announced that it is partnering with Lamborghini to feature the Italian automaker's latest super sports car, the Centenario, as the cover car for the upcoming Forza Motorsport title. The car will be available "First in Forza," which means that it will make its virtual debut in the game before it is goes on sale later this year.
The Centenario is constructed around a carbon fiber monocoque, featuring Lamborghini's most powerful engine ever created, which puts out 770hp. The car goes from 0-100 km/h in 2.8 seconds, from 0-300 km/h in 23.5 seconds, and has a top speed in excess of 350 km/h. The Centenario will be offered in a limited run totaling 40, and is priced at €1.75 million.
Microsoft will have more to share about the upcoming Forza title at this year's E3 conference, which will be held in June. From Xbox head Phil Spencer:
Turn 10 Studios is also bringing the Lamborghini Super Trofeo series to all Forza Motorsport 6 players, which will include time-trial "Rivals" events as well as multiplayer "Leagues." Based on the leaderboard rankings in the "Rivals" mode, players will be awarded the 2015 Huracán, and will be invited to take part in the second season of the competition. Dan Greenawalt, creative director of Turn 10 Studios, said:
Source: Forza
That's what we need around here.... More relative motorsports news. Posted from Windows Central for Windows10 M☹ with the best phone currently running Windows10 (152☺)

I love all the Lamborghini cars. Their aggressive style is what makes them unique from other luxury cars.

Not "all" have aggressive styling. There are some really average looking ones as well. I'm not a Ferrari fan but there have been times Ferrari had more adhesive design than a Lambo. - Posted via W10M device

Agressive*, not adhesive. LOL - Posted via W10M device

Forza horizon 3. Can't wait. Galaxy Note 5!

Horizon 3 doesn't come under Turn 10 and Forza Motorsport. So this isn't that.

Maybe a new forza title because it's a bit too soon for forza 7, unless they're gonna bore everyone too death like COD with yearly titles.

I'm betting it's Horizon 3. Phil Spencer said "Next Forza game." He didn't say Motorsport. The only place it references this new game as "Motorsport" is in the article's title which, no offense, is probably added erroneously. And Horizon is, as you know, developed by Playground Games, under the umbrella of Turn 10 Studios, so yes, I'd bet my new Porsche expansion on it being Horizon 3.

"All new" So I'm betting on a title we didn't see yet. Still don't think it's Horizon 3. This Lambo just doesn't seem like a Horizon style of car. Plus...Horizon is a very separate franchise to Motorsport. The video here is all about FM.

There is a new Free to play Forza game coming to Win10 later this year, that's likely the answer. Forza Motorsport 6: Apex

That would be a waste. Though tbh if they did make the car for Apex it would definitely appear in Horizon 3 as well.

I mean... The Huracan was the cover car for Horizon 2, and the Veneno is arguably the best S2 car in the came...

Horizon 2 cover was a Lamborghini huracán..

Dude its definitely Horizon 3. They are both Biannual. So next will be Horizon 3. Unless they're gonna have 2 Forza games in one year. Very unlikely. And how is it not a "Horizon Style car"? The Huracan was featured on the last cover. And there were other Lambos in Horizon. I can tell you right now. This is 100% about Horizon 3.

It is. The title is wrong. In the video they said "The next game in the Forza series"

Turn 10 still helps with development and still get credited on the covers. There's just no way that this is not Horizon 3. I don't see how you think it's not.

Maybe they've gotten leak happy enough to let something slip a year before release

Are we ever going to get a project Gotham game again?

Lol if only I find them trying to replicate that in forza to be a turn off when they dont know how to implement it

Best cars are made in Europe. Full stop.

Yes, as far as quality goes. But overall performance and value included, not in Europe.
Supra, NSX, GT-R, Challenger Hellcat, Viper,... - Posted via W10M device

Will it ever come to GTA?

Nice! I love Lamborghinis. Posted from Windows Central for Windows 10, from my firmware-less AT&T 950. :-]

That's a pretty badass lambo

I didn't see "Motorsport" in those quotes. Did he say somewhere that's what it would be? They should be on Horizon 3 this year.

Lambo... Good choice. I'd prefer Aventador though

These are some fine Italian coupes.
Windows Central Newsletter
Get the best of Windows Central in in your inbox, every day!
Thank you for signing up to Windows Central. You will receive a verification email shortly.
There was a problem. Please refresh the page and try again.