LastPass outs its own two-factor authentication app for Windows Phone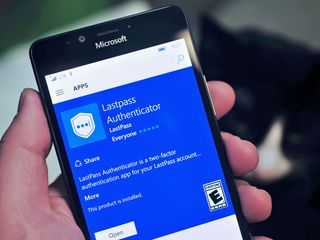 LastPass has released its own two-factor authenticator app.
Available on all major mobile platforms, including Windows Phone, this new app allows you to set up and configure multiple accounts for more secured access, including your LastPass vault. Just connect the app to various supporting services and a 6-digit code will generate every minute that will unlock access to protected accounts.
There are already a handful of apps that offer the same functionality, but with an official app from LastPass fans of the platform will be able to remain locked inside the more secure ecosystem. There's also the bonus of a one-tap login via notifications for your LastPass vault, which should save you some time whenever you require access to saved credentials.
FEATURES
Generates 6-digit codes every 30 seconds
Push notifications for one-tap approval
Automated set-up via QR code
Support for LastPass accounts
Support for other TOTP-compatible services and apps (including any that support Google Authenticator or Microsoft Authenticator)
The app is TOTP compliant, meaning it's compatible with all apps and websites that support Google Authenticator like Facebook, Dropbox, Evernote, WordPress and more. Give it a download and let us know your thoughts in the comments.
Thanks, m_umair_85, for the Store link
Windows Central Newsletter
Get the best of Windows Central in your inbox, every day!
Rich Edmonds was formerly a Senior Editor of PC hardware at Windows Central, covering everything related to PC components and NAS. He's been involved in technology for more than a decade and knows a thing or two about the magic inside a PC chassis. You can follow him on Twitter at @RichEdmonds.
Wow Posted from Windows Central for Windows 10

Yeah, wow. They didn't even mention Microsoft accounts. :P

No they mentioned it read the article again

Received an email from them about this app today but it only had badges for IOS and android as did the website. The LogMeIn jerks are already having an affect.

No hidden costs. Just the reasonable and expected costs, that everyone should want to pay to support a business that provides a great service.

Didn't last pass got purchased by log me in? Good on their part for taking wp platform into consideration unlike many other developers. Kudos to the Log Me In team.

The big question in my mind is, will it sync? Granted, it's a possible security hole, but setting up six 2FA accounts every time I do a hard reset is a pain. If it will sync my settings to the cloud, then I'll replace my Microsoft Authenticator immediately!

There's an app called 2FA that syncs the data.

i can confirm it does not sync/save your 2FA accounts. I was really hopoing it would. I have over 20. BTW, the only account I paired was for my LastPass account. Then I uninstalled the app and upon reinstall, all black, nothing restore. Maybe in the future.

You can try 2FA... https://www.microsoft.com/en-in/store/apps/2fa/9wzdncrcw1jr

And I wonder when it'll leave the store Posted via the Windows Central Beta App for my Lumia 950 XL

I'm switched to the Microsoft Account app on Android for Microsoft Account 2FA because of push notifications (a feature that supposedly will show on up W10 at some point). No typing in codes is great. Now if only it would work with Windows Hello (recognize that I'm there, automatically approve my request)

It's a great app and I'm surprised that Microsoft haven't done anything like it yet on iOS. I expect something like the MA app to make an appearance at some point within the Microsoft ecosystem but I won't hold my breath; for too long anyway. :D

Which one is better lastpass or enpass?
Plz help

Not sure how enpass is, but LastPass is fantastic. I've been using it for 2 years now.

Dunno about LastPass, been using Enpass for a couple of years and am very happy with it.

I am a Lastpass customer and got an email regarding this. Interesting that I doesn't have the "in the windows store" log o and only iOS and android.

I am going to give them the benefit of the doubt here on their main website page for this app not having the Windows Store listed. I think it was because it wasn't available yet when that page when live. ​If you actually download and use the app, you'll see Windows App listed everywhere. I would suspect we'll see Windows Store on the main page soon now that app is released.

Me too... Same story once more I thought...

Meh... I'd still rather use KeePass and it's dervative mobile apps. It's more universal and open source.

LastPass for the win. I'm a long time very satisfied and impressed user. LastPass is universal multi- platform, encrypts your data locally, syncs to the cloud, has all the features of all the competitors, plus automatic logon (insertion of user name and password) for each of your websites makes browsing easier. So many features and they also own Xmarks, a web based universal platform "web site favorites" syncing tool. LastPass has an economical "package" combo offer that includes both.
Try it.

How is 30 seconds equal to a minute? That's worse than a typo!

Has anyone ever compared Norton's Identity Safe with LastPass? I'm expecting to be told that Identity Safe pales in comparison to LastPass, but it's what I've been using since it's bundled with my Norton Internet Security

It's raining security apps!

Anyone compared the 1Password beta (it's in the store) to LastPass?

The UI coud have been better similar to iOS and android apps...

I really wish they'd release the full app as a UWA for W10 and W10M. At this point, I'd be happy if they even just updated their desktop app to Windows 10. it's annoying to use as it was somewhat dependent on the charms bar to search for things.

How does this fare against Enpass?

Lastpass for sure, great UI, cross-platform syncing. I couldn't see the advantage of this new Lastpass Authenticator vs the Microsoft Authenticator, and I agree the resyncing is a real pain. It keeps me from using the authenticators. But I learned something, and I'm going to download 2FA and give it a try.