Latest Age of Empires: Castle Siege update improves gameplay balance and more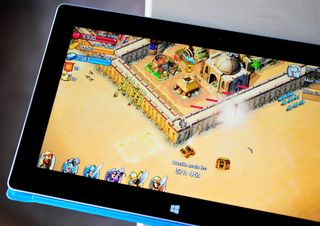 Microsoft has updated its action-strategy game Age of Empires: Castle Siege for Windows Phone and Windows 8.1. Like the last version released in April, this new update is a minor one with no new content or features, but it does contain some gameplay changes and improvements.
Here's the lengthy change log on what's changed and fixed in the new 1.7 version:
Some heroes that attempted to pursue targets at unreasonable ranges will no longer do so
Charles Martel's Taunt ability will now draw fire from targets for the entire duration of the ability. As Charles moves around, any new targets that enter its range will attempt to target Charles. In addition, the damage reduction that it provides has been dramatically increased
Tariq ibn Ziyad and his squad have received health and damage increases. Field of Fire has also received a slight damage increase
Edward the Black Prince's "Dismantle" ability now treats the Watch Signal Tower as an applicable target
Spearman Level 7 upgrade cost increased from 400,000 to 700,000 Food
Infantry Level 7 upgrade cost increased from 350,000 to 750,000 Food
Ram Level 6 upgrade cost increased from 350,000 to 700,000 Lumber
Caltrops Level 7 upgrade cost increased from 40,000 to 60,000 Food
Fixed the exploit where units could travel to the edge of the map where they could not be attacked while distracting defending melee troops
Addressed several stability and connectivity issues, including server reload connection error
Increased storage capacity of Farm and Mill Level 10 from 30,000 to 50,000; and Quarry Level 7 from 14,000 to 25,000
The difficulty of Thessalonica, Acre, Aleppo, and Constantinople historical challenges has been decreased
'Damage' was changed to 'Damage Per Second' on all information cards
Peace Treaty times are now displayed when visiting other castles
Sometimes health and damage when upgrading the Keep would not increase across upgrades. These have been increased accordingly
Sometimes players were inaccurately notified that they were vulnerable attack while being online. This notification should now only appear when they have in fact been online too long
Notifications that have been disabled will now properly disable
We added chat functionality that allows players to report flaming, trolling, cheating and other inappropriate behavior
The top navigation buttons have been condensed to not overlap the screen on its outro
The button for accessing chat has been moved up to not interfere with phone functionality
Blocking button has been added
Muting / Unmuting options were added to the context menu. Selecting this will hide the player's messages in the chat
Alliance chat will no longer jump to the top new entry while trying to read older Alliance chat entries
Thanks to Miyuru for the tip!
Download Age of Empires: Castle Siege for Windows Phone (Free/In-app purchases)
Download Age of Empires: Castle Siege for Windows 8.1 (Free/In-app purchases)
Source: Microsoft
Get the Windows Central Newsletter
All the latest news, reviews, and guides for Windows and Xbox diehards.