Terry Crews looks rather amazing in this Crackdown 3 cinematic screencap
Crackdown 3 is coming to Xbox One, but the visuals have proven a bit of a hot topic.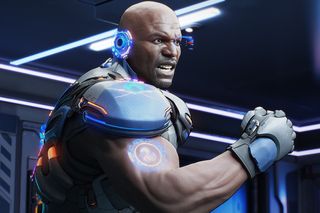 Crackdown 3, like previous games, utilizes cel-shaded visuals to give itself some comic book stylings to go with its over-the-top action gameplay. There's certainly been some commentary across social media and other blogs criticizing the stylistic choice, with some arguing that it looks dated.
Lifestyle blog HighSnobiety recently interviewed Terry Crews on his status as an internet superhero, and his role as a super-powered agent in Crackdown 3.
Accompanying the piece was a screencap from Crackdown 3's opening cinematic, which shows that despite the game's stylistic choices, it still packs a lot of visual prowess.
The styling on Crews in this scene certainly goes beyond the typical expectations of cel-shaded visuals. Nicole Fawcette of Xbox's marketing team confirmed that the picture is from Crackdown 3's opening sequences.
While it looks impressive, I know from my hands on with the game at E3 2017 that, for the most part, Crackdown 3 won't be using choreographed cinematics such as its opening to deliver the story. The narrative sequences will take place in real time, as the antagonists access nearby billboards and screens to berate the player as you work to dismantle their crime network. Crackdown 3 is a game that doesn't want to take control away from the player, even when the baddies are delivering their vicious taunts.
Personally, I wasn't enamored with Crackdown 3's gameplay trailer at E3 2017, but my opinion of the game changed dramatically when I played it for myself. Wielding a black hole gun, punching enemies into space, and throwing busses are all just insane in the best way possible, and I think fans will agree.
More: Crackdown 3 hands-on at E3 2017
Crackdown 3 will launch for Xbox One, Xbox One X, and Windows 10 on November 7th, 2017.
Jez Corden is the Managing Editor for Windows Central, focusing primarily on all things Xbox and gaming. Jez is known for breaking exclusive news and analysis as relates to the Microsoft ecosystem while being powered by caffeine. Follow on Twitter @JezCorden and listen to his Xbox Two podcast, all about, you guessed it, Xbox!
Can't think of one killer game coming out for Xbox one X. But I'm am looking forward to the halo five visual improvements

Then you don't like video games as much as you think you do.

Quite a leap there. Which games excite you?

Ashen and State of Decay 2 mainly. I think Ashen is going to be a big deal. :3

Hmmm... I'll check out ashen. I'm not a fan of open world games but I'll keep my eye on state of decay 2. Games like that. Gta, dead rising, crackdown, typically bore me after doing the same thing a few times. I'm a gamer of old. Need linear plot and character development. Really wish we had a new tomb raider or hell, wish shenmue 3 were coming to Xbox

@Zeem: I think he is talking about killer app. The exclusive that will make people buy a scorpio over anything else.

There really isn't. They showed off a ton of third party games at this years E3 but they didn't announce a killer app that made you absolutely need a Xbox One X. Sure, you are going to get better graphical fidelity and possibly better framerate with the Xbox One X but in terms of exclusive games the lineup is pretty sparse.

I hope that changes for next year's e3. The biggest complaint about Microsoft right now are lack of exclusive games

I'm excited for all new releases. Though I will be mainly playing on PC. I will uprgrade to the Xbox One X from my S model so when I travel I can still enjoy gaming. For those of you that say only buy a PC, you must never leave the house.

Can't wait to check it out!

Terry crews is one crazy son. And i love it!

Latrel spencer, how did you know?

looks nice, I'll give it a try
Windows Central Newsletter
Thank you for signing up to Windows Central. You will receive a verification email shortly.
There was a problem. Please refresh the page and try again.