You can now order pizza from Domino's with Cortana, at least in the UK and Ireland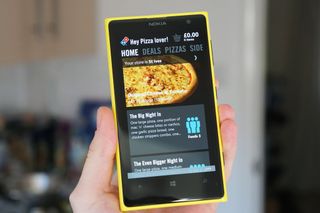 Domino's has updated the official Windows Phone app for those who reside in the UK and Ireland. This latest release enables customers to order their pizza using Cortana, or SmartGlass to connect to their Xbox One (should they own one). Just in case you thought ordering the hearty meals proved too difficult, it's now even easier to get the ordering done.
As touched on above, it's possible to have Cortana not onyl show you your pizzas, but also highlight any available deals too. If you'd rather go through your Xbox One, SmartGlass will now be able to carry out similar tasks on the console – perfect for those who are hosting an evening in.
Here's the full changelog for version 2.0.0.122:
Cortana Commands:
"Domino's, show me deals."
"Domino's, where's my stuff?"
"Domino's, show me pizzas."
"Domino's, show my basket." (if items are in your basket)
"Domino's, show me store details."
Smart Glass support:
Navigate your Xbox One Domino's Pizza app using your device's keyboard and button.
Please note (as mentioned above) that this update is going live for the UK and Ireland. We've been informed that both the iOS and Android Domino's UK + IE apps will receive similar treatment to connect to Xbox through SmartGlass.
Rich Edmonds is Senior Editor of PC hardware at Windows Central, covering everything related to PC components and NAS. He's been involved in technology for more than a decade and knows a thing or two about the magic inside a PC chassis. You can follow him over on Twitter at @RichEdmonds.
Wow, not an US first. Congrats world!

More to the point, it's not an iOS or Android first either. I think this is just one early example of how a unified MS/Win/XB1/Phone ecosystem has undeniable benefits in the future.

Great point! Now that you stated it this way, I totally agree!!

Actually, the US Domino's app has been able to do this for a while. http://i.imgur.com/ldHWyAw.png

Is Cortana even available in Ireland? I'm on 930 with dp and it's not on my phone ?

Unless I change region to the us

Not officially. I changed region to US but I didn't like the changes to US currency etc. Its a pain having to wait especially when it cant be that different from the UK version! Get your act together MS.

You can set your region to US and change the regional format, it works somewhat.

Cortana, order a pizza.
It'll take 3 weeks.
Why?
You live in the US.

Wait... This app is called PapaHutNos...

Mmmmmmm 3 week old pizza - I've eaten older ;)

Can't download here in Ireland

Can't download it here in Scotland either - and I'm hungry and feeling lazy :/

Wait scratch that, the link on this page is wrong, you need to search it from the app store yourself.

Cortana,Go and water my plants loll
...

That had existed for quite a while now

Cortana when are we in the UK actually going to get you on our non dev preview phones?

and so the wait goes on ZZZZZZZZZZZZZZZZZZZZZZZZZZZZZZZZZZZZ

My Lumia 930 arrived about 2 weeks ago pretty sure Cortana was available out of the box, no DP. Maybe I am remembering wrong though as I updated pretty quickly.

There have been a few Cortana vs Siri adverts on TV for the past few days. Still can't get over that posh voice though..... So annoying lol.

Cortana has infiltrated our collective psyche! Was reading your comment when the advert came on! "Cortana, you're not only making me look good, you're actually starting to freak me out!" lol!

Domino's is one of those places where that get my business simply because they have a great Windows Phone app. I don't order pizza often, but when I do: It's from the Domino's pizza app.

Managed to download the Domino's app by myself, the link listed in the article is incorrect. Ate my Dominio's Pizza weeks ago when ordereded by Xbox One, suppose I had better try by phone as well.

Dominos USA app already supports this:
"Domino's Start Carryout"
"Domino's Start a delivery order"
"Domino's Find Domino's near 10007"
"Domino's Find the nearest Domino's"
"Domino's Open Tracker" http://i.imgur.com/ldHWyAw.png

"I'm sorry I don't recognise that command (and even though I've opened the app I haven't saved you any time as 'touch tile, wait' is shorter than 'long press search, speak, process, wait'. Anything else I can hinder you with thingy (sorry forgot your name again"))

Omg! Now I can use a smartphone to order pizza. Oh wait.....

Its not even dominos pizza it comes up as some papahut app. Either the link in the post is wrong or something but its not dominos.

I'm in Ireland by the way.

Its the wrong app .. Please check your links

Check out "Domino's Pizza UK ..." for Windows Phone http://www.windowsphone.com/s?appid=cf0a19e6-f246-497a-a0a4-b48aa957aa5e

My phone's language set to English UK, and cortana tells me she doesn't speak my language!! Now is cortana talking about my mother tongue?

So other countries don't have the Domino's app with native voice ordering, or just the Windows Mobile app doesn't have it?
Windows Central Newsletter
Thank you for signing up to Windows Central. You will receive a verification email shortly.
There was a problem. Please refresh the page and try again.