Latest Groove Music update for Insiders brings better Cortana integration and more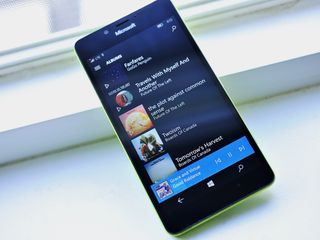 Microsoft has announced a new update to Groove Mousic for Windows Insiders on the Fast ring, including a detailed list of what you can expect (opens in new tab) in this latest version. One of the more notable highlights from this update, which brings the app up to version 3.6.2438.0, has to do with Cortana: if you have a Groove Music Pass subscription, Cortana will now play music by genre when you ask, even if your collection doesn't contain any music from that genre.
In addition, the update will make it easier to keep track of what you've been listening to. Recently played playlists from the "Your Groove" and "Explore" sections of the app will now show up in your "Recent plays."
Of course, the update also contains a few more odds and ends. Here's a quick rundown, from Microsoft:
We added a bit more telemetry to the Cortana integration with Groove Music so that we can even better understand when she doesn't deliver on your requests related to music.
We updated the app so that it automatically enters full screen mode on the console.
We updated the Feedback Hub app so that it collects even better information about your collection when you submit feedback about the app.
We updated the way the app looks for music on SD cards so that discovery is more reliable.
We made changes to improve local playback…we heard your feedback on issues here.
Again, this update is only available for Windows Insiders on the Fast ring at the moment. However, if you are on the Fast ring and want to check out all of the new additions, you can grab the update from the Windows Store now.
Download Groove from the Windows Store (opens in new tab)
Windows Central Newsletter
Get the best of Windows Central in in your inbox, every day!
Dan Thorp-Lancaster is the former Editor-in-Chief of Windows Central. He began working with Windows Central, Android Central, and iMore as a news writer in 2014 and is obsessed with tech of all sorts. You can follow Dan on Twitter @DthorpL and Instagram @heyitsdtl.
I didn't get this update... W10m FAST

Same.. I'll wait a bit and see where it's at

Whenever I say "play some hip hop" Cortana responds "playing hip hop". But nothing plays.

Still? After this update?

The update has been paused as they want to release another update prior to this. Ellen K posted an update regarding this happening.

She merely has good taste... :-D

Will check again later. No update showing for me on my Fast Ring Fierce XL yet.

So all Fast Rings? Be it PC/phone, RS1 or RS2?

Does Groove recognize multiple genres that may be associated with each song for non-store music such as that tagged using MusicBee?

It says updates to playback. Can anyone confirm if now you can shuffle playlists with more than 1000 songs?

I am still waiting for the day for us to be able to pick up where we left off from device to device... IOW, if I'm playing a track on PC, I want to be able to resume that specific track, mix, or playlist, as is, and in entirety... I guess that's why MS continues to work on the core of W10 so that these features are possible in the future. Hopefully, we will see this in RS2.

This would be excellent. Cortana could even Rick Roll me once or twice.

I also want this badly, i use groove on my phone while riding, tablet at work and xbox at home, it would be great to just continue listening to the the album i had on any one device when i switch to another.

Pretty sure the APIs to make this possible are already available on RS1, seeing as there are privacy setting options for "Let apps on my other devices open apps and continue experiences on this device." Readit was very quick to adopt the option to open a post or the comments on another one if your connected devices. The Groove Music team could probably do this with the APIs available now. But if they actually will remains to be seen.

you can ask cortana to play previous song, only take "next" command.

Have you figured out a way to actually get it to play an artist from Cortana? If I say "Groove music play Adele" she responds by pulling up videos from the web. Even Pandora can launch a specific station via Cortana.

this alone will bring me back to windows phone! loved doing this with my pl;aylist when jumping in the car.... but to say "Hey Cortana play rock or jazz on the way hom e from work it ********! (I starred that out myself... insert your imagination :)

Still a grabage app and service. I cane even download all the music i own from groove? No, no i cant.

DId you actually purchase it? I treat it more like a lease. I pay the 99 a year (most of the time less with deals) and add the songs/albums to my collection or create a playlist. Whe Im dead, its dead.

The fact is Microsoft's music library is limited. I have a LOT of music that I've purchased over the years (on vinyl and cassette) that Microsoft has nothing on.

Well, if it makes you feel any better...they have one of the largest libraries in the business. So, if you can't find them at Groove, you probably won't be able to find them anywhere else.

Different folks different strokes. I like it because it makes adding music a breeze. My wallet takes only one hit a year and then for the rest of it I can download and explore as much new music as I please. It only takes a mere 100 songs a /year/ before the service pays itself off. Anymore than that and you're actually saving money. Seeing as it's not really difficult to find, discover and explore 100 new songs in an entire year (Only about 2 songs a week), it's not very difficult to reach the amount of songs to make Groove worth it. I know it's not for everybody, especially since the files are DRM protected, but for me: Groove is hella convenient and makes it braindead easy to download and find new music. Plus the feature updates over the past few months are really helping the service mature and it's beginning to become a pretty viable competitor to the like of Spotify and Apple Music. The Groove Music team has been doing great things since Windows 10 and the UWP launched (particularly these last few months), I can't wait to see what else they have in store!

Groove on W10 is so effed up. It used to work ok on Win8.1. Now it tells me it cannot play a song and need to connect to the internet and I am already connected to the internet. I also saw the same problem as yours - it does not play music I own which are stored in OneDrive. Never had this problem on Win8.1.

JaceAnne, try this: Navigate to C:\Users\(yourlocalaccount)\AppData\Local\Packages\Microsoft.ZuneMusic_8wekyb3d8bbwe\LocalCache - delete the playready folder and restart groove music. (Make sure the app is closed when you delete that folder. You will be able to play your songs again.

Based on how historically bad MS music programs have been at genre tagging, I definitely question what that Cortana command is going to give you. Still have have metalcore band Oceana in my phone with the artist art of German soul singer Oceana, listed as Indie Rock. Have to re-rip about 40 CDs because the W10 file system broke the files while not inserting tags when I did the rips. Have to re-rip them in WMP because MusicBee tags won't work. I then have to manually retag the albums after ripping because WMP has almost none of the correct tags. So, again, when it comes to music tags, Microsoft's track record is well short of reliable.

Download Tag&Rename. It allows batch metadata edits plus a bunch of other features. I've been using Microsoft music apps and services for years and with a few exceptions, haven't had any issues using that program.

The update has been paused by the groove team

Im glad Cortana is slowly starting to work for me again

Everyone needs to upvote adding Music Videos BACK into the Groove app... On XBox at least... PC and phone too would be even better... https://xbox.uservoice.com/forums/363186--new-ideas/suggestions/15503070-bring-back-music-videos-for-groove

This is great!, oh wait i don't have Cortana

Still patiently waiting for this update to show up in the US. I'm on build 14905.1000, on Fast Ring. Any idea when it will be pushed out again. I hear It's been paused by the Groove Team?

Still waiting for last.fm support :\

Since Cortana seems to remain in the trickle of regions currently available, features like this are just targeting so few users now, I don't understand why they are bothering honestly. Shame.

Will we ever be able to edit the now playing list: Remove, reorder tracks ? I can't see why this is taking so long

I am not on Insider now. Can Groove show all music files on OneDrive? The current released version still has problem in this regard.

I love seeing console, phone and PC updates all in one. I've been a huge fan of UWP (as a user and Dev) and apps on Xbox One is exciting

Am on fast ring build 14393.82 but cant see this groove update

Am on fast ring build 14393.82 but cant see this groove update

Love to see them fix the "runtime broker" CPU problem. I love Groove, and the app has really improved over the past year, very usable now.. but every time i start groove i have Runtimebroker.exe running at 30-50% CPU usage on my Surface Book. Battery goes down the drain and the fan comes on almost instantly.. I've tried all the fixes out there, and it seems its connected to having a big OneDrive collection, and having it synced (Donwloaded) to you computer. It annoys the crap out of me, and there are several Feedback threads about the problem.. but i guess all i can do is to wait for the developers to fix it... 1 year of waiting now! -.-

I didnt get this update and I can't hear the songs but music is playing.. What kind if problem is that???

Same thing is happening to my Groove

I hope they FIX Cortana regarding Groove. Every time I say, "Hey, Cortana, play artist <insert artist's name here> she begins to go to Groove, but then flips back to her main updates page and plays nothing. Basically, useless.

Maybe they are still having issues with the insider program

Still not curated playlists for everyone.. :(

groove producing no sound output even though song is playing...other music apps working fine...i am on fast ring..any suggestions??
Windows Central Newsletter
Thank you for signing up to Windows Central. You will receive a verification email shortly.
There was a problem. Please refresh the page and try again.