Latest MixRadio update no longer sees the app published under Microsoft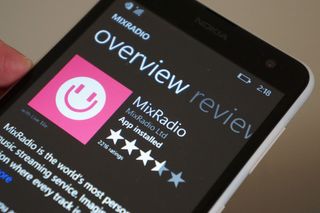 MixRadio recently updated the official app for Windows Phone, which was believed to have changed the publisher name from Microsoft. The company has now confirmed the alteration, publishing the app under MixRadio.
Aside from the visual publisher name switch on the store listing, we're not aware of any improvements to the app, though we'd hazard a guess that minor optimizations and bug fixes were thrown into the mix.
Download MixRadio for Windows Phone
Windows Central Newsletter
Get the best of Windows Central in your inbox, every day!
Rich Edmonds was formerly a Senior Editor of PC hardware at Windows Central, covering everything related to PC components and NAS. He's been involved in technology for more than a decade and knows a thing or two about the magic inside a PC chassis. You can follow him on Twitter at @RichEdmonds.
I thought mixradio went to LINE?

It's a subsidiary of LINE.

Acquired by Line, functioning as a separate entity. I Imagine that's the setup.

Except on wp it still seems to play as a lumia exclusive wtf is up with that. Guess they fell asleep at the switch like Nokia did for gift voucher

Its used to be awesome but now it sucks.

And it's going to be awesome again lol they're releasing a windows 10 universal app

I asked them, the answer was-' no comments' on universal app.

It's been officially confirmed for a while that they have a Universal app coming.

No ads. How does that suck?

It will soon android version has ads

It used to work, now just throwing an error about no internet connection, but that's not the case, so idk what they do but the app is unusable for me.

You need to uninstall then reinstall it. The latest update broke the update function so it just errors all the time. Reinstall and it will work fine. Still can't persuade it to play in HQ mode though, it is stuck in Standard Quality mode. Also, still can't subscribe as we were told was just being fixed and would return. How long now? They are not a speedy company...

It's installing just fine, reinstalled manny times, i mean it says no internet from the app itself, when i press play.

I was in contact with them about the subscription + HQ offline playing. In their reply MixRadio said they are working on an update where all old functionality will be restored, together with a new subscription model. The reply was: ______________________________________________________________________________________ Thanks for your e-mail. The MixRadio+ service is no longer available and any subscriptions have now ended, unfortunately this means the service has reverted to Standard Quality audio for now and is limited to six skips. The good news is that there's a new version of MixRadio for Windows Phone in the pipeline which will include High Quality audio as part of the free (add-supported) service and new subscription options. Whilst we can't confirm any release dates at this stage, the app will be published in the Windows Phone Store once it's available. I hope this helps. Kind regards, MixRadio Care

I couldn't update. Figured that the + service was discontinued, just couldn't confirm it. So we can get high quality downloads for free in the future, interesting.

Still can't download if u don't have a Lumia -_-

Yeah... even more disturbing is that I haven't been able to load it on any Lumia that has Windows 10. It is by far my must used app... don't know if the Lumia 950 will be welcome in my life without it.

Hmm.. Maybe it needs time to roll out?

I use it most days on my 830 and that's on windows 10.

Can you see it on the store or did you just retain it from a 8➡10 upgrade?

Lol I think its 1 of few that at this time requires 8.1

I have the m8 for windows come on now.

So when they are bringing back their service on India? We neither have groove music nor mix radio. Snd hence we have to rely on pirated sites. I know in India ppl rarely pay for music but atleast they should care for those who love their service and pay for it

It was something like 300 for 3 months na?

i recently bought a BLU WIN HD LTE... and its not available for this device.. common spread the love...

Yay! Use MixRadio pretty much every single day. Have constantly discovered soo many artists with it and subsequently have start listening to their songs. Such as Maserati, American Dollar, Hammock, Collapse under the empire, Sparrow, if trees could talk, Lights out Asia, explosions in the sky. The list is absolutely endless.

Still no way to pay for in India...

You shouldn't have to pay with this version. No where to sign in and can still get a few offline playlists.

I'll stick to Wynk Music for a while.. I got three months free subscription.

Wynk don't have App for windows phone..

Its available for windows phone for a while now.. i guess u missed its launch.. https://www.microsoft.com/en-us/store/apps/wynk-music/9wzdncrd88zg

It's there.. Check it.. http://www.windowsphone.com/s?appid=6e48a2a5-4972-4617-b11b-c41f393989ec I've been using for more than two months

Windows central should've made an article about wynk music.. Ironically, I found out about the app's existence in this very own "comments" section of another article.. It was off-topic though.

I found out today only that wynk existed for wp. Saw a huge billboard at the highway with windows logo next to iOS. And I was like, okk, this is new ....and good !

The have pulled the Nokia and Microsoft sign in. So its impossible to work. It only plays my downloaded tracks.

My favorites, not all of them, are there and Play Me plays music I like, not only my Favorites, but bands I've Thumbed Up over the years. Just need HQ Offline Mixes back.

I havve no idea why it does not work for me. i think it is related to the region. who got this working for him and what is your phone region/ location

No more Login option in settings. Hopefully coming soon, with subscription.

Unable to download for my lava iris win 1....it says not available for your device....

I have MixRadio on a Lumia 1020 running 8.1 Since Line purchased the app it has degrated and lost functionality: 1. The library of songs seems to be stagnant 2. The "What's New" feature that alerted one of new songs, and tours / shows, by your favorite artists stopped working Since the recent "update" more degradation has occured: 1. "Favorites" have been purged 2. When you try to add a"Favorite" artist, the app crashes 3. When you try to access various other settings, one is presented with the following alert, "Service issue. There's a problem at Mixradio and we're working on it. Try again shortly." This error has existed for at least a week now. Bottom line: Under Nokia, this used to be a jewel of an app on Windows Phone. Today, it has greatly regressed in functionality and is BROKEN.

Just uninstall it then reinstall. Then the errors will go away.

Has gone from great to just plain sucks

This app is currently on my "it sucks" list. How the heck is it possible to install two different copies of the same app?! As I already have a copy installed, this links provided just installs a new copy. Instead of displaying "Open" of "update".

Can't use the app anymore - it just don't connect. When trying to play music it loads and loads and loads and loads and loads and loads... Even my favourites-list won't show anything except that it tries to load it

Lol :D
Had tipped this news 5days back. Went live today!

So late to post. I already knew this from 3 days ago.

Been using this happily instead of Groove Music. Mainly because it doesn't crash from bugs and it actually recognises my playlists =P

Faster on my windows 10 mobile. Good update..

Here Maps have left the Windows10 store again by the way

As long as Mix Radio is here, they could call it whatever they like. Mix Radio is awesome.

At the very least, we can download it from the win10phone store. Plus it seems faster.

When is it coming to the Windows 10 for PC platform. When I try to install it from the Store on my desktop, it errors and tells me that it is not compatible with Windows 10

It was working fine with Windows 10 for me, but now it keeps reloading off-line mixes I have deleted. It tells me I have too many, so I delete it back down to 4, try to refresh and it crashes. Open it again and the deleted mixes are back.Will see if it works right after update to Win10 mobile.

Isme songs download ho jjaate hai pahle k tarah

It's shit anyway. Who cares...