Latest Patch Tuesday update reportedly causing major issues for some [Updated]
By Dan Thorp-Lancaster last updated
Patch Tuesday updates are meant to correct problems, but the latest is reportedly doing just the opposite for some.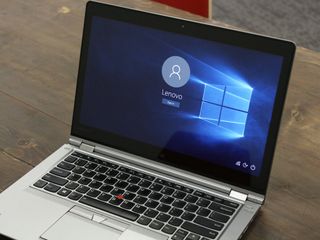 Microsoft recently shipped out its latest monthly Patch Tuesday update to the Windows 10 Creators Update. And though it was packed with fixes, the update now appears to be causing some major issues.
The most notable issue, and likely most critical, involved with the update is that it is causing Blue Screen of Death (BSOD) errors for some. Users on Microsoft's Answers forum (opens in new tab) report that their machines are encountering a BSOD after installing the update, preventing the systems from booting (via Neowin). The issue appears to be affecting systems from different manufacturers, even stretching to custom built desktops. Says one report:
It's not clear how widespread the BSOD problem is, but it's a substantial issue if your machine happened to update overnight and will no longer boot.
In addition to the BSOD problem, Reddit users are complaining of other issues. Some say the update is maxing out their disk usage, while others are reporting the update is getting stuck while installing.
We'll update this post with more information if and when Microsoft addresses the issues. In the meantime, if you haven't yet installed build 15063.674 (KB4041676) you may want to either hold off for now or proceed with caution.
Updated October 11, 2017: The BSOD issue appears to only affect machines behind a WSUS in enterprise environments. Most users simply downloading via Windows update should remain unaffected. Microsoft MVP Susan Bradley explains on the Answers forum (opens in new tab):
Dan Thorp-Lancaster is the Editor in Chief for Windows Central. He began working with Windows Central as a news writer in 2014 and is obsessed with tech of all sorts. You can follow Dan on Twitter @DthorpL and Instagram @heyitsdtl. Got a hot tip? Send it to daniel.thorp-lancaster@futurenet.com.
Does MS even care anymore? This has happened how many times? From shoving Win 10 down peoples thoats (and borking their machines in the process) it seems they just don't care. I'm tired of fixing my parents' machines all the time because a "mature", released OS keep screwing them up! They are a software company FIRST, and it is the oldest SOFTWARE they have that has the most issues!

Happened to me today and had to rollback with backup...now it wants to update again....how can I prevent it from updating?

If you have the Pro version of Windows, you can configure local group policies to not install updates automatically (you can set it to ask to download). Once you do that, you can download a "hide Windows updates" tool from Microsoft to temporarily hide the bad update. Then you can install all other updates. If you have the Home version then the only thing you can do is disable the Windows Update service... but that will prevent ALL updates from installing for the rest of eternity which is a bad thing.

How to not install updates automatically in the Pro version of Windows: http://www.thewindowsclub.com/make-windows-10-notify-you-before-download... Hide Windows Updates tool: https://support.microsoft.com/en-ca/help/3073930/how-to-temporarily-prev... To disable the Windows Update service, search "Services" in the start menu/search box. Find Windows Update, then disable it, then stop it.

Disable the windows update service .

I installed it last night and rebooted this morning, and have noticed no issues so far. I'm curious what the issue is.

Same here, on my decktop and galaxy book. Zero issues all running latest update.

Mine was downloaded but was waiting for a reboot. I actually meant to do it when I went for lunch and forgot, then came back to see this article. So now I've hit the Pause Updates switch. This is an old desktop with lots of mismatched parts upgraded over the years and it has given me trouble with Windows Updates a couple of times before (never bad enough to be completely unusable, but things like random BSOD to restarts). With the Fall Creators Update only a week away, I'll just turn the updates back on for that.

I bet there is a corrupt patch file on one of their update srrvers

That's my thought. If some people are finding this issue on every device they try to update, whilst others like me saw no issue, it could well be regional, so a server somewhere that does not provide UK updates and so I'm not affected I guess. Should be tracked down and fixed within an hour or two I would think. Of course, with MS that'll only happen if there are significant complaints from enterprise customers which may not happen because they all delay updates. Consumer impact won't be on the radar because MS have put that market in some trench somewhere... or something.

Just Google the KB... It's a known issue. Disable UCSI in the BIOS if you have the option.

Not a solution!!! Why do we have to disable stuff because some idiots at MS were to drunk and stupid to properly test this update?

I didn't get any problem in my w10 pc yet, but my w10m isn't working properly. And sometimes my camera got Green screen...

I have been experiencing terrible battery life on my Lumia 730 since installing the update. It has been charging for about 3 hours now and it still got from 30 to 70%

I updated just now and no issues here.

I cannot sign in, get a group policy error... So this is what Nadella meant by 'hit refresh'... Pathetic...

This may be envrionment specific. I updated my own two machines and we rolled out to 200 Alpha machines and zero reports of issues and I am checking the logs right now. No issues on my Surface and in the process of doing my laptop as I type this.

Insiders pointed this out in the Feedback Hub and of course, Microsoft ignores it.

Well done, Micro$oft, well done indeed.

I guess I was lucky. I installed it on my Surface Pro (2017), yesterday, and no problems at all. Keeping my fingers crossed, though...just in case.

This is a reported issue on computers behand a WSUS server. MS mistakenly deployed the Windows 10 delat updates that is not suppposed to go to WSUS along with the full Cumulative updates. If both where pushed to your machine this would have cuased the issue. MS has removed the Delta and expired it from WSUS so you should sync your WSUS server. Here is the info and ways to fix: https://deploymentbunny.com/2017/10/11/the-october-2017-update-inaccessible-boot-device/

I just noticed that I cannot enter safe mode on neither ASUS G751JY nor Surface Pro 4. But regular booting works fine.

I have the disk usage issue. It easily gets up to 100%

It's exactly this reason I'm firmly against the auto updates. While generally for many users the updates help keep an average users pc healthy and safe, the same update can apparently still do damage or cause problems. I think home, pro and business builds should all have the option for a longer time delay in updating systems, say up to twelve months. It has become clear to me windows 10 is still very early beta. Most average consumers are not capable and seriously hinder productivity and safety with these ki ds of problems. This is not the first update in windows 10 causing significant system issues. Either the consumer should've allowed to halt updates for a longer period or microsoft should more cautiously be pro active in releasing updates in waves, and be especially cautious with certain categories of windows hardware devices before deploying it. I'm sure sure and big data and AI in the backend can manage that. Its a pity they happen. It shifts focus again.

Agreed..totally unbelievable and a nightmare for the average user!

Any average users reported this? 🤣

relax. ditching will start soon

I had no issues with this update

Due to not meeting the criteria that causes potential issues, my machine is unaffected by this problem. As my PC is just for personal use and not tied a WSUS in an Enterprise Work Environment.

Updated five of my computers, a mix or Home and Pro and different CPUs (Core2 Quad, 3 generations of Core i7 and a Core-m5) and no issues yet. I've got one left, a tablet with Atom x5, it just takes forever to install updates so I depress just thinking of updating it.

Sad, annoying, frustrating, and unacceptable. For those who dumps rants about MS Updates on most known forums (including here), now I have to agree with them. Altough, I could not experience such BSOD on my i7 desktop, but I did experience a BSOD (irq_not_less_or_equal) with the insider preview (release preview) of Fall Creators Update on my HP laptop, I'm sure due to an hardware / driver issue. We'll see if that happens again after the FCU update.

I started programming computers more thatn 40 years ago; I have come to fear MS updates a lot, and upgrades even more! Both are buggy, and the upgrades are often really downgrades, removing good software to get you to buy more from MS, and often changes for the sake of change. I put Creators on my 4 systems about a month ago, and will try to delay this mess until next week hoping it will have been fixed by then.

This is the mediocre quality control MS delivers. Pathetic
Windows Central Newsletter
Get the best of Windows Central in in your inbox, every day!
Thank you for signing up to Windows Central. You will receive a verification email shortly.
There was a problem. Please refresh the page and try again.