Latest Subway Surfers update takes you on a tour of India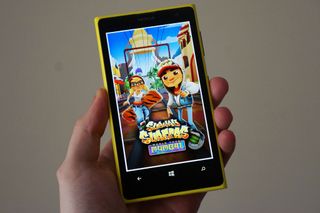 Subway Surfers has picked up yet another update. By now you should be familiar with the cycle, and today we're being taken across to India. With the latest release installed, players will be able to tour the streets of Mumbai with Jay, the athletic champion.
You'll be able to boost your collection with the limited Bengal board and new upgrades, but there's also great prizes to be won in weekly hunts. Keep an eye out for hidden lotus flowers on the tracks. Finally, test your luck with mystery boxes for Mystery Maestro awards. It's a neat update and one fans of the series will enjoy.
Windows Central Newsletter
Get the best of Windows Central in your inbox, every day!
Rich Edmonds was formerly a Senior Editor of PC hardware at Windows Central, covering everything related to PC components and NAS. He's been involved in technology for more than a decade and knows a thing or two about the magic inside a PC chassis. You can follow him on Twitter at @RichEdmonds.
I usually don't care for this game but as it has my country now I will definitely check it out

Out of topic but in light of recent stuff : It'll probably have rapists inside them those trains.

Not everywhere its like that. You should not generalize some incidents and make it a thinking. Clearly shows people's mentality.

Does your ignorant and rude comment reflect on your country's culture or your upbringing?

Your country has more rape per capita than India. Check it

I was about to comment same lol will definately download now :)

lol... now no "when in india" on this post. :P finally in India :P but I would loove to see Subway's observation about Indian railway tracks. Lets see if "Swacch Bharat Abhiyan" has made any impact here or not :P

LOL. I came to see if there is any "wen in India" comments xD

Its lot less shittier than the app itself. Trust me :)

I stopped playing this game, but I like it when developers update it for our platform

But they should care for performance upgrade also

Yeah... Region change cannot be accepted as an update... There should performance fix . To

Waaaowww.. This tym fr India.. Will definitely download it now..

Is that Shakira reference?

LOL! Was thinking the same...

I guess we will never know...
:(

I remember when this game was only available for devices with 1GB RAM, we missed the Mumbai update. Mumbai was there some while ago on platforms other than Windows. I think they've realized their mistake.

So they're essentially reskinning the game every week or so?

That's right, but they do it every month, not week.

Wait wait wait... Once a new location becomes available the others are killed? I have never played this game, but I have it installed for future... It would be really sad not being able to play on any fantastic location i want.

On the picture in the post its clearly written Mumbai.

It reads Mumbai but runs both Mumbai local and Delhi Metro. :D

Metro is also their in mumbai xD

I know every Mumbaikar wants to tell Delhiite ki Mumbai mein metro hai :p. but game has delhi metro only. they have used dmrc logo

U mean we are being chased by Indian Police along with stray dog and the obstacles are what??? Indian Railway??? :P

Obstacles are people answering natures call near Bandra mahim and some other stations...

Yippee... Finally came to INDIA..

Well why not call it India rather than delhi

I mean mumbai... Rather than mumbai

Because the previous versions were all cities; Beijing, etc. Don't remember any others cause I stopped playing long ago :P

I just installed the game and played. lol there are Holi Colours on the side of the track. Nice touch by Kiloo. Happy Holi People. :D :D Keep bringing more colourful Lumias. :D

with lumia , its holi everyday :) happy holi...

Wish there was world cup... As weekly hunt . Nice touch of holi on the day of festival

yeah I wished that too. BTW bing does it nice to cater local taste. I enjoy bing's clean coverage of CWC. #WeWontGiveItBack

They are repeating all the places they have been before in the last year.

Yep. But IIRC, the Mumbai update was not available on WP last time it released on Android/iOS. Heck, back then this was available for only 1GB RAM phones.

Plz bring new features or moves to this game instead of repeating those theme updates...
It would be nice of you!!

why is this game given so much attention on wc?

Because It's the Only Regularly Updated App On Store..

With An Update Only Consisting of New Graphics. :/

Repeating from last year. They've lost all originality...

I think that policeman is that Pakistani from the #mauka mauka ad :P

Tour of India, cool. I presume the female character gets raped and treated like a sub human, or how authentic did the developer go?

Oh really, only because of some bastards, don't call all indian treat women like sub human, we treat our women like devi( goddess)

It doesn't mean rapes are only happened in India .... It does in other countries too ... So stop writing useless shits here dude

He was authentic enough to not rape you.

Tour country has more rape per capita than India

US is the country where most people get raped..

Also need performance updates...

What I do ! Download it > check new thing > lag comes > stopped it > uninstall it again -_-

Totally!! situation is never different for subway surfers.

Wow...nice look in Mumbai...than others update

I think this is the first time on Windows Central that I've seen so many Indians commenting!! Lol
Almost 95% of the comments here are by Indians!! Maybe more..

Cool ! Tour to the best country of the world!

The developers should be more concerned about the game optimization for 512 RAM rather than loading us with updates without any improvements.