The latest Twitter update for Windows 10 Mobile looks gorgeous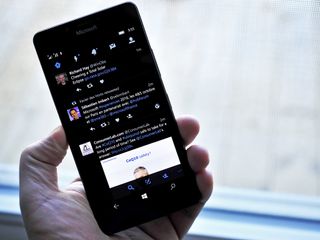 Twitter has rolled out an update for its universal Windows 10 app, completely revamping the user interface on mobile. Should you be an avid tweeter but wish to be graced by an improved layout in the official app, be sure to update your Windows 10 Mobile install to version 5.
There's also the dark theme, also available for Windows 10, though interestingly on mobile it's altered depending on your system-wide theme setting. Also, swiping and pivot doesn't appear to be functioning in this release. Give the app a download (or update the app on your phone) and let us know in the comments how you're getting on with this revamp.
Download Twitter for Windows 10 (opens in new tab)
Windows Central Newsletter
Get the best of Windows Central in in your inbox, every day!
Rich Edmonds is Senior Editor of PC hardware at Windows Central, covering everything related to PC components and NAS. He's been involved in technology for more than a decade and knows a thing or two about the magic inside a PC chassis. You can follow him over on Twitter at @RichEdmonds.
Finally, I have waited for long. Posted from Windows Central for Windows 10

Hallelujah Edit: feels like an advanced web-wrapper of some sort. I am not sure yet but this is how it feels to me.
At first glance, these issues are there: - No swiping left or right to access different sections.
- No Light theme available. (Edit: Appears to be available only if you set the whole system to be of light theme).
- Settings are hidden in the profile menu.
- Individual settings open up in a light theme.
- Performance issues while scrolling (the page takes time to load). This seems to be an issue with most UWP apps.
- lacks animations when navigating through different sections or tapping on an image.
- The back button has a weird behavior. It navigates to different already visited sections instead of heading out of them.
- More improvments to the interface and the UI.
- Tweet notifications are removed.
- Actionable notifications missing.
- App is slow to launch from a cold start.
- The refresh at the top (swipe) doesn't always appear. It's a very good start though, in hoping they keep updating this app.

Tweet notifications omission is the worst i think, i really love that feature. Hope they bring it back.

What do you mean? I get tweet notifications. You can even set them for individual users. I only have Gabe Aul so I can see insider releases. And they work fine. Now this was before this update so maybe something has changed, will have to review.

Oh yah it seems to be removed. Just standard notifications for everything. Before I could go to the profile and settings for an individual user and get only notifications from them.

Light theme IS available. The app theme depends on the system theme.

Yes. I've just noticed it and updated the list. :)

I want to have light theme in twitter but dark theme on my phone :/

Also: - You cannot disable auto videos playing.
- A bug that makes the small dot appear on the notifications pane even if you have already checked them.

That's annoying Posted from Lumia 638 Windows 10

It is there in Search People Posted from Lumia 638 Windows 10

Looks more like a cheap trick to upload you addressbook to twitter rather than syncing the people hub with twitter.

I mean from twitter to people hub

The back button behavoir is the same for the Win10 PC version

It's really weird and utterly useless!

and no poll tweet. or maybe i missed that

Contact hub integration is removed.

But putting all the options like *home*,*messages**profile*,*trends* at bottom of the screen near thumb it'd be just more accessible, why they've not done that.... Its an obvious design,

Also each and every time I open the app, the same notifications, i.e. mentions, follows, likes, etc., are shown repeatedly as unread even after checking them out. Also happens on the PC app. And even after checking them, it doesn't sync with my account and when I open twitter in a desktop browser, again the same notifications and some earlier ones are shown as unread :/

The back button behaviour comes from the fact that swipe is missing and every time you tap on another tab it thinks you went to a different page. If they did this much work on the UI, they will fix the other things soon

Pls kindly email them these known issues so they can get to fix them, u did well to notice them all, my one wish though is that they could bring Aeries reply pattern and more importantly actionable replies, really use em alot Posted from windows central for windows 10 mobile

Swiping to left - right works fine - just that it is not working on home tab, small bug, hopefully they will fix it soon. App is very fast on my 1520. Overall a giant step forward.

@Daniel Rubino, @Rich Edmonds The article's title doesn't imply clearly about this being a BIG NEWS. I don't know but you should maybe imphesis more on this being the long-waited update for readers. This is how I'd imagine you putting it: "Twitter for Windows 10 Mobile finally arrives as a UWP app"

I guessed it was just another update, it's a completely new app instead? This is not very clear...

Yaasyy...kept on tweeting them for a better app, thank God its finnalt here. Wow BioResearch & Games.

It's great! They just need to add: - Swiping right/left - Action center In-line replay

"Tweet notification" feature and people hub integration are removed :(

OMFG.. This is what i was waiting for so long.. Finally.. :D

Super. The desktop version doesn't even open now.What a gorgeous update.

Signing out of Windows and signing in again made it work for me. Try it!

YES YES YES YES YES YES YES!!!!!!!! I was so waiting for this update to come, I love the desktop app as compared to the official mobile one and this makes it at par finally. little rough on the adges but the app is getting there

My girlfriend is more gorgeous!
Wait... She broke up. Nevermind!

Off topic. My whatsapp font is quite large after upgrading to windows 10. How can I fix it..?

Lower dpi in display settings

Tap the ellipsis, tap Settings, tap Chats and Calls, tap Text Size The Windows Central Universal Application for Windows 10 Mobile on a Nokia Lumia 830

i have it at minimum and still huge

That is a problem with most people,WhatsApp said they are working to fix it

Btw, any news on when the "lite" version of W10M it's going to hit older devices?

That was the one supposed to hit 512 Mb devices

I'm sorry, but if you still have a 512MB RAM device in 2016, time to upgrade. You need to let old tech go.

Let's just assume that everyone is as financially capable as you are

I have an old L 520 that I've run as a test mule for W10m and it works as flawlessly as can be. Memory is not much of an issue.

Lost contacs hub sync? Posted from Windows Central for Windows 10

Yep, I was just getting ready to type this

So the contacts doesnt show the Twitter pictures or Just their tweets?

It doesn't show anything. The update deleted all twitter accounts from the people hub. When you go to what's new, only thing there is Facebook

Yeah, ridiculous. People Hub integration was the single reason I had the official Twitter app installed, and they removed that.


True. I guess I can move away from that twitter app now. Good that they also introduced top tweets and tweet limit above 140characters . probably i can move away from twitter all together

What a bloody wonderful update. I can finally ditch the third party apps and use this. Im not a avid twitter user so I just need the essentials

About dang time Sent using my awesome Surface 3.

Finally man, i have hope in UWA let's see if others join like Google apps or even damn Snapchat

Whaaat? Is this a dream? Posted from Windows Central for Windows 10

Cool! Now we need a good Facebook app, cause the current one is messy as Hell... Go W10M!

I'd say the FB messenger app is more needed. Main FB is already decent in my opinion. FB messenger should be on the way since they have the x86 UWP version.

Yes, that one too! My FB app is a mess since the last update, much much worse than the previous versions... It got stuck in a certain moment in time (when i upgraded it) and the feed always starts from there... Only shows an additional 3-4 posts when I refresh, and when I close the app, the feed goes all the way back to the state it was previously... Not sure if it's just my problem, but in practice it has rendered the app useless...

Same here. Fortunately I also have the Facebook beta and that works properly

I had that problem. Deinstalled the Facebook app, restarted phone, reinstalled Facebook app. Fixed on Lumia 1520 and 925 both on 10.0.10586.164.

They need to bring back Contact Hub sync and swipe. We should be set after that.

Great! Looks fantastic. Finally!

woow great. please to continue supporting windows 10

What... good news - about W10M? I'll take what I can get... glad to see it finally!

Weird. I just said on twitter like 3 days ago the app should be updated! Cool :)

Say the same on facebook please... ☺

Wish I could change to a white theme. Posted from Windows Central for Windows 10
Using My Beastly 1520

Try changing your system theme to white. The app theme depends on system theme.

Yes, but I don't want my system theme to be white. Well it's no biggie... I guess they'll add that option in time. It's truly beautiful! I think I'll tweet about it... Posted from Windows Central for Windows 10
Using My Beastly 1520

I don't want to have to switch the main system setting either, d*mn it... but I will do it temporarily for screen shots, I guess.

Hey Rich , need a hands on video for this one. :-)

Finally the update is wonderful. Just that swiping should be added and
the transparent live tile too!!

We lose an app, and gain an awesome update to another next day. A day in the life of windows mobile

I think since I have my scaling very low...my layout is different than the photo in this article. My tabs are all down the left side ala SMS app.no swiping necessary

Same here! Posted from Windows Central for Windows 10
Using My Beastly 1520

Universal windows platform at it's best

Brilliant! Even carriage returns work now. Goodbye Tweet It.
Posted on a L950XL with Fingers 10

I just bought tweet it the other day, just my luck.

Now impatiently waiting for Facebook Official app.

YES, GIFs and videos finally play in-app.

Mazel tov! This comment was posted on Windows Central for Windows 10 UWP.

Finally! I was starting to think Twitter was dead on Windows Phone... Posted from Windows Central for Windows 10

Can't see how to get the icons at the top like in the pic. Not that I mind, they're nice down the side. Posted on a L950XL with Fingers 10

You have to adjust your scaling... Posted from Windows Central for Windows 10
Using My Beastly 1520

Cheers. Posted on a L950XL with Fingers 10

If you leave the icons on the side, then there will be no need for swiping... I find it much easier to use when the icons are on the side. Great for one handed use as well. Posted from Windows Central for Windows 10
Using My Beastly 1520

I am unable to login to twitter after the update.. Can anyone guide me how to login.. Is there some hack..? Or is it a known issue.? It throws an error saying cannot process the request. Check your connection despite of a good internet connection..

Uninstall and install again. And log in. You'll be fine.

I tried the same.. But in vain.. It again says the same.. I have even reset the password and I tried again. It says the same.. Im using Lumia 730.. Does anyone have same issue..?

Does your phone or micro SD card (depending on which you installed the app) have enough free space? Sometimes low storage space can cause such a problem.

I have installed it in my SD card which has nearly 6gb free space .. Still it didnt work.. I uninstalled the app... Changed the app downloads to this device and installed again.. Even then I couldn't login to app.. Am i the only one facing this issue..or someone out there like me..? I badly wanted to experience the app.... I have been waiting fr this update Fr a long time....

Sorry man. I suggest you contact twitter

Wow. Good by third party apps. No longer paying $5 for an app that will shutdown in 7 months. Finally a developer that gets it. If everyone is using third parry apps to access your service, instead of crying about it and trying to shut them down, look what those apps are doing better and match it. Kudos to Twitter.

Well, just change the theme of your Phone to LIGHT and see the magic in TWITTER!
Thank me later :-)

Perfect! That is how a new Facebook must look and work!!!!!!!!! Posted via the Windows Central App for Android

I keep getting error 0x80070057 when trying to install the update. UPDATE - had to uninstall and reinstall Smh lost all my pinned tiles oh well glad for the update!

Well done Twitter Posted from Windows Central for Windows 10

Very cool! Some positive news at last!

Still having 535 user black screen bar while playing games on insider builds .. Why Ms ignoring 535 device

Yay!! First one I've seen for a couple of days!!

there's still missing on the direct messages part :) and still hoping that facebook will be gorgeous too :P

Hip-hip-HOORAY!!! Wah-HOOO =D

Now just waiting for a transparent tile...

Will it get notifications tho Posted from Windows Central for Windows 10

Check to be sure you are running windows 10 mobile and you are checking for updates in the store while internet is connected on the device. If still invisible, the update may have already installed automatically

Great. about time we got into 2016
Works really well
Sent from Lumia 950

Beautiful design ever and so smooth.

Finally... But the Windows Central app crashed 3 times before I got this news! •Posted from Windows Central for Windows 10•

It's beta. Use the old version

I understand. Till build 22, there was no major crashing issue. I am facing numerous crashes in the last two builds. Hope they're working on it! •Posted from Windows Central for Windows 10•

Wow!! That was a real upgrade!!! FINALLY!

So it begins, i guess OTA Windows 10 coming tomorrow really. Next we need Swarm abd WhatsApp Windows 10 update. Posted on Lumia 930 with
Windows 10 Mobile

i think you are on to something YAAAY i remember but i am not sure, that the Desktop Windows 10 version of twitter was released alongside the official update on July 29th, right?

How toh disable auto video playing? Posted from Windows Central for Windows 10 Mobile.

As far as I see it, it's OK, but the fact of taking the People App sync away really isn't a minor thing. I always kept my hopes for many more apps to add sync to the People App and try to have the ancient People Hub look with all the feeds in one place. Seems we're lucky if Satya won't pull the plug of WP/W10M anytime soon.

I was pleasantly surprised with this update. Yeah, there are some rough edges but WOW the timeline is so much better now!

Does it come in white? I like this new app tho.

you have to chose white theme SYSTEM WIDE ;)

Seems Faster and I mean it. Good Update. still few things needs to sort out. Sometimes Picture is too big to take whole screen space on 4.5 inch screen. Need more Customize option. Hope next update fix this. Posted from Lumia 638 Windows 10

My god! they nailed it! first ones to impress me with a UWP ! (sorry Daniel, the windowscentral app it's good but not good enough - design-wise)

Why they update this if it cant even keep feature parity with the old one? Yea there are improvements but also missing things so what's the point, I call that kind of thing a sidegrade not an upgrade

This update doesn't support Continuum yet.

Hmm...strange, the Twitter icon was greyed out for me. I'll check it again later. Thanks.

Can anyone plz tell me is there any app to send direct msg via twitter in windows phone 8.1 ?

Why do you have a different icon for trends rich?

No white theme? Argh. I love dark theme for OS, but prefer white for Outlook, Twitter, Instagram...

sadly, you have to select white theme on OS to get it on this twitter app.] that's fine by me, but i understand some people may not like that.

Double tap on picture to make the picture 1:1 zoom is not available, I guess.

Hey guys, just in case you don't know... I hear the twitter windows team monitors #TwitterForWindows hashtag. Make sure to let your wishes be known! Tweet!

Who had this clever Idea to remove the people hub integration?.. I dont use the apps because they are pile of rubbish and go through the people app. no i have to check every single app for all information that I could just have in one app.. (With all apps I mean Twitter and Facebook ) And settings in the profile page rather than the normal menue - well I guess we will have to live with some ugly ass iOS ports than

Indeed looks better and much clear

Hillary Clinton for Prison!

if the PeopleHub integration really is gone, I'm probably going to get rid of twitter. I don't tweet much, the only reason I have it is to follow people and I can do that on Facebook.

All these missing features will come soon or later on next update

Nice update. It looks great and finally works as a decent size on my 950XL - not blown up massively. Plus, I can swipe to hide the navigational bar - something I've got into the habit of doing frequently to give myself a little more space. Miss the swiping, though, but that'll be surely fixed. Good surprise.

Missing swipe feature so sad.they should bring that again

Best twitter app on any platform (In my personal opinion)... Less clustered. Love it.
Make sure to update reviews in app store! Show them you appreciate them.

after this update, i can't login,trying 4 different account but still the answers is sorry there was a problem with your credential bla bla bla..

you have the correct time set on your phone?

yess i have correct time and date on my phone,lumia 640 xl..

HUGE feature for my twitter use I found in updated app: I mainly navigate twitter using the lists I've created. Currently using Tweetium which only allows adding people to lists not removing them. New twitter for mobile allows you to add and remove people from lists. Big feature for me, before would have to use website. BTW anyone have any third party apps they know that has good list management... Adding AND removing people from lists? Thanks

Looks great and it is fast.

I'm reading this before checking it out.. I've waited so long.. I hope it's worth it!

Looks kinda weird when your display is set to a low % like 150%. All the icons shift to the left side. Also the setting switches to web wrapper page. Posted from Windows Central for Windows 10
Using the Alcatel OneTouch Fierce XL for Windows 10

Only reason to install the W10Mobile on my phone.

Finally. But this is somewhat confusing. Did they replace the store entry for WP Silverlight app with the app they rewrite(?) for Windows 10? Because it doesn't say built for windows 10. Is it try universal UWP with continuum enabled?
Great work by developer though. I had almost lost hope.

Okay definitely UWP. Microsoft may need to update their categorization to include it under apps built for windows 10. And at first glance, this is a 5 star app. Which has been a case with most UWP apps. And that's what make me so excited for this platform. Great work twitter.
P.S you people want to update your title to "Twitter pushes out a windows 10 specific update for users on w10m"

Okay title is alright. I misunderstood. My bad. P.S Day made. :D

New windows central app for windows 10, twitter for windows 10, accu weather for windows 10, msn apps, outlook and office apps have restored my faith in UWP. The apps perform so fastly and smoothly on my years old Lumia 525 running latest insider preview build which is incredible. I almost never thought Snapdragon S4 was capable of handling fully featured and adaptable to screen sizes UWP apps but Microsoft has shown that light weight and good performance apps are possible as well as a single binary with minor adjustments for different screen sizes. This is a marvelous feat of software engineering as good as achievements in Surface Pro and Surface book line. Believe.

Stunner from twitter. Now all we need is a facebook, messenger and Instagram official apps for windows 10 w10m which are as good as this app if not better.

Well, we're in luck; Facebook promised new Instagram and Messenger apps, the former is in beta already as a port and the latter has been spotted in the wild as a UWP, both seem like they'll be very nice. Looking forward to Messenger in particular!

Thought the article could have had more of a punch to it. This is great news. The interface looks really nice. Some improvements needed that others have mentioned. BRING ON THE APPS. Rebel Base, Hoth... using the new beta app!

Pretty nice. The loss of people hub sync is a bit of a bummer but the bigger one though is how this and ever other app is moving controls to the top while Android and iOS are moving them to the bottom like Windows Phone used to be. If they at least could swipe between that would be ok but not right now.

It may be gorgeous, but they removed features and added a huge security/privacy problem. There is no longer an option for profiles linked to different accounts. You login and the app is tied to one account. Even worse I couldn't find a logout option. Worse that that, even after uninstalling and reinstalling the app it remains signed in to whichever account I logged in with. It's been removed until they either fix these issues or I find a third party app to use instead

It is there. Click on the people icon next to Settings under your profile view. You can add multiple accounts, switch between them and logout.

Good god. Those kind of basic things shouldn't be hidden in a non-standard menu. That's exactly why there are interface guidelines, like a standard hamburger menu or settings button

Hope Facebook Universal App is way better than the mediocre crap in the WP store Posted via the Windows Central App for Android

Well! This is LONG overdue! I was seriously getting sick to the back teeth of the bugs in the old 3.x/WinMo 8.1 version.
I seriously wish, however, that they'd give us options for independent control of colours and theme. I don't want to see the dark theme in-app, especially when I'm wanting to take screen shots.

Yes, I'm hopeful this will stop the annoying crashes. They always seemed to happen at the most inconvenient moments.

I didn't experience app crashes, per se. I was getting tired of the random 1-2 second screen blackouts in-app and on the start screen after closing the app or switching another app. (Outdated Silverlight implementation, I've heard(?)) Hopefully that will be over and done with.

Oh... There was also that long term irritant with the live tile randomly going dark and the app refusing to open, even with a system restart; the only solution being having to delete and reinstall the app. THAT was seriously annoying!

Mmm... Cannot make the live tile to work. Anyone?

It works for me. The previous version's live tile worked for me also (950 XL insider ring). I do notice the live tile is displaying moments now; previous versions displayed notifications on the live tile. That might be an adjustable user setting.

I really LOVE the dark theme. I estimate I will get an extra couple of hours per week of sleep. The bright theme of previous versions stimulate the brain's wake signals and interefere with sleep, according to what I've read. I am maybe not enough of a twitter power user to notice more profound changes. It appears to function the same as previous versions.

i love the changes, but why couldn't they also make a transparent live tile? if not by defualt at least give us the option to set it up in the app's settings.

Windows 10 is starting to pay off, new instagram app, new twitter app, just somethings remaining, smartwatches with better support

can't swipe, not connect to people app (whats new) again,
but now can play clip, gif, & new retweet like twitter desktop web version.

I am excited to see Twitter update their app! BUT, it won't work for me. I noticed this with the Windows 10 app on PCs. I could never get it to startup after installing. I uninstalled and reinstalled, and tried on different computers. In almost every case (except on one computer) the same thing happened, the splash screen came on and then the app shutdown. Now with the new mobile app it's doing the same thing. The app starts up and then closes. Uninstalled and reinstalled. No change. IS ANYONE ELSE EXPERIENCING THIS?

This one is a nice and real update, keep up the good work

oh my god, windows 10 mobile is great. it's just that the apps that are on it are aweful. This new twitter app proves it. it's quick like the main OS. doesn't juttter or splutter, well done Twitter.

I've been on this app all day today, and it truly is a work of art!!! No crashing or anything, just a pure pleasure. There are features missing, but I do think they'll add them in time.

Was not much of a Twitter user before I moved to Windows 10 Mobile. Now I see the Twitter app is going places whereas the FB app is a bit regressive. Use more of Twitter than FB these days. Nice update.

Next update available approximately 20 years from now.

Cool update, but breaks People Hub integration!

Can't seem to get notifications working they are turned on in the app but not working. If I go to notifications I don't even se twitter there and when I go to background apps it's not there either

They've removed the ability to switch between multiple accounts!
Windows Central Newsletter
Thank you for signing up to Windows Central. You will receive a verification email shortly.
There was a problem. Please refresh the page and try again.