The latest Xbox Insider Ring removes Twitter sharing for Game DVR clips (updated)
Xbox Game DVR takes a step backward?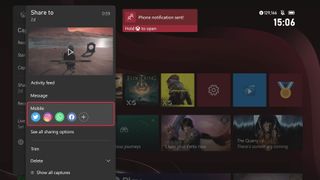 (Image credit: Windows Central)
What you need to know
Xbox has been able to share game clips direct to Twitter for years.
Microsoft has decided to remove the feature without saying why.
You can now only share clips from your phone, via the Xbox app, probably to boost engagement metrics or something.
Update March 30, 2022: Microsoft has now canceled this planned change.
Update March 30, 2022: Microsoft has reverted the planned changed to how Twitter works, and you will continue being able to share as normal.
2/2 Part 2 Flight Plans - Planning on taking a new 2204 build to the Beta Ring later today with details to come - Thanks for your feedback on the Twitter share feature change we flighted in 2204 - that change is being reverted to the previous behavior from today in this new build2/2 Part 2 Flight Plans - Planning on taking a new 2204 build to the Beta Ring later today with details to come - Thanks for your feedback on the Twitter share feature change we flighted in 2204 - that change is being reverted to the previous behavior from today in this new build— Brad Rossetti (@WorkWombatman) March 30, 2022March 30, 2022
Original article:
Update March 18, 2022: In an update to Xbox insider builds today, Microsoft added Twitter and other social media icons to the "mobile sharing" option for Game DVR, essentially confirming that they have no plans to bring back direct Twitter sharing for Xbox game clips. You can now only upload clips to your phone, and then share them to Twitter from that, needlessly adding extra steps and removing a feature Xbox has had for years.
Original article:
Microsoft's Xbox Series X is a great console, arguably its best ever, with monstrous power in a cool and quiet package. It's by no means perfect, though.
One of the biggest annoyances with the Xbox Series X|S platform pertains to the Xbox Game DVR, per our own polling. The Xbox Game DVR is a fair bit behind the competition, with clunky editing features, slow performance, and poor file management. In this latest Xbox Insider build, however, it seems like it's going to get worse before it gets better.
While it may be temporary and the result of testing, Microsoft has removed Twitter sharing entirely from the Xbox dashboard. This means that users won't be able to share directly to Twitter anymore, which is a feature both PlayStation and Nintendo support directly. As of writing, you can still link your Twitter account to your Xbox Live account, but the only purpose it serves is to display your username on your Xbox Live profile.
As for why they're doing this can only be anyone's guess. Microsoft often removes features citing "low usage" from its users as an excuse. But for those "few" who do use those features, it comes as a bit of a kick in the teeth. It could be that Microsoft has to pay Twitter a fee for API access and doesn't think it's worth it anymore. It could be that Microsoft is gearing up to replace the system with something else that will allow you to share from your Xbox directly to Twitter, but all of this is just speculation as of now. It comes off as odd, given that Microsoft just re-integrated Twitch streaming into the Xbox dashboard.
We've reached out to Microsoft to get clarification on their plans for Xbox Game DVR social sharing — but if this is indeed a planned change with no replacement lined up, it's just another reason to be annoyed about clip sharing on Xbox.
Jez Corden is the Managing Editor for Windows Central, focusing primarily on all things Xbox and gaming. Jez is known for breaking exclusive news and analysis as relates to the Microsoft ecosystem while being powered by caffeine. Follow on Twitter @JezCorden and listen to his Xbox Two podcast, all about, you guessed it, Xbox!
Reach out to them and ask whether they're going to replace this garbage sharing system with the same system Sony uses for recording, while you're at it. I can't believe MS dropped the ball on sharing this time around. I thought for sure it would be better on the Series consoles. It's laughable and pathetic to think that I can only record what, 3 minutes of gameplay? When the PS5 can record a full hour if you wanted???

Is that 1 hour of past gameplay or is that 1 hour from the time you hit the button?

I feel like it's likely they will drive all external social network sharing to the mobile app. You push it there and then you can share it to Facebook using your device share menu

I think it has 100% to do with the fact they have to pay Twitter for the privilege and the numbers just don't justify it. Even by generous metrics, Twitter is outside the top 15 most used social media sites and I'm willing to bet you can't even name 15 other sites. To the handful of people who use Twitter, everyone uses Twitter. But the statistics just don't back that up. According to a third-party industry analyst firm, more people have an active LinkedIn account than an active Twitter.

Interesting. I was surprised by this. As you said, I just assumed Twitter was in the top 2-3, but I see it is at #15 in Jan 2022 at Statista for # of active monthly users: https://www.statista.com/statistics/272014/global-social-networks-ranked... (I didn't see LinkedIn on that particular list, but I'm sure different lists with different metrics result in different rankings.)

I personally greatly prefer doing this for my phone, because it's much easier to type whatever I want to caption on a phone keyboard. I somehow doubt this has anything to do with API fees, because a "share this text/pic/vid to Twitter" option is free to do for any website or app. You're essentially just launching a web URL with some variables appended to the end of it in the query string. You only pay for Twitter API if you're getting data from Twitter, not launching the share dialog.
Windows Central Newsletter
Thank you for signing up to Windows Central. You will receive a verification email shortly.
There was a problem. Please refresh the page and try again.