Latest Xbox One Preview update adds a way to manage leftover game add-ons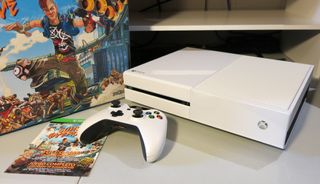 Microsoft is rolling out yet another software update for Xbox One owners on the Preview program. This new update includes a feature that allows gamers to manage any leftover add-ons for their games. The version number for the update is rs1_xbox_rel_1608.160705-1925.
Here's a look at the new features in this update, according to Microsoft's community forum post (opens in new tab):
Manage Leftover Add-ons: In the past you needed to install a game to manage its add-ons, which sometimes lead to having add-ons installed when the game associated with the add-ons was not. To address this, we've added a new option in Settings to help manage your leftover add-ons. To access this feature, launch the Guide and go to All Settings > System > Storage > Manage leftover add-ons. When you uninstall a game but leave the add-ons, the Manage leftover add-ons interface displays the leftover add-ons, and gives you the option to uninstall. Now venture forth, and reclaim your hard drive space for more gaming!
Updates: We've added a new Updates tab to My games & apps where you can view games and apps with updates available, but not installed. Selecting a game or app from the Updates tab allows you to install the available updates. If your console is in Instant-On mode, game and app updates will be automatically installed the next time your console enters connected standby.
There's also a new list of bug fixes in this Xbox One Preview build:
Users should no longer be able to purchase Xbox 360 backward compatible games from the Store without entering their password when their profile is set to "Lock It Down".
Users should no longer be able to purchase movies or TV shows from the Store without entering their password when their profile is set to "Lock It Down".
Resolved a majority of cases in which Store pages for purchased games sometimes display a "Buy" button rather than an "Install" button.
Resolved an issue which caused EA Access games to fail to launch due to error 0x803f8003.
Resolved an issue which prevented music videos from playing in the Groove Music app.
This update contains a fix to address stuttering and framerate lag in certain games.
Finally, there's an updated list of known issues with this Xbox One Preview version:
At this time it's not possible to redeem a 5x5 code for Xbox Live Gold on the console. Please use Xbox.com or another console not enrolled in the latest Xbox One update to redeem a 5x5 code for Xbox Live Gold.
The Store may fail to display content when using certain language and region combinations.
You may have to manually download the new Movies & TV app from the Xbox Store, and manually uninstall the old Movies & TV app.
When searching in the Xbox Store for the new Movies & TV app, the app may be listed in the Xbox Store as "Films & TV".
If you try to purchase or rent movies or TV shows from the old Movies & TV app, you will be prompted with an error.
At this time it's not possible to add, edit, or remove payment options on the console. Please use Xbox.com or another console not enrolled in Redstone to manage payment options.
At this time it's not possible to remove or change payment information associated with pre-ordered games.
Users are allowed one free Gamertag change per account. After using your one free Gamertag change, you will be charged for future Gamertag changes. In the current update, while your free Gamertag change will complete successfully, attempting to purchase a Gamertag change will charge your account, but will not change your Gamertag. Please avoid purchasing a Gamertag change on Xbox One at this time. To successfully change your Gamertag, visit https://account.xbox.com/ChangeGamertag.
When selecting "Add new" to add a new profile, the add profile interface may take up to 30 seconds to appear.
Cortana may take a longer than expected amount of time to use the play command.
Searching the Xbox Universal Store via Cortana sometimes causes her to search the same keyword multiple times.
Cortana may sometimes restart and indicate she is "Warming up..." even after recent use.
If you have pins on your Home to movies, TV shows, or music, they will disappear from Home when that app takes its new app update. The pins for the apps will stay on your Home, easy to get to.
You may encounter an error when attempting to load Ready to Install with a large number of digital games and apps.
Links to the Store in Community Calendar event details do not currently function.
You may be unable to buy or rent content from within the VUDU app.
Members of the Xbox Preview program will be prompted to download the new update by 1 a.m. Pacific Daylight Time on July 9 if they have not previously installed the update.
Is there any way to join the preview program right now?

Some needs to invite you. It takeś 3 days until you receive invitstion and then few days after you accept. After that few dsys for latest preview so whole process can take 1-1.5week.

Give me your gamer tag, I'll make it happen. My console updated today and now I can't pair my controller though....had to use a is wire.

Hey pjhenry1216, add me on xbox one right now via this GT: ZeBwAz4reLeGiT and i'll inv you to the program if you wish.

Id love to join as well but don't know anyone with the preview

PM me your Gamertag and I'll request that you be added...

Can you add me to the Preview program?

I can - reply or PM me your gamertag

The preview builds in Windows 10 are excellent I'm sure they are on the Xbox as well.

they aren't as smooth as Windows PC... they do have a lot of goodness in them, however, it does make you UI slughish upon first use most of the time and htis is the one thing that is utterly annoying and not present on my non Preview xbox one...

Too bad someone has the gamer tag that I use on Twitter..... crap...

"Resolved an issue which prevented music videos from playing in the Groove Music app.​" Thank goodness. This was driving me nuts. Now they've just got to make it so we can remove 0% games from our profiles and expired rentals from our Movies & TV collection, and then toss back in Kinect gestures.

Hmm I thoughts add-ons are supposed to be uninstalled automatically when you uninstall a game. No?

Installing now. I've been liking the additions to the UI lately.

Anybody else having problems with the voice activated shutdown confirmation in the preview?

The update is good. Love the update tab feature in the my games and apps and the kepp my games and apps uptaded option on power saver mode. EA Acces still not working for me. Try to reinstall but when I uninstall the app its disapper from the store..lol. Itt happens in previus update with the movies app. But i have to type all the time my password when im going to my credit card or my subscribers..i have a long passworld and i dont like that.

My XBox One wont update. It hasn't received an update since April23, 2016. Im in the preview program. Not sure what's happening...or not in my case.

Would someone be willing to add me to the Preview Program?
GT: Maesenko
Windows Central Newsletter
Thank you for signing up to Windows Central. You will receive a verification email shortly.
There was a problem. Please refresh the page and try again.