Leaked AMD GPU benchmark allegedly surpasses NVIDIA GeForce RTX 2080 Ti
The competition's heating up!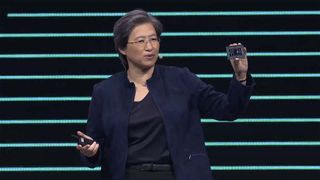 (Image credit: AMD)
What you need to know
A leaked benchmark for an AMD graphics card appeared on OpenVR Benchmarks.
It has a rating of 103.32 compared to the 87 to 88 of an NVIDIA GeForce RTX 2080 Ti.
The device was tested using the HTC Vive headset at 90 Hz.
There are rumors floating around that this could be AMD's upcoming powerful chip.
It's no secret that AMD and NVIDIA want to one-up each other when it comes to graphics cards (GPU). Recently, a mystery benchmark was spotted on OpenVR Benchmarks which pegged an AMD Radeon GPU at 103.32 when running the HTC Vive headset at 90 Hz. This even beats the NVIDIA GeForce RTX 2080 Ti because that only manages a score of 87 to 88. This information was first reported by Overclock3D.
There are rumors floating around that AMD is working on an incredibly powerful GPU that should be unveiled in 2020. However, only time will tell. It's unclear if this GPU will be geared towards virtual reality (VR) use or also perform this well when subjected to "AAA" games. We'll keep you posted as soon as we know more. As with any such leak, take it with a grain of salt because for all we know, it could be an elaborate hoax. However, that seems highly unlikely at this point. Check out our best graphics card collection for a ton of great GPU options available now.
Veteran PC VR headset
(opens in new tab)
The tried-and-true Vive is an excellent headset for those who don't mind external sensors and who can take advantage of a ton of accessories, including a wireless adapter. It is more expensive than the Oculus Rift S, though, which will no doubt play a factor in your final decision.
Asher Madan handles gaming news for Windows Central. Before joining Windows Central in 2017, Asher worked for a number of different gaming outlets. He has a background in medical science and is passionate about all forms of entertainment, cooking, and antiquing.
Noo don't tell me this now as I'm about to try to build a new pc lol

Well, you can get the other PC components now and get the GPU later. The R5 3600 has gone down substantially in price - it's dropped about £30 (on amazon) same with the 2700X which makes the latter crazy value for money for mixed workloads. Additionally prices for some ram modules (3200mhz 8x2 kits) have gone down as well (checked yesterday as was looking for the Ryzen 1600 AF for a PC Build for a cousin) . However the prices for PSUs has gone up significantly - the PSU I bought the EVGA SuperNOVA 650 G3, 80 Plus Gold went up to £100+ at one point and no longer appears to be sold on Amazon.co.uk (just checked).

That's true, I'm just impatient haha

Haha, well if you time your purchases right you can save a lot of money lol.

LOL!!! That's PC...good and bad almost..

I hope it is true. NVIDIA was so sure of their lead that they thought they could get away with putting so little effort into their RTX line

Ooh I so hope it's true... been holding out on upgrading my GPU as I had feeling AMD will have something up their sleeve as there was no way AMD wasn't going to go for the top tier performance across the board. If I had an infinite money tree I'd have no qualms in dropping 4k on a 3990X as that will give me plenty of horse power to run multiple instances of DAWs, CAD software and still have enough processing power for running multiple VMs as well as some games at the same. I'm so glad AMD kicked Intel off the kerb and into the sewer - where they deserve to be for all the price gouging they have inflicted on everyone over the years. 10 Grand for a Intel Xeon 8280 CPU.... Good grief... that is more than some people's annual salary.

I just worry about driver issues with AMD. I've usually had better experiences with Nvidia in that regard, but to be fair I haven't owned an AMD GPU in a long time so maybe it's better now.

i haven't had driver issues in years

@real0395 to be honest most of the driver issues is are often motherboard related as AMD had often relegated to the back seat by motherboard OEMs but no more. Plus Ryzen in contrast to Intel's chipset drivers is fairly recent so there are fair amount of teething issues with Ryzen chipsets; especially since AMD is pushing the envelope with PCI-E Gen 4 support which Intel CPUs do not have yet. Then when you throw in the core scheduling issues W10 has with multiple threads it does cause some annoying glitches. Which are few and far between compared to 1st gen Ryzen - as expected since it was a completely new chipset and architecture in terms of cpu design. However the value you get out Ryzen has beat Intel so far down that Intel has conceded that they will never control the market like before ever again. Hence the substantial price cuts and if AMD's laptop game matches or exceeds their CPU performance Intel is done for good for a long while. I just hope AMD does not adopt Intel's and Nvidia's practises when they become a dominant player across the board. If you opt to build a Ryzen build I would say from personal experience make sure you test your components outside the PC case and have direct header cables (for usb headers) to usb for your motherboard so you can test them. The motherboard box makes for a cheap test bench - as long your workspace is not cluttered and is clean of dust lol. Lastly, some motherboards may have issues in getting Ryzen CPUs to heat the advertised boost clocks so it's best checking if there are bios updates. Another pitfall to look out for is bios updates for first gen ryzen boards to enable 3rd gen ryzen cpu compatibility - you might need a loaner CPU to update the board (AMD has a loaner CPU programme).

For all the AMD love all these better parts don't necessarily benefit consumers as the co with the current best always charges too much. It might mean a cheaper Nvidia card though and in a few months a cheaper AMD card when new Nvidia parts droo

They do benefit the consumer. We're already getting a new midrange 5600, prices on the 5700 are coming down and 5700xt is already at or below MRSP finally. Deals on vega 56 and 64 are abundant as well. The RX590 and such is 179 and sometimes cheaper at retail and rx580 is 139-159. Great time to be a 1080p gamer or someone looking to do 2k or 4k

I have a feeling this is the RDNA v2.0 Navi that was supposed to be announced this year. Last year 5700xt are Navi RDNA 2.0 Series X is supposedly according to the leaks to be RDNA v 2.0 Navi. Hmmmm

Which is what I told you was rumoured to be the case and you said I was incorrect, good to know I wasn't. As an aside, the 5700 XT isn't RDNA 2.0.
Windows Central Newsletter
Thank you for signing up to Windows Central. You will receive a verification email shortly.
There was a problem. Please refresh the page and try again.