Leaked images of supposed Lumia 1030 prototype appear online (Updated)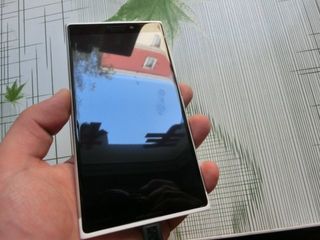 Update: The Verge's Tom Warren has stated on Twitter that this is the cancelled McLaren prototype.
Photos of what is believed to be a Lumia 1030 prototype have been leaked online, showing off its large camera hump. Much like the Lumia 1020 available today, this unannounced device has an advanced shooter to produce high-quality results. Codenamed Nokia RM-1052, we have yet to determine whether or not this is a fake job.
According to leaked information, this prototype appears to sport an aluminium shell (similar to the Lumia 925 design), 2GB RAM and powers Windows Phone 8.1. The prototype could be anything, including the cancelled "McLaren" device Microsoft was working on, which would bring 3D gesture support to Windows Phone.
Image 1 of 3
As noted above, we haven't confirmed the leaked images yet, so be sure to take everything we've said with a grain of salt. What are your thoughts on this apparent prototype?
Source: Taobao; thanks to everyone who tipped us!