Leaked Skype UWP app for Windows 10 Mobile bumped to version 11.6.36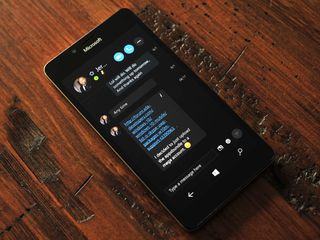 Just about a week ago I posted news that the appX file for Skype UWP on Windows 10 Mobile was leaked over on XDA. While the version is not yet complete nor officially even in public beta testing you can sideload the app onto your phone running the latest Slow, or Fast Ring Insider build e.g. 'Redstone'.
Recently, XDA mod snicker, who managed to get his hands on the leaked app updated the post with a more recent version. The latest build is 11.6.36, which is a jump from last week's 11.6.26.
Voice and video calls reportedly now work with this release although notifications are still out of the picture for now. While the app performance is fantastic relying on what is essentially an alpha build of Skype for work may not be a very good idea so heed caution.
You can read my tutorial on how to install this app as you will need to download the file and sideload it on to your phone. Head over to the main XDA thread to grab the latest versions.
Thanks, Kyle S., for the tip!
Windows Central Newsletter
Get the best of Windows Central in your inbox, every day!
Daniel Rubino is the Editor-in-chief of Windows Central, head reviewer, podcast co-host, and analyst. He has been covering Microsoft since 2007 when this site was called WMExperts (and later Windows Phone Central). His interests include Windows, laptops, next-gen computing, and for some reason, watches. Before all this tech stuff, he worked on a Ph.D. in linguistics, watched people sleep (for medical purposes!), and ran the projectors at movie theaters because it was fun.
No problem on the tip! The issue I see with this is if you are not using the app and someone voice or video calls you, you will not know they did. While using the app its not an issue. Notifications are still messed up but it's very good so far for such a early look at Skype UWP on Mobile.

I recieved a video call, no prob. I wasn't in the app. Posted from the Windows Central app for Windows 10 Mobile

Version 11.6.46 installed already and using..

From where? I can't find anything on .46.

Check windowsblogitalia website for the link and instructions

Thanks, I've tipped Daniel but I didn't notice anything new, so I'm guessing its just some minor bug fixes.

Read the conversation in the skype pic..

Thanks a lot, bro. Downloading from mega cloud storage.. Posted via the Windows Central App for Lumia

Why don't place the emoji's underneath the text box (like the way it is on groupme)

Well the app certainly looks unoptimize for phone screen, even the contact name on the head is simply unreadable. There is alot to work with the UI here and gladly this is still considered alpha (unless they didn't bother to change at all). But yeah, the emojis, monies, and other stuff like photos/videos sharing should act like a keyboard with UI at the bottom of the text box. Just like what popular messaging apps do like Facebook Messenger. Also the lack of statusbar at the top is also an oversight, since you need those signal status and time to be always visible at least. Also it would be better if the conversation text bubbles would be colored based on theme color to make the app look but more lively. Sent from Turing Machine

I'm still confused. Does this mean Messaging+Skype will be no more? Seeing that Microsoft FINALLY picked up a clue from iMessage/Hangouts was a big reason I was so willing to ditch the fluidity, stability and efficiency of WP8.1

Right me too.. I think that they made a big mistake by getting rid of that. I actually liked that integration with Skype Messaging..smh! Sent with my Lumia 950 (AT&T)

For me it became was cool only after late February updates. It was really slow and crash driven experience before that. Not counting that old skype group conversations were not accessible at all, which made work chats unavailable on phone :( Still hope that they evaluate their integration approach later and provide more functional integration.

Messaging+Skype was actually annoying as hell... and I'm guessing based on their user testing, they realized people (including myself) like having an app marked as 'Skype'... For me it was annoying because I don't like having my Skype messages mixed with my SMS messages. Skype integration is still there though, once you install this UWP app, it hooks into the OS so you can call people from the Phone / Messaging / People apps.

Why was integration annoying? Do you really have two conversation going with the same person that you want to keep separate, in separate apps?

It will be just Messaging and the Skype app as a separate app. As it should.

@TLRtheory Dont worry, Messaging and Skype are still going to be merged, but its going to be inside the Skype app (if you want it) instead of inside the messaging app. Commitment to the merge was discussed on skype's garage-blog in April. http://blogs.skype.com/2016/04/20/to-our-windows-insiders-skype-uwp-prev...

Thank goodness. Them only having the extra process and extra battery drain for traditionalists without taking from those who desire the efficiency of the bundled experience is a much better solution - now all bases are covered. I like it when MSFT makes smart decisions.

Still a worthless app for me, just like every other new skype app they have made. No way to dial a number not in your contacts. At-least in the version I tried the other day.

What are you talking about? Of course you can ring any number, just press the phone icon at the bottom and the Skype dial pad comes up - at least on every version I've used.

I'll check again, maybe I missed something but on normal skype app yes that works, on all the new beta ones they have come out with pressing phone has given me only the option to pick a contact. I'll check again though.

Yep just checked again on this version. Unless blind, there is no phone button. Only an option to start a new conversation with a contact, or you can click a contact and press phones to call, no dial pad. This is the same as every beta version they have made. I'm not talking about the normal skype app I'm talking about all the new versions they keep making to replace it.

Who ever down voted me, show me where I am wrong and a non default version of skype has a dial pad for non contacts and I'd be glad to down vote myself. Other wise, why the down vote.

I just want to know what's Microsoft objective on messaging for the system. We have Skype app and desktop version, also Skype Messages and Video implemented on W10 and W10M, yesterday was released UWP app of Group Me. It's so confusing or I'm not getting the point of this.

My hope is that they eventually integrate Xbox app conversations, Skype conversations and GroupMe group conversations in the universal Messaging hub.

They actually made it much clear now when they announced this app at BUILD...
- Skype (UWP app for PC/mobile) = the new full-featured Skype app
- Skype (desktop) = will probably be discontinued in favour of the full-featured UWP app after it's fully on-par
- Skype Messages + Skype Video has been dicontinued already since the new UWP app hooks into the OS the same way
- GroupMe is completely different, that's for group collaboration (such as group projects or family stuff)
- Messaging app is for SMS So there's only 3 apps now, that serve different purposes. Much cleaner than having confusing and overlapping apps.

How does the UWP hook in with the OS the same way? Can I use it in place of messaging?

I don't think Microsoft themselves know.

The only solution for Microsoft to get out of this mess is to sell Skype and be done with it.

You mean like the way Here Drive went.
(yes I know they never owned it)
Somehow no more windows app.

10 years ago Skype was the best, but now... it is the worst. Really.

Very sadly, that is true or a lot of MS products, yet some are amazing.
They really have struggled keeping pace, not enough young talent, too many old recalcitrant dogs in the team?

10 years ago the were no apps, only application programs.
10 years ago Nadella was still in India

Does this version kill the camera like the previous one? I had to disable the camera permission for Skype so the camera and flashlight could still work.

Windows 10 Mobile was launched last November. Its 3/4 of a year later and a Skype app that almost looks usable is now just starting to show up. Maybe if Microsoft knew what they were doing with the whole Messaging+Skype/Skype/Desktop Skype situation from the beginning we would have had a working solution by now. Instead we have two half baked apps and a new app that again promises to be the solution starting to pop up in alpha stage. Skype was the king of messaging and Microsoft just sat on it while Facebook Messenger and whatever the google thing is ate their lunch and now they're playing catch up.

Im so confused right now !! So at present there are 3 Skype 'apps' to use. One of them is the integrated version. Lets hope they stick to one.

The integrated messaging + Skype may be removed permanently in future updates based on user feedback moving Skype to a stand alone app again Message delivered by Cortana

the integrated messaging+ skype is already removed in Redstone

"notifications out of the picture -for now-" oh dan, you forgot how skype has been in the last few years on mobile? its not much different now if it reached 100% unreliability delivering notifications

Does anyone know if the bots or cortana are available yet? I don't have the app but if they are there, I'd like to try it.

Thank you. -x4 Sent from Windows 386

This app is great. For the first time I can actually use skype on the phone. The previous version (or I should say the current one, since the new one isn't officially out yet) is just a lagging mess. Only gripe I had with the new one was that it didn't have landscape support, but after this update it does :)

Well, might as well say this but again, no disclaimer about this so, here goes. If you instal this, uninstall it and then try to get old Skype back, you can't. Always fails to download from the store and the Skype listing in the store points to the UWP Preview version, so you are basically stuck. Has anyone found a working way yet to get the old Skype back without a factory reset? I got an APPX file of Skype for Windows Phone 8.1, enabled developer options on my 950XL but it cannot be installed so, if I want Skype now (and I do not want to factory reset), I have to keep sideloading the UWP version until Microsoft put it in the store officially. Just some advice.

it's not like that, Old app (the same one since the 8.1) is unavailable for me too after updating to 14361. App appears to be available but when opens it says get the app which leads us to the store, there it says app is already installed. I think they are up to something Sent from Nokia Lumia 730 on build 14361 fast ring

Yes. It seems like perhaps the UWA version may be in the Store very soon. Right now though it looks like we cannot get the old Skype app back without a factory reset.

This may be a bug, but when I've installed the latest RS1 build on the 535, Skype was updated to 2.29 (according to the store). It seems to be a "get Skype" shortcut, pointing to the store; the issue is that it goes to the WP8.1 page, and Store says it's already installed. Launching it from here returns to the "get skype" etc. So my guess is that it will point to the UWA soon.

This happened to me too. Either way, we are stuck with the UWP version unless we factory reset.

Video call and notifications work for me on my 1520,had to uninstall the old skype...it works like a charm

Calls, video calls and notifications works for me. The only thing that no works is the icon notification in the lock screen.
And not transparent tile.

Now all they need to fix is notificaitons going to the Band 2.

Yep, same here. Posted via the Windows Central App for Windows 10
Using the Alcatel OneTouch Fierce XL for Windows 10 (Redstone)

My notification is working 1520

Cannot install on 950XL with last build 14361. On previous build it worked with previous version 0.26. strange.

It's working on this latest build 1520 the beast

The notification is working with this update

Can you now install on non-insider builds or not?

RTFA! "...you can sideload the app onto your phone running the latest Slow, or Fast Ring Insider build e.g. 'Redstone'." Posted from Bikini Bottom via my Pineapple PineBook XPS 13"

Anyway this tutorial is really great, best one for Windows 10 Mobile! Share!! https://www.youtube.com/watch?v=bN6qUf3qI04&feature=youtu.be

Pls how can I update the uwp skype app... It won't lemme update, failing to do so.

Check windows blog italia website. Its in italian language but u can transilate it with translator extension

11.6.46 it's on the wild. Just installed .

Yes, it is on Windows Blog Italia.

Whatttt? How do I get the UWP version of skype I went to the store and they displayed only the old stupid skype which I was running on my wp 8.1

Read the article.... Posted via the Windows Central App for Android... I'm sorry

Every time i open skype preview or skype video before, my camera crashed, and had to restart the device to make it work again, and all this happens only with skype. Does anyone had this issue and knows how to fix it?