Become a Speed King with Lego Speed Champions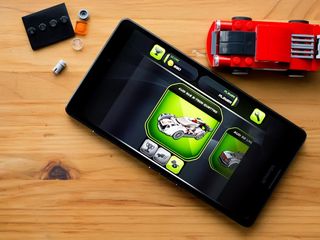 Lego Speed Champions is a fun and simple racing game for Windows 10 where you race your way around a series of tracks, collecting Lego studs and climbing your way to the top of the online leaderboard.
Graphics are top quality, full of color and detail and while game controls are responsive, they may be too responsive. Each race offers you three challenges to master, with plenty of trophies to earn. Races are not very time consuming, making Lego Speed Champions a great choice when you only have a few minutes to spare for gaming.
Lego Speed Champions is a free game, available for Windows 10 PC and Mobile.
Lego Speed Champions lacks a traditional main menu and instead, opens up to a garage full of racing cars. Across the top is an information bar that displays your racing score, player name and has button access to the online leaderboard and the game's settings.
One of the many nice aspects of Lego Speed Champion is that it has a nice range of racing cars that are all available from the get-go. There are 11 cars available, from a Porsche 911 to a Ford Mustang. Below each car you can access the racing challenges currently in play for that car. These challenges are performance based and include tasks such as placing first in a race, collecting a number of Lego studs or completing a lap without collecting any studs.
Once you select a car to race, there are five race courses to compete on. These courses are progressively unlocked as your racing score increases. The racing environments range from a desert setting to more urban courses.
Races are played from an overhead view with key statistics running across the top of the game display. These stats include your place in the race and lap count, challenge status and studs collected. In the bottom left and right corners of the display are steering controls, with acceleration handled automatically.
Each racetrack has a collection of studs and stars to gather, with the studs going towards your racing score. There are also a number of shortcuts on each track that typically require you to bash your way through something to gain access to them. These shortcuts can make the difference in how you finish a race.
Tracks also have hazards you'll have to deal with, such as oil slicks that will slow your car down and send it into a skid. While you can crash into your opponents and the track walls, I have yet to destroy my race car. Another bonus about being indestructible is that you can bounce off some walls. This can be an unorthodox way to straighten out your car from a skid or navigate through hairpin turns.
While a fun racing game that approaches the genre from a casual approach, Lego Speed Champions could use a little fine tuning. For starters, the steering controls are ultra-sensitive. I often found myself bouncing across the racetrack trying to control my steering. Fortunately, after a few races, you get the hang of the steering sensitivity and you can control your race cars with a little more confidence.
Next, I see where your screen name is listed on the main screen in the generic form of player. This screen name is how you are represented on the leaderboard and try as I may, I could not find a way to customize it. The result is a lot of players listed on the leaderboard. The Windows Store description does mention having the ability to race up the leaderboard and show off your victories with your Lego Speed Champions profile. My guess is that feature was not turned on for the Windows 10 version of this game.
Lastly, Lego Speed Champions lacks a feature to upgrade your race cars. It is nice to see the complete fleet of cars available from the start, but I wouldn't mind seeing upgrades to the engine, suspension, handling, etc. be available. It's not a deal breaker, but would give the game a little more depth.
While there is room for improvement, Lego Speed Champions is a fun racing game to pass the time with. It lacks the feature depth of Asphalt Xtreme (opens in new tab) but does offer a nice level of difficulty while on the track. Graphics are drawn up in traditional Lego style with plenty of color and detail. And while the controls could be better, they're still acceptable enough that you can get used to them after a little time on the track.
Available for Windows 10 PC and Mobile, Lego Speed Champions is a free game. It's an entertaining, uncomplicated option when you feel the need for speed.
Download Lego Speed Champions from the Windows Store (opens in new tab)
George is the Reviews Editor at Windows Central, concentrating on Windows 10 PC and Mobile apps. He's been a supporter of the platform since the days of Windows CE and uses his current Windows 10 Mobile phone daily to keep up with life and enjoy a game during down time.
It's very slow on my Lumia 640 xl . What about you guys ?

This game is an example of humankind degradation. I remember the great LEGO games from my childhood: Lego Racers, Lego Racers 2, Lego Stunt Rally, Lego Loco and so on. That were the games that combined both basic computer education and creativity of the LEGO universe. Player was provided the ability to create - build different things from realistic LEGO pieces. But nowadays different LEGO games like this act like silly advertisement. I downloaded this game and it was awful. Gameplay like from GameBoy color. It has no sense of LEGO except the name and visuals.

What about girls? Can't they go fast, too? ;-)

The link to this app from your app. Take me to asphalt extreme and not the Lego application.

Lego Pullback Racers is soo much better :P :D
Windows Central Newsletter
Get the best of Windows Central in in your inbox, every day!
Thank you for signing up to Windows Central. You will receive a verification email shortly.
There was a problem. Please refresh the page and try again.