Lego Worlds will take on Minecraft with an official launch in February 2017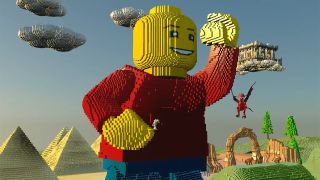 If you've ever wanted to go on a Minecraft-like adventure with a Lego twist, you'll get your chance soon. Lego Worlds, an open-world sandbox game in the same vein as Minecraft, will see an official launch on Xbox One and PC (via Steam) on February 21 2017, Warner Bros. has announced. This comes after a long period of testing as part of Steam's Early Access program.
So what can you expect from Lego Worlds? Warner Bros. gives us a hint in its press release:
Along the way, you can create nearly anything your mind can imagine, either by building structures brick-by-brick or using prebuilt Lego structures that are available. You'll also be able to connect with other players by visiting their worlds and creating together.
Overall, the game looks pretty intriguing, and should appeal to fans of the Minecraft formula. Fortunately, if you're eager to try Lego Worlds, you won't have to wait much longer. And if you're up for getting an early look, you can already buy Lego Worlds on Steam Early Access for $14.99.
Dan Thorp-Lancaster is the former Editor-in-Chief of Windows Central. He began working with Windows Central, Android Central, and iMore as a news writer in 2014 and is obsessed with tech of all sorts. You can follow Dan on Twitter @DthorpL and Instagram @heyitsdtl.
Damn too bad this wasn't an xbox anywhere title. Not sure this is doing a good job taking off. Nor is UWP for gaming.

Great potential. Sadly it runs pretty bad on my PC.

I like it, a bit shiner than Minecraft

Hard to believe this won't be out for PS4 also.... or is windows central just not reporting that?

It clearly says PS4 on the trailer title. WC just won't report that as it's focused on the MSFT ecosystem.

Building a Lego world without potentially stepping on a loose piece in bare feet is a win in my book.

Playing the game on PC, It feels as though there is still some way to go for it to be considered a finished game and its already being released to consoles. Maybe there are some major updates scheduled around the release date that would make the game more similar to what the trailer shows it to be. Still a great and fun game, but I believe there still needs some time and work to be able to compete against something so popular such as Minecraft which games like Terraria have tried.

Wasn't terraria out before Minecraft? I thought notch said he was inspired by terraria.

No. Minecraft alpha launched first. Minecraft was inspired by Infiniminer, not Terraria.

I thought Notch was inspired by money.

Yes but this game has something no other major Minecraft rival has ever had. A huge brand and a massive following. Also the possibilities of Lego extend considerably farther than what Minecraft can do with blocks. The thing I think they have to worry about is making sure building isn't too tedious.

I wouldn't really say this follows the Minecraft formula from the looks of things. The only similarity seems to be the ability to build things with blocks. The formula it seems to be following, with interactive environments and odd quests, seems closer to, well, other Lego games.

cool but if i wanted to play lego i would buy it. i dont see this game much more from this advertisement as a brand. maybe someone will enjoy it. try creativerse its free on steam and its minecraft like. other then that i only have time for minecraft among other games.

And if you wanted to play football you'd go to a sports field and if you wanted to shoot things you'd go a range right? Please, people play games for more reasons than JUST breaking the boundaries of what's possible in real life.

"cool but if i wanted to play lego i would buy it." For the price of the game have fun with your fifteen Lego pieces.

Can't do it. Their legs bend! If they twisted at the hinges that would be one thing, but this is an unholy perversion of a truly immersive and AUTHENTIC Lego experience. Stay away!

That's pretty much how all the the other Lego games work I think.

Tons of ps4s but is anyone really using them?

Any word on price? If it's still $15-20 at release, I may pick it up for Xbox One to play with my daughter.

I dont see this ever creating the breadth of the universe Minecraft has. The world Mojang allowed to develop with the Java version and the private servers and unofficial mods- which Microsoft to their credit has embraced- is just not consistent with the way the LEGO Group has acted in the past in fighting competition, to say nothing about how Warner behaves with trademark issues. The game will probably sell well initially and be popular with casual gamers and put pressure on Mojang to continue to improve Minecraft which is easier to do now with Microsofts money, but I am dubious there will ever be the same level of user created experiences as in Minecraft.

Wow, now I understand why there is no Lego Mindstorms app for Windows Mobile, probably Microsoft and Lego have been knowing about this Minecraft competitor for years and that's why these companies are more rivals than partners. Its good to see that Lego is publishing their AAA games to Steam (windows 10) and Xbox One/360 though
Windows Central Newsletter
Thank you for signing up to Windows Central. You will receive a verification email shortly.
There was a problem. Please refresh the page and try again.