Lenovo announces the Yoga Tablet 2 in India for ₹34,990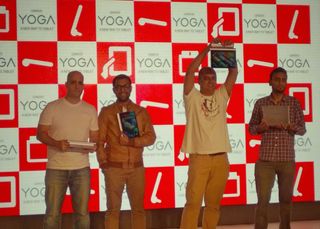 Lenovo today announced the launch of next-generation Yoga Tablet 2. The new Windows tablet is powered by Intel and will retail exclusively on Flipkart starting mid-November 2014. As well as Stand, Hold, and Tilt modes from the earlier generation of Yoga tablets, the latest series introduces a new Hang mode that allows one to hang the tablet using a cut-out in the kickstand.
While there are multiple Android models with different screen sizes in the series, only one Windows version is available with a 10-inch Full HD (1920x1200) IPS display. Powered by a fourth-generation, quad-core Intel Atom Processor Z3745 with 2GB RAM, the tablet packs 32GB internal memory inside, expandable up to 64GB thanks to microSD card support. There's also an 8-megapixel auto-focus rear camera and a 1.6-megapixel HD front-facing camera.
The company claims a long battery life of up to 15 hours. Powered by Windows 8.1, the Lenovo Yoga Tablet 2 is available for ₹34,990 ($570) and comes with 1 year subscription to Office 365 for free. The tablet also comes bundled with a Bluetooth AccuType keyboard cover, an ultra slim keyboard cover gives notebook-equivalent typing quality and attaches firmly and securely by magnets.
Yoga Tablet 2 Specifications
25.65 cm Full HD (1920x1200) IPS display
Intel Atom Processor Z3745 (4 cores, up to 1.86GHz)
2GB LPDDR3 (64-bit) RAM
32GB ROM | 64GB expandable with microSD card
8MP f2.2 AF rear camera | 1.6MP HD front camera
Twin Dolby-enhanced, large-chamber front speakers
Dual band 802.11a/b/g/n Wi-Fi | 3G/4G
The Yoga Tablet 2 looks like a nice tablet on paper, and checks all the boxes on the specifications sheet. It's expensive, but claims to be worthy of the price at which it is offered at. How do you like the tablet, and would you like to pick one up? Tell us in the comments!
Windows Central Newsletter
Get the best of Windows Central in in your inbox, every day!
Is this the same thing that was announce in the us recently? If I wasn't such a surface fan boy i would love to give Lenovo a try as I hear great things about them.

Does this and others like the transformer book support 128gb memory cards?

It's nice to see the best OS for tablets imo earning some support, but I'm sadly waiting for the surface mini still... How hopeless...

Microsoft would prefer waiting for the Surface to capture more market share and headlines, and then release the Mini model.

Wow one day after justice league announcement!!

I think the price is a little bit higher

Well not for the specs that they are giving you

I don't understand why people want everything to be free or nearly free.

lenovo price is good...considering they are giving a keyboard bundled

Android version of it is 27k. So I hope u can see the difference -_-
While Hp Omni 10 which is similar to it but with 1.4 ghz quad core Intel atom processor cost 26k .

Android is open source freeware crap. Windows comes at a cost. Like every precious things does ;)

So u mean, license fee for Windows 8.1 is about $100 . Are you crazy -_-

Its the initial selling price. Initially things are always expensive. Eventually prices come down. I bet android version is around for months now. Makes any sense? Or do i need to elaborate some more.

I'm waiting for ThinkPad 8 to be available in Indonesia

go for dell venue pro 11 if you need stylus... of course it will be costlier and you wouldnt get keyboard bundled with it... i got Asus T100 and am happy with it...

Dell venue 8 pro has a stylus too.... It is available for 18,500.

Link or store name???? Plz

http://m.ebay.in/sch/i.html?kw=dell+venue+8+pro&_trksid=p2059706.m2930.l...

This would be perfect if it had a stylus. Very good design. Waiting for Surface pro 4.

Isn't this way more expensive than the price announced for the US?

i bought Asus T100 64 gb...two months back from qatar for approx INR 25k... not interested in this tablet even tho it looks good

Atom processors at 35000₹ is not good.

Wow...a nice tab again with Windows 8.1 ready to be upgraded to the best ever OS (Windows 10)...but I think the price is a bit high for indian region, should be around ₹27-28k..

still waiting for the surface mini
Windows Central Newsletter
Thank you for signing up to Windows Central. You will receive a verification email shortly.
There was a problem. Please refresh the page and try again.