Lenovo's REACHit search assistant app is shutting down soon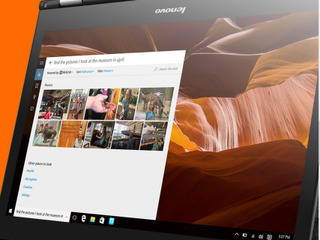 Lenovo announced that its REACHit search assistant app will shut down and become unusable in the near future. Microsoft and Lenovo collaborated on adding Cortana features for Windows 10 to the app.
REACHit offered customers a way to search for photos, videos, documents and music across devices, including Google Drive, Dropbox, Box, OneDrive, PCs and tablets. The Cortana version launched in beta in mid-2015 and was later expanded to non-Lenovo Windows 10 PCs in early 2016.
While Lenovo's email to customers states that REACHit will shut down on September 12, the company's FAQ page (opens in new tab) claims that date will happen a bit sooner on August 31. Regardless, the app will no longer be able to access Lenovo's REACHit servers, making it unusable. The FAQ page has instructions on how to delete the app from your PC.
Lenovo didn't offer a specific reason for the shut down of REACHit, with the email stating only that "we now have new priorities on Smart Devices."
Did you use REACHit on your PC and are you disappointed that Lenovo is ending its support for the app so soon? Let us know your thoughts in the comments!
Thanks to Bruno for the tip!
Windows Central Newsletter
Get the best of Windows Central in in your inbox, every day!
Never Heard Of It. So not disappointed here.

I installed it on my Surface. Then my resource monitor exploded in a firey inferno*. So I dropped that thing like a bad habit. *no resource monitors were actually harmed in this story.

installed it but my bandwidth slowed to a crawl so disabled asap

REACHit failed because it was based on Cortana.

Then you don't know what reachit or Cortana is.

REACHit was not based on Cortana. It was available way before Cortana's introduction. Posted via the Windows Central App for Android

I thought it was sketchy to begin with, another way for Lenovo (China) to spy on unsuspecting citizens. Shame

Mind it, you can't say thing like that. They have more ground to make the same accusation about MS. Though I wouldn't install it without looking it up first but we have to show respect for others invention or progress.

Pretty much agreeing with everyone here. Installed it, slowed everything down, got rid of it. This is no big loss.

Barely used it I think I uninstalled it already

I uninstalled the version that came with my Lenovo laptop before ever using it. Didn't know what was preinstalled, so I Binged it, saw the numerous complaints, and removed it promptly.

Given the fear over ANYTHING Lenovo-related software, I wouldn't even give it the time of day for a trial period, let alone put up with the fact it slowed everyone's computers down.

It was preinstalled on one of my laptops, one of the first things I did was uninstall it, not interested in any OEM software ever, if I want an app or a service I'll find it myself and install it

It did work as desired, but looked like crap and was a big slowdown.

DUH DUH DUH DUH DUH DUH........ANOTHER ONE BITES THE DUST!

The mail also said that they have something interesting to reveal after that.
Windows Central Newsletter
Thank you for signing up to Windows Central. You will receive a verification email shortly.
There was a problem. Please refresh the page and try again.