Lenovo ThinkPad 8 is now available at Amazon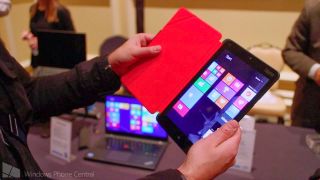 One of our favorite gadgets from CES 2014 is the Lenovo ThinkPad 8. It has an 8.3-inch display with 1920x1200 resolution, Intel Atom quad-core processor inside, internal storage up to 128GB, microUSB 3.0 port, and more. If Amazon is your favorite retailer, then you're going to be happy. Amazon is now selling the Lenovo ThinkPad 8.
Lenovo ThinkPad 8 specifications
8.3 inches Display
Intel Z3770 Quad Core 1.46GHz(2MB Cache, boost up to 2.39GHz)
Windows 8.1 32-bit
Office Home and Student 2013 Full Version
Intel HD graphics (Bay Trail)
2GB 8500MB PC3 DDR3 onboard memory
Up to 8 hours of battery
802.11 a/b/g/n wifi
Bluetooth 4.0
1 x Mini USB 3.0, Micro HDMI 1.4a, MicroSD Slot
Front camera: 2 MP (HD1080p), Rear camera: 8MP (HD1080p) w/ Auto Focus and Flash
Amazon is selling the Lenovo Thinkpad 8 for $449.99. According to their page, the ThinkPad 8 will ship within 2 to 4 weeks. Need to have a closer look? Check out our Lenovo ThinkPad 8 hands-on video from CES.
You can also grab it from the Lenovo store. Are you interested in the Thinkpad 8? Let us know in the comments!
Thanks for the tip, Christopher!
Windows Central Newsletter
Get the best of Windows Central in in your inbox, every day!
Mine, ordered direct, should be shipping soon. Pretty stoked.

he owns two of every windows device ever made :P he even found an Lumia 820 in his drawer which he didn't even know he had

Must be nice to be rich! Lol

Mine is order as well. They just changed the ship date from yesterday to the 21st. I was excited yesterday. I can't wait to see the screen compared to DV8P.

Needs another usb port. Otg integration on these babies awful.

Tried to several times, Lenovo's site screws up and tells me my zip code is wrong. it's not. Zero customer support, looks like Im coughing up the extra $50 to get it on Amazon. Are there any other covers for this? I want a folio, I dont like the smart cover.

Without having 4GB of RAM, not sure if it could take full advantage of a 64-bit OS

That's only one part of it. Apps/OS can/are optimized for 64 Bit extensions (x86_64). Extra security features are enabled in 64 bit Windows 8. If the processor doesn't support them, you're forced to use 32 bit.
While 32 bit is mostly fully encompassing for end users, as an enthusiast, I feel the lack of the full use of the processor would be on my mind.

IIRC Intel's smart connect technology is only supported on 32-bit Windows, which is why most tablet manufacturers opt for them since it is most useful in tablets. But I can't seem find where I read about that.

Can't you just load it with win8 64-bit?

Bay trail is a 64bit SoC, but I believe Microsoft did not have 64bit windows 8 ready with some features that tablets needed. Possibly the always on standby.

The one I heard was missing drivers. Technically you can update but supposedly you lose free office, others than what's pointed out above with 2gb ram there's not much point disappointing really.

What? The Surface Pro runs 64-bit Windows 8.x, so not sure what isn't ready. Standby has worked fine for me since 9 Feb 2013.

Surface pro doesn't have an Atom chipset which im assuming is the culprit. (you know what they say about assumptions)

Can you have 2 Apps opened at once (side by side)??

U just saw an android video now right?

Funny!! I thought I heard the side by side apps won't work on an 8inch device. Did that change?

Works on my Dell Venue 8...

It won't work on resolution less than 1366x768 if I remembered correctly. Or was it 1280x720. Probably the latter.

That is a feature of Windows 8, so yes you can have two apps running side by side.

With a full hd display you can go into settings display and set it to smaller and get 3 apps side by side.

Cheaper direct from lenovo.

I like this device very much. Just don't fancy the big logo in the top right corner though... I'm curious what the price will be here in the Netherlands. This would be the perfect tablet-on-the-go as my second device. I have a Surface RT but 8" is much more mobile :)

My thoughts exactly about 8in being more mobile.

specs at amazon say "Processor 2.4 GHz Apple A4" Geeezzz!

Lol, really? Edit: Wow! It totally does say that.

Ordered mine from Lenovo on the one day the price was $379. I snagged the tablet and cover for less than $400 including tax. (used 10% off coupon for first time customers)... Very lucky. Excited to get mine soon. Coming from a first generation Surface RT, this should be a huge upgrade.

Lenovo please launch this in India

Where is the LTE version?

Did you see what processor they have listed? Apple A4?

I know this tablet has HDMI but I want to know how good is Miracast in these devices. Is it good to watch Netflix and play games?

Miracast works very well on DV8P. I use it all the time. The only thing is the resolution doesn't fill the whole screen with the DV8P. I will test the LTP8 when it arrives. The higher resolution should take care of that problem.

Ordered mine direct waiting for mine. So excited! Posted via the WPC App for Android!

I cancelled my ordered. Decided to wait for an LTE version should one come to light.

I want that tablet! Easily the most impressive one out there.

Not here, just waiting for the swxt looking miix 2 11 :)

Is it that much better than the 200 dell venue pro 8? sent from my kick a$$ Nexus 5!

Not better! Different. No digitizer and shorter battery life due to the high resolution screen.

Gracias! sent from my kick a$$ Nexus 5!

Detailed specs have the proc listed as an Apple A4. Whoops! Has anyone who has purchased both the Lenovo and the Venu 8 Pro noticed a significant advantage in performance? I was hopeful that the memory would get bumped to 4GB (one of the prelim reviews said the Lenovo would be available with 64 bit memory addressing up to 8GB, so I'm sad not to see any larger memory options). The screen seems incredible on this thing, but I'm wondering what the hit is for the additional pixels.

Looks like the spec for the proc shows only 4GB of max support (though it does support 64bit).

still waiting for surface mini announcements first as I prefer RT

Is a keyboard cover made specifically for this device available?

This has been on the Lenovo site for as low as $399 recently.

Better resolution than the Dell and 16:10 vs 16.9. The covers for the Dell are all kinda bulky as well. The Lenovo cover looks really nice.

Ill browse on Amazon and then buy from someone who pays tax.

Nothing stopping you from submitting the tax yourself.

I need this tablet in a 10 inch version.

Oh, and with a digitizer.

I thought they do have a 10 in version out already

Could I plug in a wireless pointer in the USB slot if I get a micro USB -> USB adapter? This looks great for presentations if so.

Anyone know if there are other covers for this? I dont like the smart cover, I want a folio. Will a Dell venue 8 case fit this? I know the thinkpad 8 is bigger

I ordered this on February 14 from Lenovo.com and they keep pushing the ship date back a week everytime I check the status. They now have this not arriving until March 12!!! Does anybody even have this tablet yet? Lenovo advertised this as "available" all the way back in January! What gives?

Scratch that....now they sent me an email saying it won't arrive until mid April. What a joke.

Got lenovo Miix 2... Nice one.. removed McAfee right out of the box, processor killer. using CPU around 40% always. If need virus protection use AVAST.
Windows Central Newsletter
Thank you for signing up to Windows Central. You will receive a verification email shortly.
There was a problem. Please refresh the page and try again.