We get some hands-on time with the Lenovo ThinkPad 8 Windows tablet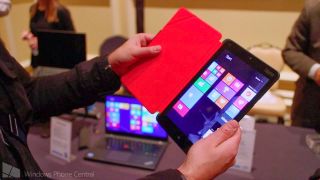 We covered the Lenovo announcement for its ThinkPad 8 Windows tablet yesterday, but we also managed to get some hands-on time with the product itself. Before CES 2014 even kicks off we're prepping ourselves for all the cool gear that's on show. Head past the break for a quick look at the ThinkPad 8 from Lenovo.
To serve as a quick reminder, we're looking at a 8.3-inch display with an impressive resolution of 1920x1200. Powered by Windows 8.1 Pro, you've also got a Intel Atom quad-core processor inside. Other specs include internal storage up to 128GB, a microUSB 3.0 port, LTE connectivity and more. Keyboard and docking options will be available separately.
The Lenovo ThinkPad 8 goes on sale in late-January and will be available starting at $399 in configure-to-order models or $429 at retailer. Remember to stay tuned to our feeds as we'll have more coverage from CES 2014 through the week.
Windows Central Newsletter
Get the best of Windows Central in in your inbox, every day!
Rich Edmonds was formerly a Senior Editor of PC hardware at Windows Central, covering everything related to PC components and NAS. He's been involved in technology for more than a decade and knows a thing or two about the magic inside a PC chassis. You can follow him on Twitter at @RichEdmonds.
Is the screen 1920x1080 or 1920x1200? I have heard both in different reviews.... Here is my take on DV8Pro vs Lenovo Thinkpad Tablet vs iPad - If you are a normal consumer looking for a tablet that can also keep you productive when needed (airports/coffee shops etc) and looking for something that complements but not a replacement for your main desktop - Dell Venue 8 Pro is the better value. If you are a business/IT manager looking to order for your work-force out in the field - this Lenovo is THE WORK TABLET to order. Fully productive when outside and it is a full desktop replacement when back in office with microHDMI and that USB 3.0 port! If you are a CEO/exec with more more money than brains - the latest iPad is for you!

I understand your point...however, Im not a business professional but the Lenovo's screen resolution makes me favor it over the Dell.

yeah i agree the HD resolution has me really interested as well, more so than anything else.

I like that is has USB 3.0 where the Dell Venue 8 Pro has USB 2.0.

From pictures it looks more like a 1920x1200 to me, since the screen looks relatively wider than on the Surface when in potrait mode.

I wonder if it'll support multiple screens in USB docking...

Its are https://www.youtube.com/watch?v=kzA_1SWbsVI

Wow! I'm impressed! Every time I'm ready to pull the trigger on something, someone else comes up with a device like this!

Buy now and be happy! Can't wait forever.

I like it too. Especially since I have the Kindle Fire HD 8.9in LTE version and wanted a Windows 8 Tablet with similar screen size. This screen resolution and size looks gorgeous.

Is it better(value) than dell venue 8

Better screen, same performance, and no stylus. I still like the DV8P better since its a lot cheaper and has the stylus (you can get one for $250 online).

Better processer, usb 3.0, option for sim, better camers and an hdmi out. dont forget thoses

Definitely. But dell venue 8 pro is around $100 cheaper than this one.

Dell has the same CPU and RAM for almost half the price (depending on the deal you find). But for me personally, the LTE makes me lean toward the Lenovo so I can get some work done on the train.

Not true, The dell has the atom Z3740d The lenove thinkpad 8 has the z3770 http://www.phonearena.com/phones/compare/Lenovo-ThinkPad-8,Dell208%20Pro/phones/8264,8245

It isn't the same CPU. Dell uses the Z3740D, a 1.8Ghz single channel RAM part. The Thinkpad 8 has a Z3770 with presumably dual channel RAM. It isn't even close to half the price. It's 75% of the price. That isn't almost half :P If you get one for $250 thats almost half, but MSRP is 299. The Thinkpad will go on sales too. This is kind of like the difference between a retina and normal iPad mini. The extra $100 gets you a lot more for your money. The only bad is the stylus and thats not enough for me until they really improve the accuracy. Plus, the start button placement makes more sense.

Tether Bluetooth to your phone and never look back. I see no reason to have redundant LTE devices. Unless you don't carry a phone around with you, this is the way to go!

Thing is, it's a full Windows 8 PC and it's not going to realise that it's on a metered connection (since to the device, it'll be WiFi). So you might end up with your metered connection getting mullered by Dropbox, Skydrive and Windows Updates etc..

on windows 8/8.1 if you hold on the connection youre using it will show you a few options, one of them is to "set as metered connection". but i dont know how reliable it is. built-in lte is much more practical though

Not true, my Windows 8 PCs normally detect that they are on a metered connection when hooked up to my phone's hotspot and automatically disable SkyDrive syncing.

Incorrect. With Windows 8.1, it recognizes that it is a tethered connection if you connect to a hotspot/smartphone.

In my experience, Windows 8 knows it's when it's tethered if using a Windows Phone, but not iPhone. I haven't tethered to iPhone since the 8.1 update, so that may have been introduced. I'm not sure how that magic is done over the WiFi sharing, other than perhaps some network identification put out by WP?


With the newest firmware update on Windows Phone 8 and Windows 8.1, you can do a setup between the two devices via bluetooth such that the tether on your phone automatically turns on when you connect to your phone's wireless connection. It is like magic. It doesn't "auto-connect" such that it will keep turning on your phones tether. You have to say you want your computer to use your phones network and then your phone lights up the tethering until you haven't used it for a while and then it turns off. It is a very cool feature that makes the Windows Phone/Windows tablet combo a very powerful one.

OK fair enough chaps, I didn't know about that. Thanks for letting me know. I can definitely make use of that!

Dohhh... It kills your battery yo tether

I assume you haven't used Bluetooth to "tether" before as you seem unenlightened...

No more than connecting to any other hotspot would - and if you use it as a metered connection the device will pause or disable most background tasks that utilize the network, thus a reduction in system CPU usage while connected versus a regular, non-metered connection over bluetooth or WiFi. Seems like you have little or no experience with tethering an 8.x tablet or laptop to a cellular device.

Compared to the 64GB version, I would say so. It's missing the Digitizer option which could be quite valueable however. I have the 64GB Venue 8 Pro but no pen yet. In desktop mode it would be very helpful getting precise touches on such a small screen. It's a shame Lenovo didn't add support for this. Very pleased with my Dell. This is exactly what Microsoft envisioned years ago before the dawn of the iPad. The partners, the OS, the processors and manufacturing were not where they needed to be back then by a long shot. This full capability, touch optimized Windows platform is what we've all been waiting for. We've made due with ipads and .99 cent apps in the mean time. A little late to the game.. yeah but this is the OS of the future and Microsoft is leading the way by far. Can't wait for the next upgrade in processors and next round of tablets. 8" is perfect imho and Windows 8.1 is awesome with it. Really looking forward to the evolution of Windows as well as they fine tune everything.

I'm on my second stylus with my DV8P. I guess their manufacturing wasn't great since there were so many lemons. But this second one is great. The two firmware updates have really improved things. My only complaint now is that I don't always have the pen with me when I suddenly need it. (Which is why the new ASUS has caught my eye.)
In all, this is the best tablet I've ever owned. It is so much more integrated, functional, and powerful than any of the other OSes out there. I still can't believe that there are naysayers saying the desktop is stupid on an 8" tablet. I use it as a tablet easily. And then I whip out my Bluetooth keyboard and mouse and use it as a PERFECTLY functional computer. I even connect a joystick to it once in a while and get in some practice approaches on my old flight simulator.
What an amazing tablet!

Not better than my $99 venue pro. I like my dell, even though there was a slight build issue with the case near the volume rocker not being mated properly and leaving some room for movement (visiting family and mom accidently threw receipt away, my fault though). However, the folio will take care of that. I would say this is great if you want to spend $399 for a high end tablet. But not great when you realise that it is only $100 less than a surface 2. Even the DV8P is over priced for what you get. BUT, again, I jumped on the MS $99 sale on Dec 9 and got walmart to price match it so I didn't have to show up at the MS store at 5:30 like some said they had to do.

Glad I waited, I almost bought the Dell venue 8 pro 8 venue pro 8 pro. man that's a long name.

Don't buy this too..next year there would b better one thn this...and you will b glad u waited...trust me I just want to see u happy

Nice vid, but would've like to have seen tent mode on a *bare table* - those felt tablecloths add friction...

Not available now. I just went to the Lenovo site, and they only list the Miix. ThinkPad 8 isn't available yet from their site.

QUOTE " The Lenovo ThinkPad 8 goes on sale in late-January "

Ahh I just saw the video and didn't read the article. In the video he says it is available now on Lenovo.com and he is ordering one tonight. :) Thanks for pointing that out.

Just missing the Wacom digitizer :( I might wait till someone comes up with a full HD 8 inch tablet with wacom support

What about the new Asus? My understanding is that it uses the Wacom digitizer.

Asus is a good option. However, it doesnt have the same resolution as the Lenovo.

Question, what is the difference between the two? Is it mainly used for writing on the tablet? cause I do draw sometimes on my girlfriends iPad and that doesn't have Wacom on it but i use a Jot Pro which works great. I guess I am more looking for a Wacom drawing tablet experience on a Windows tablet without going head long into a Wacom companion ($2k investment) xD I read the Asus only has around 1000 points of pressure, but I might just go for this because of the HD display and use Sketchbook pro with my Jot Pro. I could also just get a wacom tablet and use it with this if I really need to draw something. This is getting slightly confusing when you talk about Wacom drawing tablets and Windows tablets in the same paragraph. xD

The Thinkpad 8 has full HD resolution with faster processor and it's 8.3" screen, compare to Asus which has the same specs as the Dell venue pro and with Wacom digitizer.

what is the digitizer mainly used for? as it is not the same digitizer as the ones that are on the Wacom companion or Wacom drawing tablets.

I meant it has a wacom stylus and you can use it like a wacom tablet which is a big plus compare to other tablet if you're looking for one. I like the thinkpad 8 it has all the nice specs except it doesn't have the wacom stylus.

Well it only has 1000 points of pressure compared to a Wacom drawing tablet of 2048 points of pressure. What is the difference between a non active digitizer and a active one? Why would I need an active one? Why is it such a big deal that the Asus tablet has one? That is what I do not understand. :( What will I be missing if I choose the ThinkPad? I have used a Jot Pro with an iPad as I have said and works wonders. This is a Jot Pro http://adonit.net/jot/pro/ I mainly use my girlfriends iPad to browse the internet, read comics, watch videos and occationally draw.

The way I like to describe it is that using an active digitizer is like writing on paper with a regular pen. Sufrace Pro 2 uses a Wacom. Try looking for "Surface Pro 2 Pen" on youtube and you can find a few videos. Another test would be to walk into a BestBuy, Staples etc and work with the Surface Pro 2 stylus. That will tell you if the experience is better than on your iPad with the Jot Pro.

Here's a link that will explain to you http://www.touchscreenlaptopinfo.com/189/passive-vs-active-digitizer-touch-screen-laptops/ and for some people they like to have wacom stylus on the tablet it's a lot better than the capative pen digitizer. Jot Pro is like AutoDesk sketchbook pro, maybe you will like this one. http://www.autodesk.com/products/sketchbook-pro/features/all/gallery-view

Jot Pro is a non-active Fine point stylus. The best I have used (and i have used a lot). I use it with Sketchbook Pro on her iPad. I am guessing the iPad has a passive digitizer but it allows me to rest my palm on the screen without it thinking i am selecting something. I am kinda getting it but still don't 100% it xD I love my Jot Pro so I don't think I will go with an active digitizer as I am used to my Jot Pro. I guess i'll put it on my list of requirements but near the bottom as an HD screen is near the top along must be compatible with comixology, weigh less than a pound and the screen being under 10 inches. thanks! :)

This is what I've been awaiting for! This is what we've all been waiting!

Great device, just missing the Wacom stylus for my needs.

+1; with Wacom it would have been perfect, now it's just meh, at least for my needs.

Great thing about Lenovo at CES is most of their products announced will be available in this month itself and priced well. Thinkpad 8, yoga 11 - late january. I wish miix 10 also available in Jan or feb.

I'll be getting this for my wife. Time to put my Thinkpad discounts to use!!!

Dell should really bring back their Adamo line of devices and give us an Adamo 8 and Adamo 10 tablet. This device is going to edge out the Dell Venue Pro 8 devices.

Yes. They should also make premium models with better specs.
Adamo 8 - full hd, wacom stylus, premium build
They can price these at $100 more than venue line up.

Hey Daniel, can you remove all the stickers and logos from the back? It kind of ruins the cool design.

I like that this one has mini hdmi out. That's what I'm missing when considering a DV 8 Pro

Is it a crime to have this if I already own a Surface Pro 2? Man, this looks amazing!!

I want a new ThinkPad yoga! I know it just came out but I want a new one!!

Do you guys know how much better that would be if it was just RT? There is no need to have full windows 8 on 8 inches, You can NOT see anything if you want to use a "legacy app" Just RT with that design (Dont worry the apps are coming and will continue to come) but it may be a little thinner and lighter and with a faster ARM chip, Maybe a Snapdragon 805, and throw in 3 gigs of RAM instead of two and forget about it, You got yourself a winner. Oh and a $300 price instead.

Agree. Settle with RT or add a stylus.

Don't see why every reviewer on other sites want full windows on every damn device. With a fully capable browser that has flash support, built in office, FB and Twitter apps, I can do 99% of the stuff that I intend to do. Im not going to run visual studio on a 8 inch device for sure.

Agreed, for use as a consumption device I specifically don't want Pro... would rather have RT. Too bad the bloggers and tech industry decided RT sucked without allowing it time to get any apps.

Well the app situation on RT is non optimal. I miss FitBit sync support and my pay TV company in Australia does not have an RT app, only a Windows desktop app. Give me those 2 apps and my surface2 is next to perfect.

I use my DV8P all the time with old x86 apps in the desktop with my Bluetooth keyboard and mouse. It works perfectly well for me. Just because you wouldn't use it like that doesn't mean everyone wouldn't.

Why would you want to though? You telling me it does not hurt your eyes to concentrate on a full desktop application on 8.inches of screen. Nobody was saying there is anything wrong with it, its just that for tablets, tablet optimized apps are best. And for that RT would be a better fit. Dont get me wrong I have an RT machine and I use X86 envorinments via Vmware View, I connect to my VDI I got setup at work and when needed I can do work right from my tablet. But that is usually a quick thing though. Something is wrong with our exchange server for example, I go in take a look at get right out. After that I don't want to continue to comsume in the desktop view and that is on 10 inches, I can not imagine 8. TO each their own though, just remember though there is a reason Tablet PC did not work with XP 10 years ago and why the Ipad changed everything.

If you like RT, buy an RT tablet, I am glad that it isnt RT as full windows has benefits that RT doesnt and with full Windows 8.1, I get the best of both worlds. Why settle for limitations just for the sake of being limited? I will keep my full Windows 8.1 http://www.youtube.com/watch?v=efDdh1iOC_8&feature=c4-overview&list=UUIVJaXRBpzFJD_SDDv-_wHQ I can't do any of that on RT and if you are fine with choosing to do less for your money on the same sized screen then that is your choice. I dont want a Windows iPad, I want the same Windows that I have on my desktop and laptop and when I am on vacation, I can do same exact things on my tablet that I would do on my desktop at home. Choice is a good thing as everyone likes different things. Just remember, if you buy a full windows tablet, no one is forcing you to use desktop programs, use it like an RT tablet, stick to store apps and you still will have a better device for your money. Thank you.

You do understand that no one has not said that 8.1 on x86 is not great to have on a tablet device, I think a device like the Thinkpad helix or the Sony Vaio Tap 11 are excellent. That being said we where talking about 8 inch devices. Also you do know that regardless of what anyone tells you, 1. The battery life is better on an ARM device 2. because its x86 it is heavier and thicker that it would be than an ARM machine due ot the fans and larger power supply, Also heats up way more. All that is being said is that RT has a right to live and is a great OS, especially for tablets.

Wow, you are pretty defensive of RT. I stated that it is good to have choices, that if you like RT, buy a RT tablet, those that like full Windows can buy a full windows tablet. Yes, I know we are talking about 8 inch tablets, I own the Dell Venue 8 pro. Did you watch the video I linked? Who mentioned battery life? Where are you getting info that the 8 inch x86 tablets are heavier and thicker due to being x86 and having fans and having larger power supplies (but worse battery life as you pointed out)? Are you still talking about 8 inch Windows Tablets? It seems like you are defending RT to the wrong person, I said that it is good to have choice. I cannot find a fan, large power supply or 8 inch full windows tablets being larger by reason of their x86 architecture anywhere.....not even on my Dell Venue 8 Pro. There is no need to defend RT, it is what it is. It cannot run x86 programs and that is a fact while a full Windows Tablet can do all that RT can do and more. I can run the same Store Apps and browse the same way as you can with an RT tablet. No complaints, no competition, its all about choice. I didnt buy an RT tablet because i wanted to play the Dreamcast, Killer Instinct Arcade, Steam games, PC games, programs and browsers that are not available on RT due to the lack of legacy x86 support. I am not attacking your preference of tablet OS, we all have the freedom of choice, choose what works best for you and be happy.

Thinkpad brand is their business oriented line so it's designed with that in mind. RT would be a consumer device and wouldn't have the Thinkpad branding. Maybe they'll do one, who knows.

I hope so. With that nice aluminum finish, They can add it to their ideapad lineup and have them come in different colors.

On my Dell Venue 8 Pro I can, and do, play Civ5 in its Win8 touch mode. It actually plays remarkably well. I cannot do that on a RT device. RT is great for systems I set up for non-power users. But for people like me compatibility with full Windows apps is a huge bonus, especially for gaming on the go.

There is one huge omission that just makes this tablet a no-buy, and that is that Lenovo failed to put an active digitizer on the tablet. This tablet would have been a decent alternative to Surface Pro if it had the digitizer, without it it's on par with Dell, Toshiba and other 'nothing special' tablets.

Why why why did they not put a stylus on this one like on some of their bigger tablets? If you are ever going to need one its on a small device like this with Win 8 Pro and such a high res display. It just don't make any sense at all.

Are we sure there is not digitizer? Just pulled this from their site. "The ThinkPad digitizer pen with onboard storage is great for natural note-taking, signature capture, and document markup."

if this is true (it is written on the site indeed) This is the best 8(.3)" tablet out there for a sharp price evenhen their is no pen it is a verry good and sharp priced device edit: in this video it is said to be no digitizer http://www.youtube.com/watch?v=C8ig0al1484

So where do you put it? In the pocket or a bag? Lost within a month. Should,have been integrated like on the helix and their other pads.

If you are a "loser" don't get one then. ;)

Hah :)
Im not. We are looking for a good 8incher for our users at work.

Ahh okay, yeah I see those pens getting lost quick then.

I've always mocked (internally) people that hold up ipads to capture pictures and video at events and things. I would respect anyone that did the same with this device. Thanks for breaking me in iNerds.

Wow! This easily beats the Dell Venue 8!! And I thought that was the best Windows 8 8-inch tablet, so far!

Really considering this.. but i might opt for a Lumia 1520 (6 inch screen) which is close enough and a Lenovo Yoga 2 Pro (13inch) instead or Thinkpad Yoga. Man there's just too many options out there...i love it. I've always loved Thinkpads though!

I'm really thinking of getting one, if only the price point was a bit Lowe, about 350$

I wondering, is this tablet had Desktop Mode ? ,

"This is the 8" tablet you've all been waiting for." This man speaks the truth!! The DVP looks great but this looks better. HDMI out? That's exactly what I wanted. I prefer HDMI out over the digitizer pen. So glad I convinced my wife not to buy me a secret Surface 2. I would've been happy but I really want an 8" tablet.


I wish windows 8 had some real games to play besides the so so lack luster games being offered and I don't want to take pictures with the tablet so I'll still to my lumia until the marketplace catches up on quality games and entertainment but it is a nice device

Guessing you mean Metro games. Just play full PC games to hold you over.
There is always Steam.

Well I like games designed for a tablet and after a hard days work I got spoiled by grabbing the iPad and playing games, I just wish windows 8 ha the variety and quality of games too,,, but do tell me more so I can buy sky rim, madden, splinter cell etc for PC and play on this tablet??? Help me understand this please?

Yes you can since this is basically a full Windows laptop in a tablet form factor. The only limiting factor is whether the integrated graphics can handle those games. Search for gaming reviews for the Venue 8 Pro on Youtube to see which games are playable on baytrail.

This is a really nice device. Too bad they have that aweful logo. Thinkpad is a bad name, the logo is even worse. Still this has to potential to be a real winner.

199 lte I will jump on it

How are these Intel processors compared to Arm processors? I know the difference is Full Windows 8.1 compared to RT but is the perfomance the same and the battery life? I really hope the Surface 3 is gonna be a Intel soc ...

The current generation of Atom is roughly 2-3x the performance of ARM in about the same power profile. There are other drawbacks for going Intel, such as the lack of an integrated communications solution(LTE) but in terms of performance and performance per watt they have ARM beat pretty badly.

From benchmarks I've seen, Baytrail can beat the Snapdragon 800 and Tegra 4 easily in terms of CPU power, but loses in GPU.

I'm underwhelmed by the cover. Hopefully a 3rd party hard shell comes out, with a stand, that isn't too bulky. That's why I'm keeping my Toshiba Encore for now. Also, 1920x1200 seems useless on a device this size. Can you even read the desktop icons at that size?

You are complaining about full HD in a 8" tablet! I just wonder what you gonna think of full HD in smart phones which is now quite common?

Who are you to challenge my greatness!? Bow before me!

You can always change the size of desktop icons.... Also it seems to be more of a dock and go kind of concept.

While the Lenovo seems better for a few obvious reasons (HDMI, larger storage, better screen), there are a few concerns that gamers like me should have. The cpu is also sadly the same as the DVP. Anyone that games on their DVP knows that many of the better Windows games barely run smoothly on Dell's lower res screen as it is. Pinball FX2 has some slight lag on full graphics quality. Quite a few other games are in the same boat. I installed Fifa '14 on it and it's only playable on the absolute lowest graphic settings. Even then it's averaging around 30fps or so, but probably less. Now up that screen res to full HD and we'll easily see most of these games the DVP barely plays well now become completely unplayable. I'm not suggesting this should be the main reason for people to not consider this device but if you're like me and enjoy playing games in between the other work or surfing you do I would definitely reconsider that before selling off your DVP. That's my only concern.

Read before you post. What source says the CPU is the same as DVP8?

Better processer, usb 3.0, option for sim, better camers and an hdmi out. dont forget thoses

Since when is x86 as limited as ARM? You do remember that you can change the resolution of most desktop games to playable levels, right? As long as you lower the output resolution, it doesn't really matter how high the screen resolution on the tablet itself, is it.

I'm hearing different things about it having a digitizer. If it does. I will definitely get one. But even without the digitizer this is very tempting. I'm interested in seeing some keyboard and docking accesories for this tablet. But i'm also interested to see if a Surface mini ever decides to pop up in the next 6 months or so. Hopefully with a Pro edition of the Surface mini as well.

Does it include a HDMI Port?

Loving this. Looks so much like iPad mini. That's a form factor I really like. Is this the same screen size. I hate the 16:9 format. Can anyone clarify? Sorry not a very techie person here...

Its a 16:10 ratio, not as wide as iPad Mini's 4:3, but definitely better to use in portrait mode than 16:9. Then again, there are still plenty of sources that get confused which aspect ratio this tablet comes with, so it might just be 16:9 for all I know.

Thank you. I hope its atleast 16:10.

Ughhhhh....as an avid windows user (laptop and phone), im in the market for a tablet, and this looks perfect. The problem is, im a medical student who will be starting my rotations next year and would love a small tablet to carry around to reference good medical apps. HOWEVER, there is an extreme lack of apps for medical professionals in the app store. Please please, don't make me get an iPad mini instead and make medical apps!!

This is full windows 8.1 not an RT, and I think you can get a medical software that will run in this tablet.

Yea, you're probably right but its just a shame there aren't a variety of good free medical app options like there are on android and ios

I think in a long run it will benefit you having Windows tablet compare to android and ios, at least in windows you can do more on a small tablet. The doctors I know uses Microsoft Office and Hospital too uses them, you get them free with Windows tablet. Gook Luck!

I keep seeing you guys mention the stylus over and over again. Other than some sort of photoshop or graphics art programs, what are they useful for? It's a serious question, does the average person really need a stylus?

although i haven't tried yet, OneNote comes to mind. The ability to take notes with a stylus is a major win.

How is the dell venue 8 with the software update I wonder? Supposedly they fixed the stylus issue????

Smallscreen, desktop, fat fingers, nuff said.

Aw yes please keep coming out with more of these so the dell or Asus T100 drops in price!

I like what dell and toshiba are doing, portrait oriented tablets, they look much better

Dumb question but how so? I'm in the market for a tablet and am looking at the Asus t100, the dell venue and Toshiba....what makes landscape on the two better?

Hmmm just watched the video and this maybe the one for me!!! Love what I see!

Surface mini needs to be announced asap. I can see a surface 2 mini and surface pro mini to compete with the ThinkPad 8 and the other lower cost 8" tablets. Will wait to buy another 8" until surface is revealed. Think pad 8 cover makes me want a type cover and integrated kickstand bad.

Will it be released in Germany also? Did they mention any date for the LTE-version?

Only problem with this tablet is the price. Great job, Lenovo.

I have fallen in love with this device. I can't wait to buy it.

The Surface Mini is going to outdo this, with better build quality, more features, kickstand, etc. Traditional Windows and x86 software sucks on a tablet and I do not understand the desire to run regular Windows on a tablet. It sucks on touch devices and always will. Windows RT is a vastly superior tablet OS for a number of reasons.

I think that driver support is much better on x86. For example, all kinds of USB3 Docking stations can't be used on RT wich is a shame... hardware is there. That is probably the true for all kinds of small untipical devices people are using on PCs. But if you are going to use windows tablet the same way you are using non windows tablets.. then RT is just enough...

This is a business tablet keep in mind. Tablet on the go. When you dock it. It amazingly turns into a computer with two screens.... One device that does it all. I respect your opinion but I don't get why someone wouldn't want full windows on a tablet...

sonofa... i just bought a miix2! still happy. but that usb3.0 port though...

I want this plus free HERE maps and GPS. (Please.) P.s. no, not the Lumia tablet. Some unholy combination of it and the Thinkpad, maybe.

+2520 :-) I can't figure out why everyone is forgetting the gps on these things. GPS and Here Maps are one of the biggest reasons why I went for Lumia 2520.

They probably think people who work are chained to a cubicle all day... Whereas those who don't waltz around skipping, smelling flowers and running through lush green hills :p

I am very curious though, why would you need Full HD on such a small form factor? Would it really make that much of a difference? Provided I don't intend to read Kindle books all day long on this thing?

Sweet, cant wait for the hands on review!

what about micro HDMI so I can conenct the content to my TV?

It has a micro HDMI from what I have read from several articles.

And this is Windows Phone related how??

Windows phone central also covers anything windows 8 related. Technically it is a mobile OS in tablet form. So it makes sense to cover it. They even cover other microsoft related things like the xbox one. And i'm cool with it. I like one place to go to get info on all things microsoft.

Anything with MS on it is related IMHO The only reason for me to buy not RT is too play games. But i dont see this device running World Of Tanks. I guess i still want an RT tablet allthough this one is very nice.
Windows Central Newsletter
Thank you for signing up to Windows Central. You will receive a verification email shortly.
There was a problem. Please refresh the page and try again.