Lenovo announces new Windows 8 devices, including an 8-inch business tablet with a 1920 x 1200 display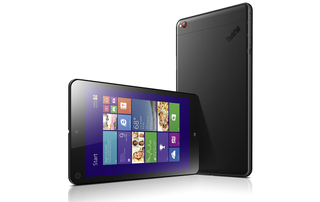 2014 is just getting starting and we already have one of the biggest tech events of the year getting underway. CES 2014 doesn't officially start for another two days, but we've got press releases coming out and a big press day tomorrow. Lenovo just unveiled a handful of new devices, like the successor to the popular Lenovo X1 Carbon ultrabook and a new 8-inch tablet that looks like a winner already.
We've got 8 new Windows devices from Lenovo at CES. Ranging in size and function from tablets to ultrabooks to all-in-one's. One of the most interesting devices announced that will especially appeal to the Windows Phone Central crowd is the Lenovo ThinkPad 8. This is an 8-inch tablet that's aimed at "business" users. What that really means is that the ThinkPad 8 is packing some pretty impressive specs.
The ThinkPad 8 features an 8.3-inch display that packs an eye pleasing resolution of 1920 x 1200. It's also running Windows 8.1 Pro, which means we've the latest Intel Atom quad-core processors in there so you'll be able to run desktop applications. Speaking of desktop, there will be keyboard and docking options available for this little machine. Other specs include internal storage up to 128GB, a microUSB 3.0 port, LTE connectivity and more. It goes on sale in late-January and will be available starting at $399 in configure-to-order models or $429 at retailers. This is one device we can't wait to check out in person this week.
Quickshot Cover for ThinkPad 8
The Lenovo ThinkPad 8 is by far the one device announced by Lenovo that we're most excited about. But there are also other models we'll be checking out. There's the next-generation X1 Carbon ultrabook that improves on the previous generation and promises up to 9 hours of battery life.
Lenovo's MIIX 2 a few months ago. It's the 8-inch tablet that a lot of you are enjoying. To give consumers more options, there are two new models of the MIIX 2 available – a 10-inch and 11-inch variant. Both models offer full HD resolutions at 1920 x 1200 a 10-point touchscreen display. You're powered by an Intel Atom on the 10-inch version, while the 11-inch has an Intel Core i5 processor.
In addition to the above products, Lenovo also announced two new laptops aimed more at power users. The 14-inch Y40 and 15.6-inch Y50 have the specs to please those who like to live on the edge. For example, the Y50 can be decked out with an Ultra HD 3840 x 2160 display. Yeah, we're going to need to see that in person.
Bringing up the announcement from Lenovo are three computers for your desk. The Lenovo Horizon 2, A740, and C560 are all big, bad all-in-one's running Windows 8.1. Normally not our thing, but if you're interested let us know and we'll definitely check them out for you.
So, out of everything announced from Lenovo so far what are you most excited about? The ThinkPad 8 right? Sound off below.
Source: Windows Blog
Windows Central Newsletter
Get the best of Windows Central in your inbox, every day!
Will there be any new games announced for WP8 @CES ?

Consumer electronics show.. Not really games. Wait till e3.

You guys never read my tips. =( I tipped you guys about this tablet about 2 months ahead of time when it was just passed by the FCC.
http://forums.wpcentral.com/general-tablet-discussion/251100-lenovo-thin...

Wow. Cant wait to read the reviews and try one of these out

That Thinkpad 8 just replaced the Dell Venue 8 as the object of my gadget lust. Hopefully it will also be offered in red.

I agree! Mini HDMI? LTE? I might have to sell my Dell Venue 8 and make the switch. :-)

i'm guessing you will need to sell 2 Dell Venue 8s to afford the LTE version. I'll definitely watch the reviews but HDMI in 8 inches doesnt seem like it would be a considerable upgrade from the Dell. I dont envy the OEMs these days. Even a stellar machine like the Venue can only stay on top for a few months. I smell big(ger) discounts.

HDMI is especially needed for smaller screened devices so you can plug it into a bigger screen.

Woooo woo not to fast my friend, let it prove its self first than we can say that, the 8" dell venue 8 pro is pretty good little tablet

Wish I can say the same, but that depends on Lenovo's stylus availability, which has not a single mention by now. I'd prefer microhdmi vs miracast but most definitely active stylus vs passive.

According to Engadget and Winrumors, they omitted the active digitizer for pen support.

Perhaps it will be an option? The Lenovo tablet 2 came with or without the digitizer.

No active digitizer on this. This just solidified my opinion of Lenovo about how stupid they are. They could have added the same Wacom digitizer that was in the TPT2 and they would have 100% captured the 8" market. You can't even call this a business device without a digitizer. It is just an expensive Ipad mini competitor. Wake up Lenovo!

Well if only the ThinkPad 8 had stylus support I'd give up my dell venue 8...but it doesn't so I'll pass :(

Everything about the Lenovo is perfect except the lack of Active Stylus support. I hope Asus announces Wacom support for their 8 inch tablet at CES. Their user manual already confirms stylus support, but not if it is Wacom or something else

Check out this link it said that Asus has wacom digitizer http://microsoft-news.com/leaked-user-manual-confirms-asus-vivotab-note-...

No active stylus on ThinkPad. 8 ?? BIG mistake...Iwill keep my Dv8...

Anyone want to buy my DV8P??? lol Need cash for the Thinkpad 8.

Multiply that by 2.5. Ha ha ha :)

I don't do math. How about $125?

Keep adding $25.00....
Come on people. I can't just give it away. lol :)

Gorgeous device! And nice specs knowing ThinkPad it's gotta be reliable

What is? The miix 2? All of the listed resolutions seem correct, unless they changed something since you posted.

No the new device is 1920x1200 not the 1920x1080 the article says.

1080 for tablet. 1200 for laptop

1080 for 16:9, 1200 for 15:9 or 16:10, and since we know that the DV8P is 16:10, it is more likely that this comes with a 1920x1200 screen. Especially because 16:10 screens makes more sense on a smaller tablet.

Any rumors on the Nokia 8 incher?? If it ran pro, i would buy it without a single thought for any other device

But until then, I'm focused on this little beauty :)

Didn't they supposedly cancel their 8 inch tablet?

I don't believe so. The Lumia 2020 was supposedly in the works. But nothing is official so anything could happen.

It will be released in 6 years. On January 1, 2020

I heard a rumor that the surface mini was bay trail, maybe this one is too.

Nokias 10" runs RT, sure smaller tab will, too. After Nokia acquisition the upcoming 8" Surface is more exciting :)

Wow, this is big .. in small package.

I'm digging the Yoga 2, but no mention of that?

Got a ThinkPad S1 Yoga with a Haswell i7 a couple weeks ago to replace my X230 Tablet and it's awesome. Battery life is as advertized (up to 8 hours). Good gear.

Am I the only one who still thinks RT is a better idea for these consumption type tablets? I just don't understand why people want Pro, and the concerns about viruses and whatnot that come with it. If I'm giving my Mom or Dad a tablet for Christmas I want it to be bulletproof... Pro means it will be screwed up by Easter.

This. RT isn't bad, but Pro comes with so many perks it's hard to look back.

Excellent points. MS needs to make an hd 8inch with lte and active stylus support. I would by that even if it was ARM based.

When I was a student, RT was perfect for me. Absolutely no need for pro. Now that I'm working at a company that uses google drive for centralized storage, that's the main thing I'm missing on it when I want to do some work on the go. Remoting in helps ease the pain a bit though.

RT is great for general use. The thing holding it back is the lack of apps that mimic funtions that can only be done on desk to right now.

Yes, you are. I do not see,you point about virus protection.

No, you're not the only one.

Many apps in the store are x86 only...I don't use my dv8p on the desktop but its nice to know I have unrestricted flash access, silver light, Java etc etc... My tablet never leaves metro but its 10x better than rt

Many? Hardly any. Except for a very few, all apps are available for RT. I can't even remember seeing a x86 only app.

No, you're not alone, I also prefer the elegance of RT for personal use.

Just don't press 'Desktop' and the experience is EXACTLY the same yet far less limiting...

I currently use a Surface RT, and don't find myself lacking for any apps I need. I wish there was a GroupMe client, but the web interface works great pinned to the Start Screen. I just think that the apps needed for 90% of users on a media consumption/social media device are already there. I feel like bloggers and reviewers rushed so quickly to judge RT, without ever considering that many people don't ever need to install x86 apps or browser add-ins... there is a far higher risk of them installing viruses than anything they actually wanted. I will have to wait it out and see what Microsoft announces for a Surface Mini... it seems like that may be the only way I'll get a smaller RT device. That's fine though, the Surface hardware has proven so durable and elegant that I don't really mind, and would likely wait anyway. Though I am intrigued by pen input, and it doesn't seem like MS will make that a part of their lower end offerings. Oh well.

No you're not. I also think that RT is much better for consumption usage. But since I also need it as development device, I can only target x86 since VS2012/3 can only run on that :( Anyone can post or have any reference to any desktop screenshot on those 8" (with apps like Words, Excel, or even better Visual Studio showed)? I'm planning on getting Bay Trail based, 10" preferred. But if not viable (been searching for a while but no reference yet on how fast/slow VS2013 on this Bay Trail) then I guess I have to buy PC instead (and saving for getting 8" Bay Trail for demo purpose since carrying laptop was not that flexible anymore). EDIT: Forget it. Have read somewhere that Visual Studio on Bay Trail is somewhat slow. I guess I have to aim Miix 2 11 (or anything within it's class and price range) then (-_-)a

No, I also think RT would have been a better idea (Tegr4 or Snapdragon 800 based) Still reviewers will like the idea of x86 apps even when no one will use x86 apps ;) I will wait for Surface Mini before making up my mind which 8" Windows tablet I will get. (next to my Surface 2 which I love)

You are not alone there. I feel the same way. My Surface 2 is fast and bullet-proof. No reason to ever complain.

I like RT and it was my first choice for a tablet but I wanted an 8 inch device. There isn't an 8 inch RT device but I agree there should be due to pricing. They'd be priced to sell really well. NOW though. 8 inch devices with Pro are priced to sell may as well go Pro at this point.

I don't really see it as a cost issue... as you said, Pro is already available on cheap devices. I am interested in RT more for reliability (or "my mom and brother can't screw it up too bad"-ness).

What channel is this on???

Can some device beat surface pro 2? MSFT just does not want to sell it outside US and Canada or few European markets and other manufacturers also not helping either by making pro devices as good or better as Surface in global markets.

http://www.dynamism.com/top-notebooks/gigabyte-s1082.shtml

http://www.excaliberpc.com/620948/gigabyte-s1082-cf1-10.1-500gb-hdd.html

now i will ditch my old ipad 3 which is screwed up by ios 7, hope this arrives in india soon.

I can't wait to play around with the Thinkpad 8, when it comes to stores!!

Haha, looks like suddenly the DV8P has some competition. That's fine, competition of this nature is almost always a good thing. But no stylus support? How disappointing. Whatever, I'm more than happy with my Surface Pro 2, so I'll pass. But I'll eagerly watch from the sidelines to see how this pans out. Let the games begin!!!

The Thinkpad 8 is nice. I'm really waiting on a (I know it just came out) Thinkpad Yoga 2. The Surface Pro is just a bit too small for me, and the TPY will be amazing with the few issues it has ironed out. The second generation model is always so amazingly better than the first, and I'll be in the market for a new laptop around november next year :) But after using my girlfriend's five year old Fujitsu swivel-laptop, I absolutely have to have a wacom stylus in my next laptop. I don't know what I would do without it... that thing leaves me with so much envy it's ridiculous. Unless of course we get a ~13" Surface Book. I would quite possibly love that. But CES is always awesome. I love what we see!

Note that new Yoga 2 doesn't have stylus support. New ThinkPad Yoga (aka ThinkPad S1 Yoga) does. As mentioned above got one and it rocks.
My GF has a Surface Pro 2 and loves it but I had similar concerns. TPY screen is perfect size for me and the stylus stores inside the chassis. Sleeker design all around.

Does it have HDMI? If so, this is a killer tablet. Even without it, it looks to be very nice. I guess with USB 3 you could jsut get a dock to output to external monitors.

Lol. There are some articles comparing this to the iPad mini. The ThinkPad has Windows 8.1 enough said.

As an iPad Mini user, I can honestly say that the two just don't/won't compare. iOS is a mobile operating system, at best, whereas the Thinkpad 8 is/would be, essentially, a desktop and mobile device. Shame on those reviewers, lol.

Right, lol. I had the same thoughts when I read an article the other day. They aren't even in the same league. WTF? How does apple get such bias mainstream press? It sure is good for their business though.

The OS I want on an 8"-10" tablet is Windows RT...with no desktop.

Why would you want desktop omitted? Still very useful for office, wordpad, notepad and other integrated windows services like FTP. If you dislike it that badly, you could just unpin it from the start screen so you don't have to see it.

They say it's meant for business users but they're talking about using an atom processor and not the i5 that's in the Surface 2 Pro?
Not happy about this .

This statement just makes no sense. Windows RT will be slowly phased out. The Atom based Windows tablets are more powerful and cheaper than any ARM powered RT tablet. Right now, RT has absolutely zero advantage over full Windows 8.

What about a Haswell Helix...?!

Might come later but some rumors on the Lenovo forums says they are waiting for intels next processor for the helix update. Personally after testing the Helix I think it is too big and clunky, needs trimming, much prefer SP2.

Any link for webcast of CES?

My EP121 is not doing so well anymore after years of great service, so looking forward to a new small windows tablet with pen support. This looks promising. :)

So crowded. Thinkpad 8 is a really really great product. Oh that 3K resolution on laptop. Just wow o.0

I know. Can't wait to look at that display!

Resolution just getting bigger and bigger. 80" TV sould've used 10k resolution. If 4k is now on laptop.

I hope surface mini will be like this with 4G LTE and NFC capability and improved camera 8mp/2mp or above. And what about dual sim? By the way, I noticed the link for smartwatchfans at the menu bar does not direct to its intended direction.

lol yeah, sounds impossible (for now) for a windows tablet, and wierd. I have another Lenovo tablet which is dual sim because I have two data plans (and two sims) for connection stability issues. Unlimited plan won't even be practical for my data usage.

Looks like the start button placement actually makes sense here! Big problem I had with the venue 8. But since the aspect ratio is gonna be 16:9 instead of 16:10, I can hear The Verge firing up their canons to do whatever damage they can to this tablet's grapevine.

This is a complaint I don't understand. I have a Venue 8 Pro and no matter if I'm holding it portrait or landscape, the start button is only a thumb swipe away. You'd have to let go with one hand to hit the button on the bezel depending on what orientation you're holding it in, how is that convenient? I also like how it looks without the bezel having a windows button. Also prevents hitting it by mistake if you're holding it in landscape mode like on the miix2. I think Dell went the right route by not having the button on the bezel.

Well. The Start Button is so easy to access just by swiping from the right side to towards the left. I prefer that because it prevents accidental pushing. Also the Bottom left Start button works just fine as well.

The T8 is 1920*1200, 16:10.

Most excited about the new Carbon X1

am I the only one here who wants an Ultrabook? I am really looking for Samsung Ativ 9 Plus or Acer Aspire S7 (both with i7) but they do not sell these expensive devices here so people prefer to buy these cheap tablets. They are good but my use is more than Twitter and Facebook. I need Windows 8.1 Pro with the ability to download Photoshop and Autocad. The sad part is people are obsessed with MacBooks in here and MacBooks aren't practical for everyone (even if I am attached to iTunes ecosystem) but iTunes can be downloaded on PC. Ultrabooks for the win.

Where do you live? Ultrabooks are wide available here. Still lots of people still go for cheap, but ultrabooks are definitely picking up.

Can't imagine doing any serious work on 10 or even 13 inch screen and laptop keyboard. It's cool to be able to fire up Photoshop or any other desktop app you need as a backup, showcase or some quick and dirty updates but it will never beat desktop workstation when it comes to productivity. And you can get great desktop at half the price usually, or 3/4 of the price with all accessories included...

Give me the Y50. Released by June I hope, and hopefully for a reasonable price. Please please please!!

This. If the highest configuration with the GTX and retina display is under the price of the razer blade, if razer doesn't announce a worthy refresh Lenovo might have nailed my next laptop. Slim and enough powerful for some decent gaming.

What kind of gaming are you planning on doing?

Hey you at CES! Hope you guys Will dig the Y50. With it's resolution, touch screen, slimness and hardware (combined with an interesting price) might make it a winner!

When it will be avaliable in Europe?

Definitely the small Windows tablet to beat, if a wacom digitiser is an option I'll get one over Easter. Still, there's plenty more to be announced this week, can't wait! The 10 and 11" Miix2 tablets also look great, the design is top notch (when in stand mode there's a speaker bar that actually faces you!) as are the specs. 1920x1200 is also a nice touch. I'm also quite excited by the Horizon 2, great specs, great design, and every artist's dream: a digital pen. Don't have details on what technology it uses yet but it doesn't appear to be capacitive. 27" digitial drawing board... *drools* ;) Oh, CES is so exciting!

WOW! Great news about the ThinkPad tablet... Looks like my Surface 2 is in trouble again...!

The ThinkPad 8 is tempting!

There's something about Lenovo that I just don't trust. Not sure if it's because it's a Popular Chinese company or something...I just can't trust them enough to buy their products. I'll be waiting to see what Asus and Sony bring.

I trust Lenovo more then google of apple. Asus is next, with Microsoft on top :)

I can't trust Asus anymore after my experience with their tablets. First vivotab i bought was defective, first gen1 nexus 7 i bought was defective and just been through 4 gen2 nexus 7 all defective so I gave up. I'm keen for a small windows tablet now. Liking the dell v8p and this new thinkpad. If Asus do release a small tablet with wacom support I'll be waiting to hear reviews of build quality before I jump on board.

Lenovo used to be IBM. IBM had a very high quality products and that transfered to Lenovo as far as I can tell - at least in their ThinkPad line, which is what I have been in contact with for last 15 years at least.

Make this with LTE I will jump on this for sure..

I dont know why people are very hard to please. that is a good tablet. Nobody uses stylus that often even note 3 users seldom uses their stylus not to mention number of users that frequently lose their stylus.

You spoke to everyone in the world and asked them if they used a stylus, did you?

Lose? Asus did it right by allowing you to keep the sylus onboard.


OOOHH! Do they come with Lenovo's shitty support and lack of timely driver updates (if any at all)?

Driver support is Windows 8.1 build in. Apart from hardware there's no real OEM software restriction any more.

The carbon x1 looks really good, button placement and all! The y50 too... Though i want to see whether it has a rocking gpu...

The Asus Vivotab 8 has a Wacom capable display (pen?) and so I had my eye on that. However I prefer HDMI over that but who knows. They can skip the LTE also. I'd take the Lenovo 8" with WiFi only. Decisions!

Dammit, just when I finished saving up enough money for a new guitar! Why Lenovo? WHY?!

Go with the guitar. You would not get girls by holding a tablet.

Yup, but I'm not a bro so... it's still a cornelian dilemma (╯︵╰,)

I hope there's micro HDMI, LTE, Bluetooth 4.0 LE and boom, I am sold.

Always down for more tablets!

TP8 start $349? That's awesome. That's forcing MS to lower the price on the surface devices.

I doubt it. The 8 is going to run an Atom and 2 gigs of RAM at most. I don't think MS will see any reason to even consider dropping the price. Nevermind a lack of other features. It seems like a nice little tablet for on the go work stuff. I certainly considered the Miix 2 for school. It would have been useful for emails and the such.

Sweet more choices!... Though I imagine the cellular radio will cost a fair bit to add as customisable option...

Other news organizations are reporting that the Thinkpad 8 has a resolution of 1920x1200 giving it an aspect ratio of 16:10. This is a huge difference. Based on the pictures it looks like a 16:10 aspect ratio like the Dell V8P. It's hard to use tablets in portrait mode if it has a 16:9 ratio. Just look at the Surface RT.

I'd settle for this device, $100 cheaper with RT. I know, i know, you guys don't like rt. But for a tablet like this that i'd mostly use sitting on the couch, i'd like a lighter, thinner, cheaper, less power rt version. We have a surface, i find it too wide. Tried a pro in the store and it was just too thick and heavy for me to ever consider it. I have a yoga for a real laptop. Don't need another one.