Lenovo IdeaTab Miix2 – Unboxing and impressions of the 8-inch tablet
Lenovo's new Miix2 ($299) tablet is now available and here's what its' like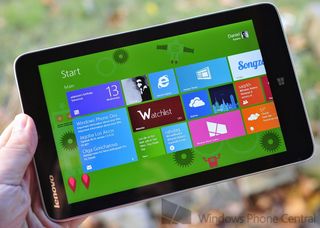 Last week we showed you the Venue 8 Pro, Dell's first foray into the 8-inch tablet world running Windows 8.1. This week, we have Lenovo's answer: the Miix2. Available at Amazon and costing $299 with 32GB of internal storage (64 GB optional available), these two devices have more in common than differences. Still, there are a few variances worth noting.
Head past the break for our unboxing and quick video tour of Lenovo's 8-inch competitor. Want to see it against the Dell? Stay tuned as we're testing them out now.
Lenovo IdeaTab Miix2 specifications
Windows 8.1 (full, not RT)
Intel® Atom™ (Bay Trail) Quad-Core Processor Z3740 (2M Cache, up to 1.86 GHz)
8" HD (1280x800) Display With IPS Technology
2 GB RAM (LPDDR3-1066)
32 GB Flash memory (64 GB also available); microSD expansion (up to 64 GB)
Global Navigation Satellite System (GNSS)
8 MP rear camera; 2 MP front facing camera
Capacitive Windows key (front bezel)
Wi-Fi 802.11bgn; Bluetooth 4.0
350g (0.77 lbs)
8.35 mm thick
On paper, the Dell and Lenovo are very similar, though the Dell has a Z3740D processor with slightly different memory. Both are clocked the same, though some count the 1.86 GHz burst speed as the clock speed, which is 1.33 GHz—so don't get too confused on that as they're both performing at similar speeds.
The Miix2 is certainly light and nimble, more so than the Dell, although it does feel a tad too flimsy. We also didn't care for the buttons, which lack the 'click' of the Dell's, feeling less reliable and requiring more effort to use.
Lenovo is also unabashedly unapologetic about slapping Windows 8, Intel, and FCC stickers on the back, making it look like a high school locker. Sure, you can peel them off but it's a terrible looking first impression.
We did have some trouble getting things going on first boot and syncing to our account. Mail errors, apps not downloading and not connecting to the Store were the most frequent. After forcing Windows Update, which found a few dozen patches waiting, things got back on track, but it was not an ideal "out of box" experience. We also have an issue on occasion where plugging it into charge turns the display off and it's hard to get the device back on.
Oh, and it has McAfee pre-installed, which is like sticking your fingers in your eyes. You can uninstall it and we highly recommend that you do just that.
When it comes to performance and the display, we have no complaints. The IPS screen and Intel processor don't disappoint.
For $299, the Miix2 is looking to be a okay tablet, but our gut instinct tells us the Dell is built slightly better, even if a smidgen heavier and not as elegant looking.
We'll put the Dell and Lenovo up against each other in the coming days. Any one in our audience have the Lenovo? Sound off and let us know what you've noticed.
Daniel Rubino is the Editor-in-chief of Windows Central, head reviewer, podcast co-host, and analyst. He has been here covering Microsoft since 2007 when this site was called WMExperts (and later Windows Phone Central). His interests include Windows, Microsoft Surface, laptops, next-gen computing, and for some reason, watches. Before all this tech stuff, he worked on a Ph.D. in linguistics and ran the projectors at movie theaters, which has done absolutely nothing for his career.
HDMI in the Miix2 does it for me. The other stuff are minor quibbles. The 64gb is what I'm waiting for. For the price, I think these are a great deal.

Dude, it doesn't have a micro-HDMI. Get your facts str8... It is a god-awful tablet compared to the dell. I bought both and tested extensively... The only thing that makes this Moix2 better is the GPS sensor. Nit its definitely not a deal breaker.

I am happy I bought the dell over the miix2.

I bought both as well and the Miix 2 display is way better, too. Very bright and clear. The Venue is soft, warmer. Sound... this is where Dell wins and why i prefer it,... speaker on the venue is really loud. Even louder than the Surface Pro. If open sound wasnt that important i would definately pick the Miix 2.

I would agree with you as I had a Dell with a very warm display. I ended up buying a new Dell for a lower price elsewhere and there is a pronounced difference in the display between the two units. The new one is not as warm and definitely sharper. The performance is snappier too and there is no desktop secure boot message. I'm thinking perhaps something has been revised..maybe different LCD suppliers?

I'd love to see an 8" Win 8/RT tablet with top of the line specs, esp screen resolution. That Surface Mini cant come soon enough.

Illuminati :-) (hope u get it...)

Make that a Surface Pro Mini since these are x86 based tablets.

actually after a week with surface pro, i found it really doesn't matter rt or not for 10" and smaller tablets, the desktop is simply useless for the size.

The specs list should state it's Windows 8.1 and not RT. Also, kill off RT, there's no need for it.

I usually argue against RT as well. But at the moment, surface rt 2 looks like the best tablet build wise. Now that MS introduced a web app version of Visual Studio, RT is a bit more feasible for me. So I may actually get the LTE version of surface 2 next year if it work with T-Mobile.

I don't dislike the RT's, I just think that seeing these full blown Win 8 tablets coming in so cheap, and are capable of running desktop programs, I think it just add unnecassy confusion. The apps in the marketplace are still on the sparse side, but improving, slowly. But I can see how some people would want the LTE support that Nokia will be offereing.

Yeah I guess I just wish MS had put a baytrail in surface 2. But in the end I can't give up the awesome kickstand and keyboard of surface. So I might give RT a second chance.

Have you actually tried to use a desktop app with 8" touch screen? I bet you haven't but I can tell from my own experience with Acer W3 that it's major PITA trying to hit the miniature buttons with your finger tip.

Have you actually tried installing MS Access Runtime on a W3, and then develop an Access application, sized appropriately for the device. Like collecting consumer data at a trade show. Works great! While I understand the need for RT, especially in the education arena, I am really glad these 8" tablets are shipping with 8.1. A must have device for business.

The only Desktop app I really struggle with on my Dell is Chrome—tends to take multiple presses to close the tabs and not open more.
I just configured disk management and recovery via touch only and I did not have any issues. I think that's as much of a credit to Dell's workmanship and components then to Microsoft's desktop on a 8" screen.

Im sorry, but im really getting tired of this argument. YOU DONT HAVE YO USE DESKTOP APPS ON A W8 TABLET IF YOU DONT WANT TO. But some of us would still like the possibility to use desktop apps if we need to. My problem with RT is that you give up this feature for nothing in return. At the moment, I have seen no evidence that using ARM over Intel Atom gives OEMs the room to reduce cost, increase battery, or make the device lighter. As I said earlier, the only reason I'd go with RT is for the build quality of the particular device, like surface 2.

You can't code with VS online can you? You can share / version your source code and all but I think you need to actually open a visual studio application to code. Correct me if I'm wrong.

Yes, they just showed off the editor today. I haven't had a chance to check it out yet. I think it may only be for websites on azure at the moment.

On top of that the VS 2013 is a 64bit architecture and wouldn't be installed on lenovo miix 8 or dell for that matter as they are all 32 bits windows 8.1

Yeah but at the moment its in preview form and only works with sites hosted on Azure. Hopefully they expand this, and fast.

I disagree with killing the RT. I love a closed system for small tablets and phones.

I despise the closed system for any phone or tablet. But everyone has their own opinion.

Course there's a need for it, desktop apps are not really optimized for touch.

Window 8.1 runs touch app just fine. I have non desktop apps on my Win 8.1 device. :/

Actually I'd like to just see two version of Windows: Windows (what we call RT now) - for regular consumers
Windows Pro (what we call Windows 8.1 Pro now) - for enterprise and power users. Part of why iPads sell so well is people have realized they don't need all the functionality of PCs and the simpler the better.

I'm all for Windows RT, especially for my kids. For me, RT tablets and Pro ultrabooks or hybrids.

A while back I thought I read that the miix 2 would have LTE options. Has anyone seen that? I really want to get a windows tablet that can work with T-Mobile for their free 200MB plan.

Likely as is the case with the dell venue 8 pro, the LTE model will come at a later date.

I haven't heard the dell would eventually have an LTE option. Is this true?

Yes, there was also alot of confusion as the specs listed LTE, but this shipment is WiFi only.

Yes, an LTE version is coming.

Did you happen to see which carriers were supported?

I wonder how much money they get for slapping all those stickers on the back? Do they all come off easy and clean or just the Windows and Intel stickers?

They come off pretty easy.

Really looking forward to how the Miix2 and DV8P stack up to each other. The T100 transformer should be added to the mix.

Daniel, Which do you prefer: The Dell or the Lenovo? I'm curious about the stylus. The Dell stylus seems to have a finer tip than the Lenovo one, but I'm wondering if it even matters for either one of these two devices. I'm leaning towards the Dell for that reason and because there seem to be more accessories, such as cases, for the Dell. Your thoughts?

From afar, the Lenovo looks better as the Dell is boring and black. But from "feel" I like the Dell, especially the buttons. Performance, I can't tell the difference. I can't see how GPS is a big deal, but I guess if you can find one, then the Lenovo is better. The Dell's cameras are awful, so that sucks while the Lenovo's are better. It's a mix bag, but I'd go with Dell if I had to choose right now.

Daniel, I challenge you on the camera of the Dell being better than the lenovo
I mean they are both not very good but I think the Lenovo could have done better with 8MP. I will post a link to sample pictures.

Re-read Daniel's comments, he said the Lenovo's cameras are better.

The Dell doesn't have a GPS sensor at all? As they are mobile devices, seems that would be a pretty significant deficiency. As popular as maps and check-ins are now days.

Might have a point there.

The GPS would be such a beautiful thing to have with apps like Bing Weather, or even Navigation apps. I guess different people have different needs. I love how you are unbiased with both, and how you went in on the advantage/disadvantages with each. I am going to get the Lenovo because of the metallic back it has, The ripples of the DELL will drive me insane. And Lenovo has GPS.

Daniel, Dell has released a new firmware update to fix the stylus issues. Do you guys want to review and post your first impressions? http://www.dell.com/support/drivers/us/en/19/DriverDetails/Product/dell-...

The stylus is horrible. Stray marks, clicks randomly when not even near the screen, random lines. Not even usuable as a mouse replacement, much less a stylus. My DV8P is going back because of that very reason.

So u are returning the device cause of the stylus?? Shldnt you be returning the stylus?? No other 8" win8 tabs have an active-stylus.

Anyone else have experience with the Dell Active Stylus? Thanks

Its actually pretty bad.. There is rumored to be an update to *coughs* fix it coming this week. Keep your ears glued to the ground on that.

I have it - its not nearly as bad as the "Wacom" users will make it out to be. Fact is, even in its current state, which all you have to do is go to the http://forum.tabletpcreview.com/dell/ to read all of the complaints........it is still light years better, and uncomparable to a capacitive stylus. If you write in cursive, its not bad at all. In Onenote, you have to turn pressure sensitivity off, and it is not bad at all. Im on a quest to go paperless, not on Android, and not spending +1000$ on Surface Pro..........so this was pretty much the option for me. I love the thing. Biggest gripe i have thus far, the screen scratches, I dont think they used gorilla glass on this thing. Ive had an unprotected phone screen for 2 years with not a single mark on it, and ive had this tablet for 2 weeks, and i just noticed a tiny hair line scratch on the outer bezel that is goign to bother me for the entire time i own this thing. Off to Bestbuy to buy a screen protector.

Screw Lenovo. I will never own one of their products again, unless I want to never get driver updates.

huh? check their site. I have a Thinkpad Tablet 2 and they have updates as close as Nov 5, which is like a week ago. I just updated everything there was an update for, even the BIOS.

I just found out that there won't be a UK release????WTF?

Daniel, the Lenovo is not much lighter than the Dell -at all. It is very very very negligible, the weight difference. My wife held it and couldn't tell the diff.
Also, the Miix2 is definitely very clumsy, that metal(ish) back makes it slip and slide like its Sochi in 2014.
You would think that the 8MP camera makes a difference but...wow... How can u get an 8MP cam so wrong?!!
The Lenovo screen is more "white-ish/blue" than the Dell which has a warm feel. But screens are fantastic depending on ur preference.
The Lenovo Speakers are not the best out there definitely not as good as the mono-speaker offering from Dell.
They don't come with MicroSIMs as the spec sheets usually point out. I guess that's an option that'll be available much later.
All in all the Dell Venue 8 pro is a confirmed winner, in my eyes thou.
y'all can ask me any questions you want regarding the key diffs btwn d two tablets.

''The Lenovo screen is more "white-ish/blue" than the Dell which has a warm feel. But screens are fantastic depending on ur preference."

I had a different experience. Lenovo was too red. Moot point though, as on both you can change the hues under the Intel settings. Note: this isn't the Dell/Lenovo smackdown post, so I did not want to compare them too much here.

Okay. I look forward to the comparison post..

I'm having a problem with their 8MP assertion. The main page says up to an 8MP camera but the spec sheet shows it as a 5MP camera. I don't know if they are using some kind of software enhancement to obtain that number.

It's 2 + 5MP for Lenovo and 1.2 + 5 MP for Dell. I don't know where the 8MP is listed? Besides Microsoft Lenovo also lists 5 MP: http://news.lenovo.com/article_display.cfm?article_id=1726 Not that it matters that much. Most webcam's don't really get that much pure resolved resolution out of those tiny lenses.

http://shop.lenovo.com/us/en/tablets/ideatab/miix-series/miix-2/#techspecs Under the feature section on their webpage.

The Lenovo only has a 5 point touch screen compared to the 10 point screens of the other 3 tablets that are or about to be released. Dell has the worst processor of the bunch. At least the Lenovo will have a 3G version at some point. I'm waiting on the final specs of the Toshiba Encore. It has dual mics, stereo speakers, and the longest reported battery life of the four. I think the Acer Iconia W4 is also a better option to either of these. Both the Acer and the Toshiba also have HDMI.

Aren't they supposed to come out with a 3G version in the US?

Hey Daniel, Microsoft website says bay trail dual core 1.8Ghz and you are saying Quad-core. Which one is correct?

It's a Quad core Bay Trail.

See here......http://www.microsoftstore.com/store/msusa/en_US/pdp/Lenovo-Miix-2-8-Touc... am just curious

I won't say that it isn't possible for it to be a dual core. Lenovo only says it's a 1.8 T Bay Trail. That doesn't mean they didn't reduce the speed of the Z3680 or Z3680D to make it appear like they are using a Z3740. There is a possiblity that it could be a dual core. On the surface it looks like it's the quad core.

http://shop.lenovo.com/us/en/tablets/ideatab/miix-series/miix-2/#techspecs Ok I found it. It is a Quad core. With that said it still doesn't give the information of which version it is. It could be the same one that is in the Dell for all we know.

It says right on the box, printed that it's a Z3740, which his only quad core.

Thanks for the info. Anything about the battery size? The only official number I have been able to find out about the 4 different tablets is for the Acer which has a 4960 mAh.

the link doesnt work...why is it unavailable on the windows store?

Somehow I'm feeling the Lenovo. I'm still curious about the pen.

I bought a Surface 2 I and I don't understand the debate between 8 and RT. "Classic" Windows experience on a tablet is just a pity. You need a keyboard and a mouse to interact correctly with this OS. Don't talk about screen size ! 8 inches for old desktop and apps, it's ridiculous. This type of products are perfects for professionals who need a mobile device for work. Not a primary device. Something to work outside. I understand some people WANT a full Windows experience. But are they really NEED it, especially when classic Windows experience is degraded (screen size, tactile, power) and when they already have a good PC to work and play ? RT is perfect for tactile experience on small screen. For the same price, you have a better quality, better performance and everything a tablet need. Consumers should ask themselves: "do I really need a full but degraded Windows experience on a mobile device ?" Actually, but it's only 'y own opinion, Surface 2 still the best choice for a majority of consumers.

let me first off say, im a surface rt owner....and huge advocate of windows rt. that being said....i love the baytrail dell venue 8 pro. this thing is a little beast. runs autocad, photoshop, chrome, and all its extensions, itunes, everything u can think of. need a game - install steam. now, is ideal to run photoshop on an 8" screen, probably not.....but in a pinch, having the option is amazing......of only there were a micro hdmi on this thing, it would have everything

My thoughts exactly. I have the Dell XPS 10 and I love it can't imagine not being without it or any Windows 8 tablet at work. I use it daily in meetings to review Spreadsheets, PowerPoint and snap my Outlook inbox so that I don't miss emails when I'm away from my desk. At home I use it primarily to surf the internet, listen to Xbox Music and occasional Netflix but sometimes I the 10 inch form factor is too big and heavy when I'm laying around using it. I really want an 8 inch Windows tablet for consumption and I'm intrigued by the Dell and Lenovo 8inch tablets and I'm close to getting one but personally I feel that any Windows tablets 8 inch and under should be RT but as you said I understand that some people want full Windows 8. My fear with full Windows 8 on a small tablet designed for media play and consumption that you start running into all the things that make full Windows tedious on a device that supposed to be hassle free pick up and go device. As noted in the unboxing for the Lenovo the McAfee virus protection that had to be uninstalled. I detest bloatware such as McAfee on modern Windows devices as I usually remove them. I'm thinking about waiting until next year to see what Microsoft comes out with on an 7 or 8 inch Surface. My guess is that it'll be Windows RT only which is what I would prefer for that size.

Was waiting on this cant wait for the comparisons now I need to see the hp omni and the ausus t100

So no mini-hdmi after all?

Im writing an iPad app at the mo and like rotating to portrait mode. I would welcome tablets that are not 16:9. My surface Rt is weird in portrait, which is ok and i get that its a work device rather than consumption, but i can see my iPad app being used in portrait because it's for data entry.

Surface Mini rumours are amongst others a 4:3 screen. These 1280x800 8"ers are 16:10. It all depends on use. Watching movies 16:9 is most preferable. Snapped apps 16:9 is most preferable.

Ah yes snapping. The ipads don't do that!.

When is the release of the Toshiba Encore? That one has HDMI. I think the Acer W4 does to.

This month for one of them and December for the other one. I don't remember which is which.

Toshiba Encore is now available for pre-order on Amazon but no ship date listed. Nothing on W4 so I guess that will be December. Bit late for holiday season unfortunately.

I heard the Dell offers a digitizer for an active stylus and the Lenovo does not. Is this true?

I found this comparison: http://forum.tabletpcreview.com/lenovo-ibm/59355-comparison-lenovo-miix2... It talks about their experience. Maybe with updated drivers the experience could change.

Not convinced on the Atoms still. Why do you need an Atom over RT... legacy programs. The screen is too small to make an effective desktop without pinpoint accuracy from a stylus, which requires an active digitzer, neither of them have that. Legacy programs with touch optimization would work, but modern UI equivilents would be better. "I love to use VS... Lightroom... etc." be serious, there is no way the Atom is running this worth crap. Games... according to reviews of the DVP8 the machines can only run CivV at low settings, this is a three year old game, what are the odds any modern X86 game will do better, legacy games are not touch optimized. So why go for RT instead. One, battery life, the ARM chips still beat the new Atoms. Two, miracast, the reviews of the Dell show it hiccups with miracast, while the S2 is running 1080p just fine, this is important since these Atoms don't have video outs. The efficiency, WinRT is very optimized for ARM and gives you a great experience. Four, the modern UI complemented with web services has gotten rid of most legacy issues. waiting on the Nokia and Surface 8 inch RT tablets.

I've seen a few articles now that elude to the miix2 being available now, on sale, shipping, etc.. but I can't find it anywhere. There are even reviews on amazon that are "certified purchased" but you can't buy them on Amazon yet. Does anyone know what is actually going on? TIA!

They must have had limited quantities. I ordered the 32gb Lenovo on November 8th and got it the 9th. Now it says pre-order again just like the 64gb. Which is kind of weird. Also if you go to Lenovo's website and go to tablets the Miix 2 doesn't even show up there. If you Google it you can find Lenovo's page for it. All around weird. :)

im looking to get one of these tablets for my wife, not to be sexist but they only like whats cute and i think the MIix2 is a winner. one question i need answered has lenovo made a keyboard accessory for it, she plans on going back to school

I haven't seen one from Lenovo yet. They show an iPad like smart cover but I haven't been able to find it for purĉase yet. It has bluetooth though so there are lots of keyboards that will work. You could even plug a full USB keyboard in though that wouldn't be too portable.