Now Shipping: Lenovo IdeaTab Miix2 8-Inch 32 GB Tablet from Amazon (US)
Lenovo's 8-inch tablet now available on Amazon, end of the year for Microsoft Stores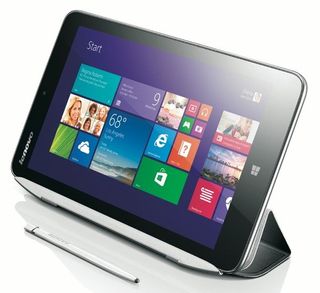 Are you yearning for a swanky new 8-inch tablet? Of course you are. The 8-inch swarm of Windows 8.1 tablets are making waves these days and now Lenovo is stepping up to the plate. Their IdeaTab Miix2, at least the 32 GB version, is now available to order at http://Amazon.com. Do you want it tomorrow? Order it ASAP with next-day shipping.
The 64 GB version is still not in stock and ironically, we can't even find the Miix2 on Lenovo's site any longer (maybe we're just missing it) for order or pre-order.
So how does the Miix2 compare to say the Dell Venue 8 Pro? That's a good question. Both have solid 1280 x 800 IPS displays, 32 GB or 64 GB variants, microSD expansion, micro USB port, 2GB of RAM and a 1.8 GHz Quad-Core Atom processor.
The Miix2 though sports an 8 MP rear camera (versus 5 MP for the Dell) and a 2 MP front camera (versus 1.2 MP for the Dell). The Miix 2 also features the unique Veriface Face Recognition Software, so you can just login with your mug and the Miix 2 also weighs less (0.77lb versus 0.87lb for the Dell). Finally, the Dell is a matte black with a soft-touch paint while the Lenovo is a silver-metal.
All in all, both tablets seem excellent, though the Miix 2, dollar for dollar, may edge out the Venue 8 Pro.
Do you want to know our thoughts? Give us a few days as our Miix2 may show up tomorrow and we'll do a side-by-side with our Dell. For now, you can head to our unboxing and first impressions of the Dell to get an idea.
Or just head to Amazon to get your order on (opens in new tab) for the Lenovo Miix2. If you want to get it through the Microsoft Store, you can pre-order now (opens in new tab), but it won't be out until the end of the year. Lame.
Thanks, Christopher C., for the tips
Windows Central Newsletter
Get the best of Windows Central in your inbox, every day!
Daniel Rubino is the Editor-in-chief of Windows Central, head reviewer, podcast co-host, and analyst. He has been covering Microsoft since 2007 when this site was called WMExperts (and later Windows Phone Central). His interests include Windows, laptops, next-gen computing, and for some reason, watches. Before all this tech stuff, he worked on a Ph.D. in linguistics, watched people sleep (for medical purposes!), and ran the projectors at movie theaters because it was fun.
Can't wait to see the side-by-side comparison

Yes, and a comparison of the pen technology and performance. Is the Miix2 pen just a capacitive nub, or is it an active pen digitizer like the Dell Venue 8 Pro option? Is it Wacom based? The Dell pen is not, and it's horrible according to user reviews.

It's just a capacitive nub. Doesn't the Lenovo have faster RAM than the Dell? And doesn't it have a 3G radio? Or am I thinking about the Toshiba Encore?

That might be the encore. I think the venue pro and Miix2 are basically the same in specs except for thinness and weight.

Here is the unboxing from surfacegeeks on YT! http://www.youtube.com/watch?v=tT7Z3D1xe2g

I would love to see a roundup comparing all these smaller sized Windows 8.1 tablets. WPC doesn't have to buy all of them, just make a nice chart or something.

Lenovo has GPS that DELL does not

Does this one have hdmi out?

U can always get miracast which works fine for anything besides gaming...clearly not an issue on a tablet ;)

I think people though have had serious issues with Miracast and most don't consider it to be as good as hdmi out.

Both don't. Acer W4 does have micro-HDMI. I wonder if WiDi works and second if these devices can play 1080p30 without stutter (should be)? The battery life of Dell is rated 10 hours and Lenovo 7 hours. So that might be one extra important difference (remains to be seen what real-world perf is first). EDIT: seems Amazon lists battery life as 10 hours as well for Lenovo. Wonder which one is correct. The Dell has 400 nits screen. I wonder what Lenovo brightness is.

No WiDi on the Atom tablets. Only the core I series and they must have Intel Wi-Fi cards which many don't have. The Dell works with DLNA which is a great option if you have a TV with it.

Are you 100% sure? Intel said WiDi is (or will be) supported with Bay trail but I also remember Dell mentioning WiDi support in their press release: http://www.pcmag.com/article2/0,2817,2424317,00.asp EDIT: just noticed Dell says it's supported on their product page: ~~Wireless display technology: Stream HD videos, photos or presentations from your Dell Venue 8 Pro tablet to your compatible TV through Miracast wireless technology.4Miracast's secure, direct connection eliminates the need to connect to a local WiFi signal.

Wireless display is not WiDi. You must have an Intel Wi-Fi card to have WiDi and the Dell and Lenovo do not. Even the Surface Pro 2 doesn't support WiDi because it does not have an Intel card. DLNA and Miricast are the only supported wireless media connection options.

Miracast(WiFi Direct) and WiDi are two different standards,but very similar. Windows 8.1 now supports Miracast if the device has the proper drivers. Android 4.2 and above supports Miracast and now 8.1 does. Wifi Alliance which Intel is a member controls the word Miracast. Intel WiDi v3.5 or above supports Miracast. If you check Netgear Push-to-TV box it states supports both WiDi and Miracast. Picture quality now thats separate issue....

Is there any way to hook this thing up to a projector without using wireless? I understand it doesn't have an hdmi port.

Maybe USB to HDMI adapter might work? Can someone try that?

Surface 2 and Netgear PTV3000 over Miracast is working pretty well and I prefer it over HDMI out

Interesting that Lenovo store dosen't mention hdmi out but the Microsoft store says it does have it!

I have the Lenovo and enjoy it but I did notice that Toshiba has a 8" Windows 8 tablet coming out, supposedly this month, that has HDMI out. It's a little thicker, heavier and slightly different dimensions. I tried to put a link to the tablet from Amazon but apparently that's not allowed. Do a search on Amazon for Toshiba Encore.

In the real world, we follow up claims with facts. Have any?

Lenovo spelled "mix" wrong. So there!

Because the Lenovo, from what I heard, is a capacitive stylus, while the dell is an active pen digitizer.

But the Dell stylus kind of sucks. Source: me (and everyone else who has one)

Good for you Dani. I'm glad you have it to know. But yeah, it doesn't beat the surface pen. It's better than a capacitive stylus though.

Surface pen is the one to beat, no argument there.

You still haven't replied back about the dual core. :P

Why should I? You're wrong. And pointing to an unlisted Microsoft Store page that has a mistake doesn't change that. Get it together.

I meant to say that MICROSOFT posted it has dual core. I didn't mean that it actually is dual core. https://www.windowscentral.com/e?link=https2F%2Fclick.linksynergy.co...

Dell's VP however has some sort of usable Synaptics based stylus input. MiiX with it's capacitive option lacks in this department.

True, but I have the stylus for the Dell. It's not very good at all.

It isn't? First order of business Daniel, the stylus on the Miix.

A firmware update is supposedly coming out next week that improves the active stylus inking. We'll see.

Still Transformer Book T100 is my next CHRISTMAS PRESENT.... who needs 8inch..bigger is better.

Hmmm, really want a comparison video so I can claim one or two for Christmas.

And it's a dual core, not a quad, according to Microsoft.

It's Quad-Core Bay trail, everyone knows that. I'm glad you don't have my job.

Blame it on Microsoft, as their website says dual core...

Hi, I'm a press release from Lenovo: http://news.lenovo.com/article_display.cfm?article_id=1726

Wow, I didn't know the Rubino was such an unprofessional sarcastic douche. Feel free to delete this comment.

According to his account, he's made 1 post and 1 forum post, yet joined in December 2012.

Deal alert: Right now, Dell is offering the 64 GB DV8P at the 32 GB price.

can you post a link please?

http://www.windowscentral.com/e?link=http2F2...

I can't post screenshot, but here is text copied from the page: "Limited time: Free upgrade to 64GB storage. Store more of your favorite photos, videos and music.". Also posted on slickdeals.net.

Thank you....I'm trying to take advantage of the offer now but Dell's site seems to be stuck.

Thank you....I'm trying to take advantage of the offer now but Dell's site seems to be stuck. ***EDIT....Looks like the site was having a problem in Modern IE so i sent the request using desktop IE and it looks to have gone thru successfully.

can any one explain why microsoft release tablets at much higher price like surface2 compared to OEM like lenovo and dell ?? what is the advantage of buying a surface ??!!

Not priced higher: these are 8" tablets and the Surface tablets are 10.6". The Surface 2 Pro competes with Core i5 tablets which are pretty much all $800+. The Surface 2 RT competes with Nokia 2520 RT and both priced similar to Lenovo Miix 10. Although Lenovo Miix at least are full windows and not restricted RT version. You can get the old Surface RT tablet for $349 by the way.

thanks a lot for enlightening me on this. These products arent available in India at the moment. Also i searched internet a lot but could not understand much difference between W8 and RT. Is RT like an OS made for netbook ?

Plus microsofts tablets have a much higher build quality in an attempt to rival the sleek ipads of apple. (not an apple fan but they are pretty looking) so they come at a premium price like ipads, though still cheaper. RT is microsofts arm based tablet os, meant to be their answer to IOS. It can't run x86 applications like normal windows, but is also less prone to malware infection because of that. The app selection, while growing, still does not have some apps in the windows store people like to use on other tablets.

Really looking forward to a roundup. I particularly want to know more about the Toshiba Encore. Though IIRC, while they all have the same CPU, the Lenovo has the fastest RAM. And one of them (the Lenovo?) has a 3G radio. And one of them has GPS. My kingdom for a comprehensive roundup!

Does this device or the Dell Venue 8 Pro have NFC?

Will definitely be getting this. Fills the gap between my Surface Pro and my phone. Plus, it's cheap. Will wait for the 64gb model though.

I am looking to buy windows tablets around this size that have good cases/ protective options for use by 5 & 6 year old boys. Any recommendations?

That' what I've been looking for as well. Massive gap on the market. Until now ... Guess who is releasing it? Yep, good old Sammy is step ahead. Again. Shame that there are not showing any love for 8" Windows tablets.

Venue pro also supports micro sdxc where Lenovo is just sdhc
so you won't be able to use 64gb and larger cards in the Lenovo.

Has this been confirmed or is it false? Seems to me they both have sdxc, or should.

I have the Lenovo and put a Sandisk Extreme Plus 64gb sdxc 1 in it successfully. Windows sees the memory and I'm able to read and write from and to it.

That's good. This guy wasn't the only one claiming sdhc instead of sdxc. Glad that's cleared up. Now does it support miracast like the dell?

I'll give Miracast a try this afternoon, but I think Windows 8.1 supports it as opposed to the hardware having to.

I tried Miracast from the Lenovo to a Netgear PTV3000. It worked but it only connects at 800x600 and some apps won't open at that resolution. I'll have to experiment and see if I can get it to connect at a higher resolution.

How's photoshop on these 8 inchers?

The Miix2 actually has 1.33 GHz CPU while Dell Venue 8 has 1.8 GHz. Not sure if typo at Amazon site? One review also comments in system information it shows 1.33 GHz. Second Miix2 comes with A-GPS while Dell doesn't I believe. Maybe important if you want to use as navigation device.

Incorrect. Sort of. They both have a 1.33GHz GPU and both turbo to 1.8GHz. However the Lenovo is faster, since they use a slightly different CPU/RAM.

Thanks very much for clarifying. I wondered about that discrepancy in specs.

The atom processor clocks at 1.33ghz and turbo clocks to 1.8ghz. They both have the same processor in them.

*sigh* and no navigation apps in the Windows 8 store.

You could always get existing nav. apps for PC. But wouldn't be surprised if Nokia will release their HERE apps. The 2520 also comes with GPS.

That wouldn't be practical nor would it be likely any existing x86 stuff would recognize the newer GPS hardware.

Even though the Dell Active sylus is awful compared to wacom, it is miles better than a capacitive stylus and the Dell also supports palm rejection.

God damn amazon US give it to the uk my birthday was yesterday i get excited and then no sorry no shipping to uk!!

Miix2 has the crappy kind of stylus support, Dell Venue has the good kind. Miix 2 has a mini-HDMI, Venue does not but has miricast. There's your differences.

Miracast is supported in 8.1 so all 8.1 tablets have miracast, if downloaded. The miix 2 does not have micro hdmi, though I'm interested in whether the OTG cable can be used like the venue pro. I assume it should. They seem to be very similar in specs except for a few variations.

I have the Lenovo and have tried a mouse, keyboard, game controller and usb thumb drive all worked great. I have two mini MDMI connectors from other devices and neither worked. I also tried Miracast from the Lenovo to a Netgear PTV3000. It worked but it only connects at 800x600 and some apps won't open at that resolution. I'll have to experiment and see if I can get it to connect at a higher resolution. The Dell Venue connected to the Netgear at a higher resolution but it would only extend the display and not duplicate it, this doesn't do any good on a tablet. My Surface 2 connected to the PTV3000 perfectly.

I've had the Venue Pro 8 for a week. Solid device, for sure, loaded Windows 8 Enterprise so I could get on the domain and it's proving pretty awesome in that regard. I thought about waiting for the Miix2, but .01 of a lb couldn't convince me. The only problem with the dell is this - there's only a single micro USB port for power, USB OTG and peripherals. Not a huge problem, but if you want to use a USB device and power it at the same time, its looking like a no-go. I haven't found a cable that'll support power in and USB at the same time.

How did the upgrade go from 8.1 to 8.1 Ent? I've been thinking about buying this but I need at least 8.1 Pro on Venue for work (domain, VPN, RDP). I have a 32-bit 8.1 Pro ISO on a bootable flash that I was given at work with a key so I don't want to "buy" the 8.1 Pro upgrade from the Windows Store. Also, what about reinstalling drivers like the touch-screen, etc? Did the upgrade make you wipe? Thanks!

I didn't upgrade, I just wiped. I don't think you can go SKU-to-SKU like that since Enterprise is volume licensed. I backed up the Dell recovery partition to a USB key so that gave me recourse in case I broke anything too badly. You'll def need the drivers from Dell's website. There are three packages you'll need - network, Intel Chipset and Intel TXE. Put them on a USB key before the install, as the network drivers aren't in Windows OOTB. You'll need a USB hub and keyboard/mouse as well - the installer had no touch support. You could, theoretically, create an installer by merging the drivers into your own WIM, I just haven't gotten to that. Once I had it installed and installed the drivers, it was flawless. Domain, anyconnect vpn, everything you'd expect from Intel Windows.

Ordered. Been waiting for the Lenovo. The Venue reviews disappointed me with regards to the stylus.

Kind of lame that none of these mini tablets have Wacom pen support like the Surface Pro. That makes them kind of useless for good note-taking which is a key thing when I look at a tablet. Without it I don't even bother considering the other specs.

I want either am i stupid to buy the dell from dell and ship it to uk? Any major problems? Product key etc for windows

The placement of the start button edges it for me over the dell venue pro 8

are they not releasing it with 3G?

One difference is in the CPU/RAM combination: Miix 2 uses the Intel z3740 with 2 GB LPDDR3. (http://shop.lenovo.com/us/en/tablets/ideatab/miix-series/miix-2/#techspecs) Dell uses the Intel z3740D with 2 GB DDR3L-RS. (http://www.dell.com/us/p/dell-venue-8-pro/pd) The CPU in the Miix 2 is better. Found a summary here (http://wimages.vr-zone.net/2013/08/intel-bay-trailBC%8Dt.png).

Nice find, I wonder if that makes the difference in battery life. Dual channel memory, and what seems to be better video capabilities.

iPad Air has the same RAM (LPDDR3) but only 1GB. I'm also curious about the battery life of the Miix2, it seems a nice tablet.

None unless you are really rich. The Surface is made to show the OEMs what can be achieved on Win8. Now they are taking out tablets at less than half the price we go and grab it because it appears as a bargain. Nice work MS. Somebody had to shake up the complacent OEMs.

CPU is different dell Z3740D lenovo Z3740

Waiting on the comparisons of both of these

Anyone know where I can get the case\cover shown in the press picture? I received the tablet today and like it a lot so far but I want that case. I don't even see the Miix 2 on Lenovo's website. By the way the Lenovo is nearly identical to the Dell but I like how the Lenovo feels better in my hand. I have one of tne Dell tablets as well. The Dell seemed to get more hot along the right edge especially playing Asphalt 7. I haven't tried it yet on the Lenovo. Also some have mentioned the MicroSD slot not accepting 64gb but it seems to work fine so far on both tablets. The Dell has a physical Windows button that is situated somewhat strangly on the top right edge whereas the Lenovo has a virtual bitton on the bottom bezel area. I have found myself trying to swipe in from the right to get the charms and inadvertently getting the start screen.

Ok I found it on their site and it shows the cover but no info or price. Guess I just need to patient and wait. :)

Can someone please tell me how much is the C Drive Space? Can I install games and softwares like I do on my PC? Thanks!

The surface geeks webcast mentioned 9gb free, after uninstalling the 30 day McAfee and some other bloat. Too me its worth the extra $50 for another 32gb of space.

Thanks Tyradius! Isn't 9GB too little?? I saw someone play Half Life 2 and this is my goal..Of course it was a Dell Venue 8 Pro..So does it make sense to buy a 64 then?

I am sitting at 7gb free after installing a few apps and games. I uninstalled the McAfee internet security and the Lenovo user guide and app store. I have a 64gb microsd carfor media and other files. i also moved the skydrive location to the microsd. I am going to try installing some apps to the microsd card

jasonprahl, where did you purchase the MIIX2 ?

I purchased it from Amazon's website. Though now it says it's only available for pre-order. The 64gb said pre-order when I ordered the 32gb but now both do. If you see my comment twice it's becuase I posted a response and then it seemed to disappear.

Hey Jason do you report any of the issues on your miix 2 as wifi signal too low ,screen resolution (dim) , built in keyboard not responsive or the power (standy by ) issues ? Or is going everything ok ? Because i am interested in buying one ;)

Hi! I have not seen any issues with the Wifi signal either at home or at work at all, it's been working great as far as I can tell. The screen resolution and dimness has been perfect, no issues for me. The only issue I have seen with the built in keyboard is that I start typing too fast and I end up with wierd characters or I cause it to tab to another application. I haven't ever seen the keyboard be un-responsive (I used to get that with a Nexus 7, the latest model, that I had). I have also seen the Lenovo not come out of sleep a couple of times. This only happened a couple of times but I would press the power button and the screen would light up but be totally black. I could push the Windows button on the bezel and feel it vibrate but could not get anything on the screen. I had to force it to turn off and then turn it back on again to get anything out of it. Overall I'm very happy with the device.

Thanks :)
Hopefully will the power issues with an update come and why not a fix for the keyboard too . Cant wait to get one too :D probably in December or before Christmas :D

Thanks Jason... So what makes more sense, Buying a 64 gig model or Adding a 32 gig SD card to the system..gonna use this baby a lot... also...does it heat up from the back like the Dell Venue 8 Pro? Thanks again for your reply..

Hi, I would like to have had the 64 gig model myself, but there was no date for when it was going to be available and I'm impatient. :) I'm down to 5 or so gig free and I haven't installed a whole lot of applications and games etc. I actually got down to 2.5 gig and I uninstalled Asphalt 7 driving game because it's pretty good size. I did add a 64gb SD card that I use for media and such and it works great. I thought about trying to install applications to the SD card but you can't do that (that I know of) with the metro apps. Like I wanted to install Photoshop just to see how it runs but it's roughly 1 to 1.5 gig. I did notice the heat on the back of the Dell and it drove me crazy. I have not noticed that with the Lenovo except after playing Asphalt 8 for awhile. But I was using a game controller and not holding it so it didn't bother me while playing.

If you want , you can post any videos from the Lenovo here , maybe how performance looks , gaming , browsing or anything :P I see a lot of people asking for Lenovo , and getting no response , or asking for a specific feature that they may be interested in . http://forums.wpcentral.com/lenovo-miix2/ :D

FYI- for anyone looking for the 64GB, it's now in stock on Amazon. I've had mine preordered on Amazon for a while and expected to have delivery on Monday.