Lenovo ThinkPad X1 Carbon, one classy Windows 8 laptop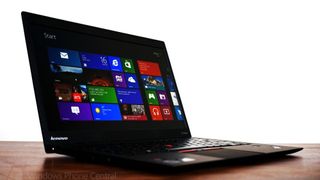 There are only a few Windows 8 laptops in production that we can consider to be the 'high end', machines with exacting build quality and specifications to match. While many PC makers are content to push out hum drum machines with middling specs and so so performance the same cannot be said for Lenovo and their ThinkPad range. Over the years their quality and reliability have become legend amongst the most demanding of laptop buyers.
The ThinkPad X1 comes in a body woven from Carbon fibre in a style similar to that of the current crop of Ultrabooks. Lenovo seems keen on finally shunting the look of their machines forwards and have recently adopted Chicklet keyboards and of course the wedge shape body design we have all come to recognize of late. I'll be kicking the tires on the X1 to see how well Lenovo have melded the heritage of ThinkPad with the modern styling of an Ultrabook.
Specifications
The Lenovo X1 we have here is fairly pimped out spec-wise, coming with 8GB RAM, 256GB SSD, 3g Modem and an Intel Core i5 3427U CPU. It also has a fingerprint reader, 2x USB ports of which only one is USB 3.0, a mini display port and a card reader. The device is without an Ethernet jack so must rely on Wi-Fi unless you invest in a USB accessory. The X1 has a 14" matt display with a resolution of 1600x900 but this one also has some anti-glare treatment on it too.
Design
The X1 Carbon has the design cues of many modern Ultrabooks while dispensing with the boxy and functional design of the more traditional X230 series for a sleeker looking wedge shape. The body is part made of carbon fibre and finished with the signature soft touch effect familiar to other non-Edge branded ThinkPads.
In Stretching out the overall design into a wedge shape they have been able to provide a large expanse of wrist space which has been lacking on the X series machines of the past. It is now very comfortable when typing for long periods as a result.
Power, vents, USB and Radio Switch
The matt finish combined with the dark colours and strong construction evoke a feeling that you're using some form of exotic military grade computing device that shouldn't really be in the hands of the general public. The backlit keyboard and sprinkling of tiny green lights with flashes of red accents certainly add to that effect. The dark grey expanses are only broken up across the device by the Lenovo and ThinkPad logos and some vents here and there. Otherwise it's all black, smooth and precise.
The X1 weighs in less than my older X200 while giving me a much bigger screen display and far more superior ergonomic benefits.
Card Reader, Headphone Jack, USB and Display Port
Construction
The machine is constructed very well indeed and has sturdy hinges on the screen which also allow the display to lie totally flat with the main body. There are a surprising number of times when you can put this odd configuration to good use, one of those is to bring the screen to head height when using on the sofa. There are of course top secret uses for such flexibility which we cannot and will not disclose here in the review.
When the lid is closed the laptop is totally solid and if you squeeze it there isn't any give and there certainly aren't any creaks or groans of any tell-tale cheap plastic. When the laptop is in use the lid will stay firmly in place due to those hefty hinges but as the screen has a very thin bezel there is some degree of flex in that display. Being that I am used to the X2xx series that comes a little bit of a surprise as I am well used to screens that do not flex in any meaningful way. Considering that this is clearly a move to slim down the looks of the X series this type of flexing is likely unavoidable.
Backlit keyboard
Keyboard
Arguably one of the key differentiators on a ThinkPad laptop compared to any other machine on the market is the quality of the keyboard. Actually it wouldn't be out of place to throw this under the construction header as it is so key to the overall build of the machine. I have been using ThinkPad laptops for many years and have come to love their keyboards. The traditional sculpted keys on the X2xx of the past were recently replaced with the decidedly Mac flavoured Chicklet style keyboards over the last few generations.
This choice has alarmed many ThinkPad fans including myself, I had bought a ThinkPad Edge machine some years back and the Chicklet keyboard included was far from impressive. The spongy feeling and lack of feedback was a real disappointment. The ThinkPad X1 I am pleased to report seems to have finally nailed this type of keyboard and strikes a great balance in terms of looking good but giving a great typing experience too.
Key presses are registered accurately and there isn't any sign of spongy response of weak construction. The backlight keys are also a marked improvement over the quaint little overhead light from yesteryear. There is no doubt at all that the keyboard on the X1 is a joy to use and designed to really get work done over long stretches of time. Consider me converted on that front as I now prefer this to my older style keyboard.
Large Trackpad, buttons and Trackpoint
Trackpad and TrackPoint
I have to admit I'm not normally a fan of trackpads often finding them clumsy and awkward to use but the X1 has changed my mind. The Trackpad here is a good size and finished with a slightly matt/soft texture which added to my accuracy when moving around the screen. It also works incredibly well with the gestures in Windows 8. The winner here for me though is that the red trackpoint is still here and as ever works incredibly well being both accurate and well suited to keep your fingers near to the keyboard at all times. As with most pointing devices its actually nice to switch between devices to reduce strain related injuries so having both here is a definite win.
Display
The machine comes with a 14" HD+ screen which has punchy levels of brightness and has good viewing angles. The display doesn't have a super high resolution panel compared to many machines these days and tops out at 'just' 1600x900. But my own personal preference is not for such high density displays on Windows machines especially for desktop work. Any higher resolution would mean having to bump up the DPI scaling in Windows which never tends to work well. If this is ever properly fixed in Windows then I would welcome much higher DPI displays with open arms.
Performance
The X1 I was supplied came with Windows 7 which I quickly changed out for the rather more nimble Windows 8. After doing a clean install of the new OS, it takes this machine 20 seconds from pressing the power button to get to the start screen after I swipe my finger to login. As a comparison my aged SSD equipped X200 takes a full 45 seconds to get to the start screen in a similar fashion.
Due to the fast SSD and 8GB Ram, getting things done on the desktop is simply a breeze. The Core i5 CPU was able to chew through my usual daily tasks without breaking a sweat. Photoshop work was a pleasure on the large screen and the machine is more than capable of being a good stand in for my workstation class desktop machine when on the move. The system feels very responsive at all times and I never feel like it's going to run out of steam even when having multiple apps open, tons of browser tabs and my favourite twitter client open.
Top Lenovo X200. Middle X1, Bottom ThinkPad Edge
As I have been testing this with Windows 8 installed I can report that WinRT app performance is great. The bright colourful start screen literally pops on the 14" high res display and switching between apps is extremely rapid. The new touch friendly side of Windows 8 is very swift anyway but it is worth mentioning that the X1 tackles it all with silky smooth panache.
In use I have been seeing consistent battery life of a solid 4-5 hours with normal use which it has to be said is certainly not best in class. High end Samsung laptops are able to best that by some margin but the X1 does benefit from Lenovo rapid charging. That technology can top up your supply in super quick time, 30mins and you can get at least 80% of your battery capacity back. Very handy indeed.
But wait, there is a touch version of the X1?
The Lenovo X1 Carbon has recently been updated with a touch screen to support Windows 8' new UI features. Considering how much Windows 8 wants to be touched the Carbon model with the touch screen was certainly considered but ultimately rejected. A number of factors meant it wouldn't fit my needs; the first of those is that reaching over a fairly large laptop to touch the screen would be uncomfortable. The touch screen would also add slightly to the weight and also reduce the battery performance further. In short my Microsoft Surface will be my touch screen Windows 8 machine for the time being until I find a form factor that is truly best of all worlds.
The excellent performance of the pointing devices and gesture support work really well on the X1 and has meant I do not need to touch the screen. As this machine is to be used mainly for desktop work I would rather not have it covered in fingerprints and be in need of constant cleaning. I also do not like glossy screens for working.
Conclusion - There can be only one
No laptop is perfect; every device is always a fine balance of features and performance. Lenovo as ever have walked the tightrope of form and function to produce an excellent device. The build quality is simply mind blowing, from the feel of the soft-touch finish layer over the carbon fibre body to the rigidity of the chassis, it all oozes class.
The keyboard is somewhat of a revelation and has actually converted me away from the older style keys of my X200. Similar good things can be said about the typing experience and the seamless integration of gestures with the oversized track pad. The machine is both fast and remains agile no matter what I have thrown at it often feeling markedly faster than any other machine I have used in recent times.
This is not to say that the Lenovo X1 isn't without some caveats, it only has a single USB 3.0 port when there are only two available. The screen does have flex, it isn't extreme but it does take away somewhat from the feeling of rock solid build quality. Lenovo have also opted to use a new type of charger which is USB shaped and is therefore incompatible with the existing chargers I have around the house for my other ThinkPad's. Battery time is also an area where I feel it could certainly do with some improvement, five hours is rather low in this day and age.
One surprising criticism of these machines is that they are simply not available in retail outlets here in the UK. Despite the fact that you can pick up their low end machines in most retailers the ThinkPad units are still only available through re-sellers or Lenovo direct. Perhaps it is about time Lenovo opened up a showroom and sold these premium items to the general public?
Even with the few gripes here and there the Lenovo ThinkPad X1 is as close to laptop perfection as I have encountered as it ticks so many boxes for what I regard as essential. The obvious heritage of the previous generations has been expertly grafted into this Carbon fibre Ultrabook. It leads to an overall experience that should delight anyone who is lucky enough to encounter one. Quality like this doesn't come cheap but my recommendation is to simply close your eyes and hand over the credit card.
Price for this spec laptop should hit around the £1400.00 or US $1829.00 at time of writing from Lenovo direct.
Get the Windows Central Newsletter
All the latest news, reviews, and guides for Windows and Xbox diehards.