Lenovo ThinkPad Yoga 260 review: a flexible business laptop
The Lenovo ThinkPad Yoga doesn't look as elegant as the company's flagship Yoga 900, but this business laptop has several practical features that make it a smart purchase.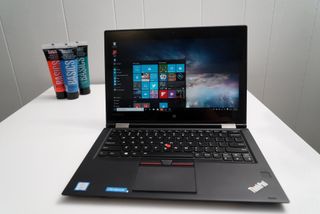 Lenovo's Yoga laptops are known for their 360-degree hinges while the ThinkPad name is known for business. Combine the two together, and you get a business laptop that can bend, flip, or fold. The Lenovo ThinkPad Yoga 260 doesn't look flashy at all, and most people in the business world prefer that, but it's what it can do for you that makes it worth your consideration.
Should you buy the Lenovo ThinkPad Yoga 260? The answer might surprise you. Read on for the review.
Hardware
The base model of the Lenovo ThinkPad Yoga 260 doesn't have specs that will blow you off your seat, but this what you get for $989:
Swipe to scroll horizontally
Feature
Specification
Processor
Intel Core i3-6100U Processor (3MB cache, 2.30GHz)
Display
12.5-inch HD (1366 x 768), IPS Multitouch
OS
Windows 10 Home 64
Graphics
Intel HD Graphics 520
RAM
4GB DDR4-2133 SODIMM
Hard Drive
128 GB Solid State Drive, SATA3
Wireless
Intel Dual Band Wireless-AC(2x2) 8260
Bluetooth Version 4.1
Battery
4-Cell Li-Polymer Battery 44Wh
There are customization options if you want to bump up the specs. The top of the line model costs about $1,800 and includes these upgrades:
Intel Core i7-6600U 2.6 GHz processor
12.5-inch FHD (1920 x 1080), IPS Multitouch display
16GB DDR4-2133MHz SODIMM RAM
512 GB Solid State Drive PCIe-NVMe storage
Our review unit is somewhere in the middle with a 1080P display, Intel Core i5-6200U 2.3 GHz processor, 8GB RAM, and 256GB SSD. We have the black model, but silver is another option.
The Lenovo ThinkPad Yoga 260 has a carbon fiber hybrid exterior making it very light starting at 2.9 lbs (1.3 kg). On the other hand, it feels very sturdy with no creaking.
This laptop is part of the Yoga family, thus it has a 360-degree hinge. You can easily change between four modes — Laptop, Stand, Tablet, and Tent. The hinge could be a little stiffer though, because the display wobbles when using the touchscreen. It's not a deal breaker and can easily avoided by tapping the display more gently.
A great trick that the ThinkPad Yoga 260 has that's not found on many other convertible laptops is its lift-and-lock keyboard. When you switch to tablet mode, a frame around the keyboard raises automatically, physically locking the keys to eliminate accidental keystrokes and provide a more comfortable grip.
The left side of the Yoga 260 contains the power connector, OneLink+, mini DisplayPort, USB 3.0, and a Smart card slot for some models. The OneLink+ port lets you connect to the ThinkPad OneLink Dock, which provides more ports. Organizations can take advantage of the smart card reader for authentication, data storage, and application processing. Even though our review unit did not come with a smart card reader, the slot is visible, but blocked. Lenovo is obviously saving money here by simply blocking the slot instead of creating a different chassis for models without the reader.
The right side has the power button, volume control, slot for the pen, headphone/microphone audio combo jack, microSD slot, micro-SIM card tray, USB 3.0, HDMI connector, and security-lock slot. Alas, there's no regular-sized SD card slot, and we would've been happier if Lenovo used a nano-SIM slot instead of the bigger micro-SIM (though you can easily use an adapter here). The big deal here is the inclusion of a slot for the ThinkPad Pen Pro. When stored, the pen can charge to 80% within 15 seconds and be fully charged in about five minutes.
Up front, there's a 12.5-inch Full HD 1080p IPS display, which is sharp with wide viewing angles. We're not crazy in love with it, though. The screen is glossy and catches a lot of reflection. While the wide viewing angles help when you tilt the display, we wish we could crank up the brightness even more to blow out the glare. Another issue we have is with the thick bezels — there's simply a lot of black space around this display. On a positive note, the screen is very responsive to touch and we had no problems with taps, swipes, or other gestures.
Above the Lenovo Yoga 260's display is a 720p camera. It produces images that are bright with good color. However, noise is noticeable. It's more than adequate for video calls. Below the display is a Windows key. You can tap it to show or hide the Start menu, which is very useful when using the device in Tablet mode.
The backlit keyboard is one of the best we've typed on. They keys are taller than most laptops we've used, including the Lenovo Yoga 900, producing very satisfying clicks when typing. Pressing the Fn key together with the spacebar controls the backlight. There are four modes for the keyboard backlight: Off, Low, High, and Auto. The top row has several special keys to help you work more easily and effectively, like display brightness, volume, settings shortcut, search, task view, and more. We have no complaints about the layout either. It's definitely one of our favorite keyboards in a laptop.
Right in the middle of the keyboard is a red pointing stick, which has many fans. It's part of Lenovo's TrackPoint technology that enables you to perform all the functions of a traditional mouse, such as pointing, clicking, and scrolling. The pointing stick is used in conjunction with the left and right-click buttons, as well as the scroll bar. Those who use TrackPoint for the first time may find it strange initially, but it works well once you get used to it.
If you don't like TrackPoint, you don't need to use it. In front of the keyboard there's a more traditional trackpad, measuring 4.25-inches diagonally, that's responsive and smooth to touch.
To the right of the trackpad is a fingerprint scanner, which lets you sign in to Windows, apps, and services. It's faster than entering your pin or password. If you do find it slow, you can re-scan your fingerprint in the settings for better accuracy. Unfortunately, it doesn't work like today's smartphones which let you wake up the device by scanning your fingerprint. The Yoga 260 needs to be on before it can scan your fingerprint.
The speakers are placed towards the back of the laptop next to the hinges. You can customize the way things sound with the built-in Dolby Audio app, but, overall they sound flat and lack bass. You can still watch movies and listen to music, but don't expect to have an amazing experience. However, you can slightly improve your audio experience by changing into Tent or Stand mode when watching a movie or listening to music.
Software
The Lenovo ThinkPad Yoga 260 comes with Windows 10 Home by default, but you can choose to pre-install the Pro version when placing an order. It also comes pre-installed with Lenovo Settings, Lenovo Companion, REACHit, SHAREit, WRITEit, and free trials for McAfee Livesafe and Office 365. We prefer to buy our PCs as bloatware-free Signature Editions from the Microsoft Store, but some of these apps are useful.
Lenovo's Companion and Settings apps are great for discovering features on the laptop. For example, Lenovo Settings let you enable battery conservation or battery stretch modes that help you achieve longer battery life. The Lenovo Companion app can run a hardware scan for the PC or check for Lenovo's own updates.
WRITEit is our favorite software feature from Lenovo. It lets you write directly in text fields with the pen, and convert your handwriting into digital text. For example, we can start writing in the Bing search form in the browser with the pen and it will be converted to text for search. You don't need to fit your handwriting inside the box, but you'll need to start writing inside the form.
The handwriting recognition is surprisingly accurate. We can imagine this being useful to many people who can write faster than they can type. You know which forms or areas you can use the pen with because they are highlighted with a green border. While this is handy for search forms and smaller text boxes, it can be distracting when writing in Microsoft Word. Fortunately, you can just click the WRITEit button on the taskbar to turn off the feature.
Everything else that Windows 10 has to offer like Cortana, Windows Store, Live Tiles, Action Center, and more can be found on the Yoga 260. When it comes to performance, our review unit with Intel Core i5 processor and 8GB RAM expectedly had no problems with basic tasks such checking email, browsing the web, and typing documents. We also didn't face any issues when doing some light editing with Adobe Photoshop CC and Lightroom CC. Thanks to the SSD storage, apps opened quickly, too.
If you're looking for numbers, our Lenovo ThinkPad Yoga 260 had a single-core of 2,817 and multi-core score of 5,976 on Geekbench 3 benchmark. You can also take a look at the CrystalDiskMark scores below.
The Yoga 260 isn't a gaming laptop, so don't expect demanding games like The Division to play smoothly on this machine without a dedicated graphics card. On the other hand, there are plenty of casual games in the Windows Store that should entertain you on long commutes or during work breaks. For example, Asphalt 8: Airborne looks fine on the Yoga 260.
The fans on the Yoga 260 didn't have to kick on frequently to keep things cool, even when we have Photoshop and streaming a Youtube video in the background. When they do spin, you'll hear the whooshing sound; they're louder than most laptops we've used. That said, the laptop doesn't get very hot, but you'll feel warmth at the bottom of the laptop towards the back.
Battery Life
The ThinkPad Yoga 260 has a 4-Cell Li-Polymer Battery that gave us about 6-7 hours of usage on average. It comes with a compact charger and cable that's about 6 feet long. Just like the laptop, the charger itself does not use up a lot of space in the bag.
Verdict
The ThinkPad Yoga 260 is another solid laptop from Lenovo. It's thin, light, has the 360-degree Yoga hinge, and some interesting differentiating features. Fans of the pointing stick are going to be happy to have it on this laptop and the dockable Pen Pro is a nice feature to have, especially if you like using a stylus. And one more thing: it has a fingerprint scanner to let you sign in without typing in a long password or pin code, and an optional smart card slot for those that need that level of security.
Our two main complaints are the large bezels and mediocre battery life. There's so much black space surrounding the display, that we can't help but wish more of that was added to the screen's real-estate. The 6-7 hours of battery life isn't bad, but other recent laptops like the Dell XPS 13 can offer at least 9 hours.
Overall, the Lenovo ThinkPad Yoga 260 is a smart buy. While it doesn't have the fancy hinge found on the more expensive flagship Yoga 900, the hinge on the Yoga 260 also gives you the same function of switching into different modes. But perhaps, repeating three key features might be all you need to hear to make up your mind: fingerprint scanner, pen support and pointing stick. If those things are important to you, you'll be happy with the ThinkPad Yoga 260.
Already own this machine? Let us know what you think about it in the comments!
Get the Windows Central Newsletter
All the latest news, reviews, and guides for Windows and Xbox diehards.