8 must-see indie Xbox and PC games you may have missed at E3 2017
With so many games announced and showcased at E3 2017, some were bound to slip through the cracks – particularly indie titles.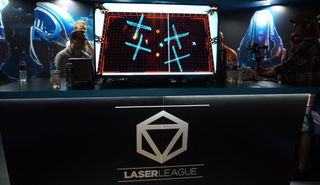 Here are eight indie games we saw at the show that truly deserve your attention when they arrive on Xbox One and PC.
8 must-see indie games from E3
Laser League
Laser League from 505 Games is a Tron-like, two-versus-two arena-based combat game. Both players on each side select characters (who play the same but have unique abilities) and then enter a future sports arena to fight it out.
The actual mechanics by which teams attack each other and score are quite unique. White shapes spawn around the arena. When a player touches the prism at the center of a white shape, it expands and takes on that team's color. Touching a shape of the opposing team's color makes your player explode, although downed players can be revived by teammates. When both players on a team are downed at once, the other team scores.
The result is a frantic scramble around the map, as colored shapes constantly grow and move around, knocking and reviving each other out until one team finally bites the dust. It's a hypnotic good time with other players. Laser League will support four-player local and online multiplayer when it arrives on Xbox One and PlayStation 4 in 2018. The Steam version should enter early access this summer.
Metronomicon: Slay the Dance Floor
Metronomicon from Akupara Games is a role-playing rhythm game in which battles take place on the dance floor. Players progress through a full-fledged RPG story mode in which a party of eight newly-graduated masters of musical combat arts must save their world from a horde of dance-mongering villains.
Once battles begin, players select any of the four active characters and play their note charts in order to deliver attacks, spells, and more. The better the timing, the more effective your moves – and it even supports Rock Band guitars in addition to regular controllers. With deep RPG mechanics and over 50 fast-paced tracks from artists like MegaRan and Jimmy Urine, Metronomicon looks like a completely unique game that rhythm game fans will love. I only wish I liked the art style a little more, but you can't have everything.
Metronomicon: Slay the Dance Floor comes to Xbox One and PlayStation 4 later this year. The Steam version is out now for $19.99.
Bloodstained: Ritual of the Night
Back in 2015, Koji Igarashi, creator of beloved classic Castlevania: Symphony of the Night, successfully launched a Kickstarter for his next game, Bloodstained. A Castlevania game in all but name, Bloodstained stars a woman named Miriam who becomes cursed and trapped in a demonic alchemist's castle.
Bloodstained plays just like the Metroidvania games that inspired it, with Miriam running and jumping through 2.5D gothic environments, slashing candles, and slaying a variety of unique monsters along the way. She can find magical shards inside of objects or by killing enemies. After dramatically shoving the shard into her body, she'll gain powers like projectile attacks, monsters to summon, and a double jump. She also gains XP and levels from killing enemies and can equip a variety of loot from chests and drops.
Bloodstained: Ritual of the Night will face some stiff competition when it arrives on Xbox One, PlayStation 4 and Vita, Switch, and PC in 2018. The Metroidvania genre has grown exponentially since Igarashi's last Castlevania. But from what we played at E3, this one has something that few other action-platformers do: the look, sound, and feel of a real Castlevania game.
The Artful Escape
Another musical game of sorts, The Artful Escape of Francis Vendetti, from developers Beethoven & Dinosaur and publisher Annapurna, is an incredible-looking 2.5D platformer starring a young guitarist who sets out on a journey to discover himself and develop a stage persona all his own.
The Artful Escape's visuals feature characters that look like animated 2D cutouts moving across colorful 3D backgrounds. Francis can perform a variety of moves with his guitar that manipulate the environment, creating new pathways and lots of trippy imagery (based on Australian musician Johnny Galvatron's artwork) along the way.
Not only does Artful Escape look like nothing else, it will feature full 4K support for Xbox One X when it arrives later this year.
Chess Ultra
Chess Ultra from UK indie publisher Ripstone is a semi-sequel to its popular Pure Chess, but this time the game has been developed entirely in-house at Ripstone. You might not expect much from a chess game, but the studio has gone out of its way to make Chess Ultra everything chess players of any skill level could want.
Single-player matches allow you to play against 10 Grandmaster-approved AI levels with a variety of settings to tweak the experience. More than 80 chess puzzles will challenge players' mettle, including historic matches that can play out identically or differently to their real-life counterparts. Need to brush up on your chess skills? A vast array of tutorials will get you back onto the chessboard.
Local and online multiplayer are of course present, as well, with speed-chess options, watchable tournaments, and even cross-platform multiplayer between Xbox One and PC.
Of all the games in this roundup, Chess Ultra is the closest to release. It should arrive on July 21 and will be on sale for $11.24 during launch week. Update: The game has arrived, and we gave it a full review.
Indivisible
First announced in 2015, Indivisible from Lab Zero Games (makers of Skullgirls) and 505 Games is a beautiful Metroidvania-style platformer with Japanese RPG-style battles. Exploration takes place on a 2D plane in 3D environments. Indivisible's characters and enemies are hand-drawn 2D sprites featuring Lab Zero's trademark cartoon-like art style.
Protagonist Anja has the ability to absorb people into her mind and then release them as Incarnations during battle. While exploring the platforming portion of the game, she'll encounter enemies and engage in traditional RPG battles. Each member of the party is assigned a face button, allowing players to rapidly attack and perform group combos. It's a fast and fun system.
Indivisible continues to grow and expand in scope since the initial prototype demo released a couple of years ago. Already it stands among the best-looking Metroidvania games out there (such as Ori and the Blind Forest and its upcoming sequel) but plays distinctly thanks to the RPG combat. Indivisible will be a platforming game to watch out for when it finally comes to Xbox One, PlayStation 4, Nintendo Switch, and PC in 2018.
Zwei: The Ilvard Insurrection
XSEED is a publisher known for bringing cool Japanese games to English audiences. One of those games is Zwei, a PC-exclusive action-RPG from Falcom, the developers of the Ys series and Gurumin: A Monstrous Adventure. This installment was originally known as Zwei II Plus!! when it released on Japanese PCs in 2009. Now it finally comes to English audiences with a number of enhancements.
Zwei stars a treasure hunter named Ragna Valentine whose ship gets shot down on the floating island of Ilvard. Dying among the wreckage, he is rescued by the vampire princess Alwen. The two form a blood contract, with Ragna becoming Alwen's vassal in exchange for his life.
Unfortunately for our pair of protagonists, Alwen has recently been deposed from her castle and had her magic spells stolen. The two of them must work together to get them back. Players can switch back and forth between Ragna and Alwen at any time, using their unique weapons and abilities to battle monsters and solve puzzles. On top of the traditional action-RPG mechanics and exploration and Falcom's distinctive art style, Zwei features an extremely quirky tale filled with wacky characters and amusing banter. The translation we witnessed was extremely expressive and well-written, and XSEED even recorded all-new English voices for many of the game's cinematics.
Zwei is coming to Steam later this summer. Fans of RPGs and old-school Japanese games won't want to miss it!
Super Lucky's Tale
The reveal of Super Lucky's Tale during Microsoft's E3 Media Showcase might have played as a bit of a troll to Conker's Bad Fur Day fans, given Lucky the fox's resemblance to Conker. But Lucky is still an exciting game all on its own, an Xbox and Windows 10-exclusive sequel to the popular VR platformer Lucky's Tale.
Super Lucky's Tale plays like a 3D Super Mario game, with Lucky bounding across huge, vibrantly-colored environments while collecting coins and battling enemies with his tail spin move. Lucky can also burrow underground, allowing him to reach new areas. Breaking up the platforming and collectible hunting, Lucky will also solve simple puzzles as he journeys to save his kidnapped sister.
This game will take perfect advantage of the Xbox ecosystem, offering crossbuy support between Xbox One and Windows 10 as a Play Anywhere title. And it will run in 4K with enhanced graphics on Xbox One X – the E3 build looked stunning on Microsoft's new hardware. Super Lucky's Tale should launch on November 7.
Your thoughts?
Which indie games showcased at E3 are you most excited about, dear readers? Let us know in the comments.
Get the Windows Central Newsletter
All the latest news, reviews, and guides for Windows and Xbox diehards.
Paul Acevedo is the Games Editor at Windows Central. A lifelong gamer, he has written about videogames for over 15 years and reviewed over 350 games for our site. Follow him on Twitter @PaulRAcevedo. Don't hate. Appreciate!